Airtime Aviation is especially proud to be the main import source for Flight Design aircraft for the Americas. Airtime has been a dealer and distributor for the United States since the LSA category began. Now, the Oklahoma company is the primary representative for the German manufacturer that the largest seller of LSA in America.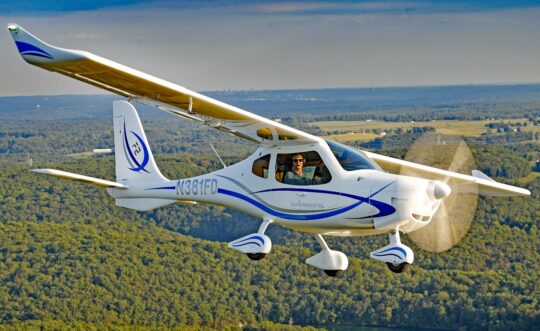 Aircrtime is also pleased to represent the amazing new F2, which some experts are calling a third-generation Light-Sport Aircraft.
Read plenty about the new model right here on ByDanJohnson.com:
…or go direct to Airtime Aviation's website
Airtime Is Active!
One look at Tableau Public (our tracking of all Light-Sport Aircraft and Sport Pilot kits) will show you Flight Design's CT series is the best selling LSA in the United States, with 2,000 deliveries worldwide. The aircraft has flown around the world multiple times and puts broad smiles on the faces of many pilots in the USA and overseas.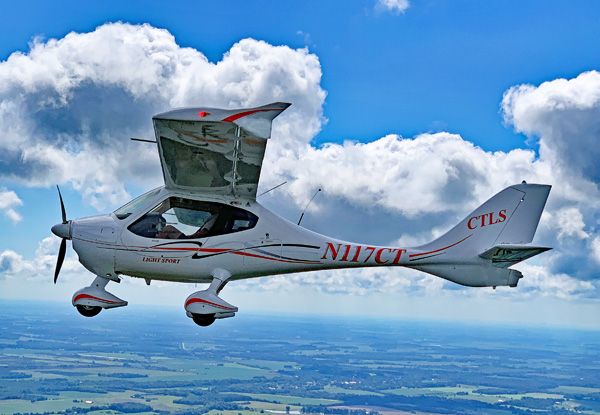 One company in particular is significantly responsible for the success of CT series in America: Airtime Aviation Inc., found easily on the web as FlyCT.com (how's that for a simple, easy to remember, and easy to type web address?). Run by the impressive father and son team of Tom (Senior) and Tom (Junior) Gutmann, Airtime Aviation has delivered more than 200 CT aircraft to customers around the United States.
Continued work with Flight Design's importer — Flight Design USA, run by Tom Peghiny — has resulted in the Gutmanns becoming as intimately aware of CT's features, equipment, maintenance, and new developments as any other business in the world.
If you haven't dealt with or spoken to Tom or Tom, you can remedy that by a quick phone call (try: 918-630-5927 or 918-625-5442); you find them not only fully informed about all things Flight Design and CT but you will enjoy the experience. These two men are as enthusiastic as anyone you will ever meet. Ask any of their many customers and you'll get lots of confirmation.
Magnificent Men and Their Flying Machines
Flight Design's CT-series proved itself as a superior performer with a huge, comfortable cabin, lots of safety features, range beyond the horizon, and a beautiful finish to its all-carbon fiber airframe. No wonder 2,000 of this brilliant design are flying worldwide.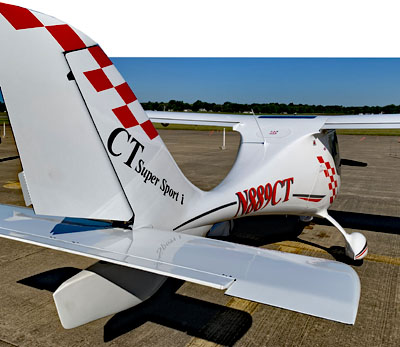 Safety First — CT presents a unique shape featuring a protective "safety cell" cabin. In the automotive world, this is described as "crush zone engineering." It means forces of an impact are directed around the occupants to protect them; seemingly simple, but highly effective. In addition, every CT-series model comes equipped as standard with a BRS High-Speed 1350 emergency airframe parachute designed to being down the entire aircraft, occupants and all, in the event of several kinds of airborne emergency. You'll probably never need them, but these features provide peace of mind for pilot and passenger.
Hot Performer — CT's smooth all-carbon fiber exterior finish allows the model to hit the LSA speed limit of 120 knots. Yet CT — now in its current CTLSi configuration — can also cruise with 75% power at a respectable 112 knots (129 mph) while sipping less than 4.0 gallons per hour from its large 34 gallon fuel tanks. That translates to a non-stop flight of more than 1,000 statute miles!
CT boasts a great glide angle and it slows well for landings with full flap stalls at only 39 knots. Takeoff requires only 300 feet of ground roll and climb reaches 1,000 fpm. The new CTLSi has electric flaps (-6 to +30 degrees) and three-axis trim for elevator, ailerons, and rudder.
Superbly Equipped — Every CT is loaded with extras that cost more on other designs. CT Super and CTLS aircraft come standard with big beautiful Dynon or Garmin electronic flight info systems (EFIS) and engine monitoring system (EMS) screens that can be used in conjunction with an optional autopilot.
Comfort and Roominess — Occupants have 49 inches of width (almost a foot wider than a Cessna 172); space in the cockpit for items needed in flight; and can each carry 55 pounds of luggage, easily accessed through dual exterior doors, weight and balance permitted, of course. Air-bulb-adjustable seat backs and cushions aid human comfort as does cabin heat and plenty of fresh-air ventilation. Visibility is simply enormous and a delight to occupants, further aided by a cantilevered wing that removes side obstructions to your sight line.
See lots more about F2 and the CT models in the series of articles appearing below…