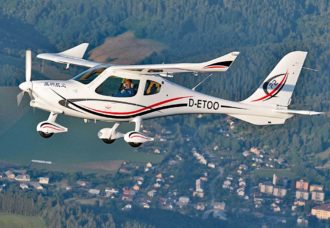 Since the beginning of Light-Sport Aircraft in 2004, one company and one model series lead the sales charts for nearly every year. Flight Design's CT-series proved itself among pilots as the most popular model in the USA. Some 2,000 of this ever-evolving design are flying worldwide.
Using its inspired design, CT presents a unique shape featuring  a protective "safety cell" cabin. Its smooth exterior finish allows the model to hit the LSA speed limit of 120 knots. Yet CT — now in its current CTLSi configuration — can also cruise with 75% power at a respectable 112 knots (129 mph) while sipping less than 4.0 gallons per hour from its large 34 gallon fuel tanks. That translates to a non-stop flight over 1,000 miles!
Learn more about F2 and the F-series from Flight Design in this article.
CT boasts a great glide angle yet it slows well for landings with full flap stalls at only 39 knots. Takeoff requires only 300 feet of ground roll and climb reaches 1,000 fpm. The new CTLSi has electric flaps (-6 to +40 degrees), three-axis trim, cabin heat, and more. Occupants have 49 inches of width; space in the cockpit for items needed in flight, and can each carry 55 pounds of luggage, easily accessed through dual exterior doors.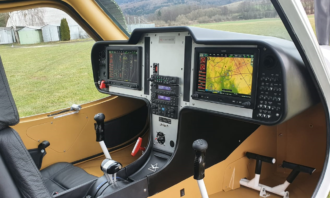 Loaded with extras that cost more on other designs, CTLS comes equipped with a BRS High-Speed 1350 emergency airframe parachute. Additionally, all CTLS or CTLSi aircraft come standard with dual Dynon or Garmin electronic flight info systems (EFIS) and engine monitoring system (EMS) screens. You can also order an autopilot and additional avionics to make long cross-country flights a breeze.
To better suit American pilots, Flight Design introduced the nose-to-tail-new CTLS that is sold fully loaded with only a few options available. The fuel-injected CTLSi came after Rotax released their 912iS engine. The company reorganized in 2016 and is now prepared for its next generation of success.
As proof of its design capabilities and manufacturing prowess, the German company has also designed and continues work on a four seat model called F4. No wonder CTLS remains one of the most desired aircraft in the LSA fleet.
"Flight Design general aviation" is the refreshed name for the German headquarters company producing one of the best-selling light aircraft in the world.