What a great day to start off the Midwest LSA Expo! (And what a contrast to the hurricane just stared down by my Florida neighbors!) The 2019 running of this event about an hour east of St. Louis kicks off its second decade.
On Day One, Videoman Dave and I did our Video Pilot Report routine on three Light-Sport Aircraft: Flight Design's CT SuperSport, Sportair USA's Shock Ultra, and Texas Aircraft's Colt. All three are quite different, each was delightful in its own way. Doing three of these VPRs took the entire day …and that's before the big job of editing begins.
CT SuperSport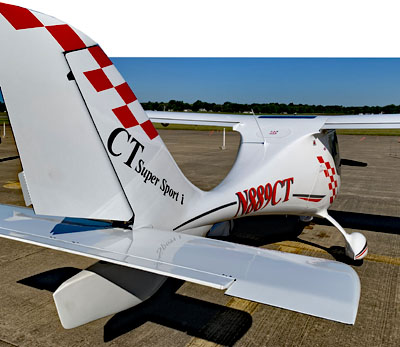 If SuperSport looks familiar to you, it should. It's based on the CTSW but joins several elements of the newer CTLS. In Europe, Flight Design has continued to deliver a lighter model from the CT series to conform to the microlight or European ultralight parameters.
SuperSport is something fresh as it takes a CTSW fuselage and grafts on the CTLS wing; adapts construction from the CTLS gear while still doing it with a single piece, like CTSW; employs tail structure from the newer model; and drafts the Rotax 912iS fuel-injected engine. Even that list doesn't cover all the upgrades.
Flight Design describes CT SuperSport as, "the new high performance version of the Flight Design CT, one of the most popular and innovative light aircraft in the world. The Super comes equipped with a single 10-inch Dynon D1000 EFIS/MFD with Synthetic Vision, Dynon comm and transponder, ADS-B Out, and ballistic parachute system."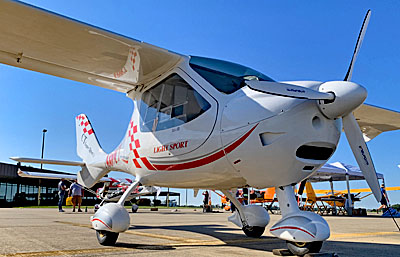 CT SuperSport can be delivered with a 710 pound empty weight that puts it well below many Light-Sport Aircraft and more than 100 pounds lighter than the longer CTLS. "This weight reduction was accomplished by using simplified avionics and equipment plus some lighter parts from the European version of the CT," said Flight Design.
CT SuperSport has the same spacious and wide interior of the CT series but it returns to the "mushroom" instrument panel that does not extend all the way to the cockpit exterior. Seeming to rise out of the floor, you know, like a mushroom, the panel produces a feeling of much greater visibility, especially forward.
Re-entering the CTSW cabin reminded me of the helicopter-like vision afforded by the cockpit design. This came in handy while I flew with the father and son team named Tom Gutmann …both of them. One is "Senior" and one is "Junior," though if you've met them you know "junior" is quite a misnomer. Both fellows are big, strapping Americans. Yet Tom Jr. and I fit in CT SuperSport with several inches between us and without pushing up against the door to make that claim.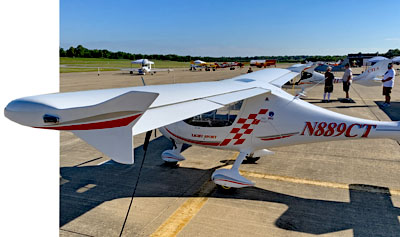 CT SuperSport is some 13 inches shorter than CTLS, Tom Jr. noted and it does not have the hat rack or aft cabin windows of CTLS. CT SuperSport also uses an electric trim for pitch only while CTLS has pitch, aileron, and rudder trim by wheels.
The new, lighter CT model is what I'd agree to call a performance model. It runs close to the top end of the permitted speed range, can fly around 1,000 statute miles, climbs 1,000 feet per minute, yet sips fuel at rates of four gallons per hour, even less if you retard the throttle slightly. It is a lively handling aircraft that still exhibits mild stall characteristics proven by our performing a full regimen of approach and departure stalls plus accelerated stalls in each direction.
Base price of CT SuperSport is: $135,000, some $40,000 less than the flagship CTLS. "Options include night flight equipment and autopilot with Level button," said Flight Design.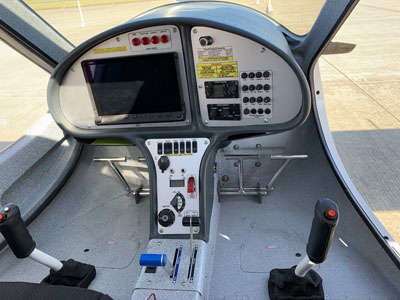 Father and son Gutmanns run Airtime Aviation — with the wonderfully short "FlyCT.com" web address. Airtime is perhaps the largest non-manufacturer seller of aircraft in light aviation worldwide. Their enterprise has delivered more aircraft than many manufacturers have ever made (greater than 200) yet they remain loyal to — and highly knowledgeable about — Flight Design aircraft. They've been active since the beginning of Light-Sport Aircraft.
Learn more from the Video Pilot Report that will follow; be patient, these productions involve many days of editing.
---
I hoped to post a mini-video from the photo mission in the CTSS and CTLS. Alas, I ran out of time and energy. Plus, I think I have enough cool footage that I wanted to do it right. I'll get it up on the ByDanJohnson YouTube channel as soon as possible but the nearby still photos show what a lovely day it was for flying.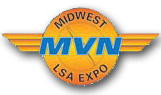 You have two more days of MWLSA. If you are within a reasonable flight or drive, come on out and see the marvelous things Chris Collins has done with the Mt. Vernon airport. This fellow may qualify for the airport manager of the decade award. He's already won the trophy in my mind.
Tomorrow, we tackle the InnovAviation FX1 for a Video Pilot Report …and we're just getting started!