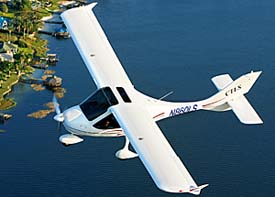 Anyone who has tried to borrow money in the last five years knows how tough it has become. Banks supported by government guarantees practically gave money away before the subprime meltdown but are now being much more careful. That's a good thing but it means even some credit-worthy customers can't get the loan they need. Commonly rejected are flight schools. Flight training enterprises across the nation are struggling to obtain financing to buy new aircraft to replace aging fleets of trainers.
*** Despite the challenges, one LSA outfit has found at least a partial answer. Thanks to a solid customer (and onetime dealer), Flight Design USA has been able to offer a limited number of schools a method called leaseback. Training students today are three leased back CTLS Light-Sport Aircraft but this business success is only one part of a genuine human interest story.
*** "We are pleased to announce the third CTLS leased to a flight school was used by Iraq war veteran Adam Kisielewski, an Able Flight scholarship recipient who recently earned his Sport Pilot certificate," said Tom Peghiny of Flight Design USA. Able Flight added that Kisielewski was the 20th student to earn his certificate through the program. "The aircraft Adam used was purchased and leased back by Joe Daguiar and this is the third time* he's done this," Peghiny explained. That solves the flight school airplane issue. Then consider the student.
*** Adam is a determined young man who learned to fly without his left arm or his right leg below the knee. Such losses might stop most people from doing something as rigorous as flight instruction, but Adam is not most people. Listen, he rides a Harley Davidson motorcycle and it has no special adaptation to assist him. He survived a 2005 explosion when he entered a bomb-rigged door in a blast that took the life of a fellow Marine.
*** ByDanJohnson.com readers know LSA use less fuel; can employ mogas options for even more savings; are quiet enough to help airport neighbor relations; and have modern features that students appreciate. Flight Design can additionally offer a hand-control system for the CT series though Adam didn't use the system.
*** Able Flight offers scholarship programs where the organization provides the aircraft. Stites does the work to coordinate this effort and Able Flight pays the costs thanks to generous support from a variety of sponsors and individual donors. "Able Flight typically pays not just for the airplane, but all travel, lodging and test fees during training. However, in Adam's case we were able to provide his training more cost-effectively since he trained near his home," added Stites.
* "LSA pilot Joe D elected to buy three Flight Design aircraft and to make them available on leaseback to flight schools," said Peghiny. The three schools, all in Joe's region include: Premiere Flight Services at Brainard Airport in Connecticut; Northampton Aeronautics in Massachusetts; and, East Hill Flying Club in Ithaca, New York.