HYPOTHETICAL SCENARIO — You crash landed your airplane at an airport. You are unconscious inside. Emergency crews race to assist but they are worried about your airplane having a powerful rocket motor that might injure them as they try to extricate you. What do you do? More advisably, what should you have already done?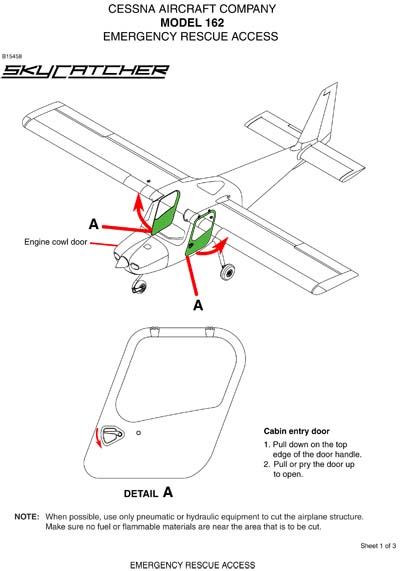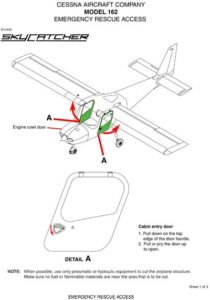 Plenty of smart aviators and nearly every salesperson will tell you safety doesn't sell. Pilots buy performance, range, sleek lines, comfort, and the latest instrumentation. Most take for granted that the aircraft is well-built and designed with stable characteristics and reliable systems. No matter their ultimate value, safety systems simply aren't sexy.
Tell that to Cirrus Design, the Minnesota startup (back in the late '90s) that did a terrific job of selling "that airplane with the parachute." Of course, their SR20 and SR22 also steadily acquired all the dazzling features they could incorporate but any Cirrus rep' is likely to agree the whole airframe parachute system, now called CAPS, was a leading reason why they did so well. The parachute set the SR20 apart from all other competitors as the new millennia began.
Truth in blogging notice: I was deeply involved with BRS parachutes when Alan and Dale Klapmeier's company had only 18 employees. Because Alan had survived a midair collision the brothers were adamant about their new baby airplane having a ballistic parachute. This history gives me a particular bias but the sales success of Cirrus is plain for anyone to see. Many thousands are flying and nearly every airport has one or many based on the field.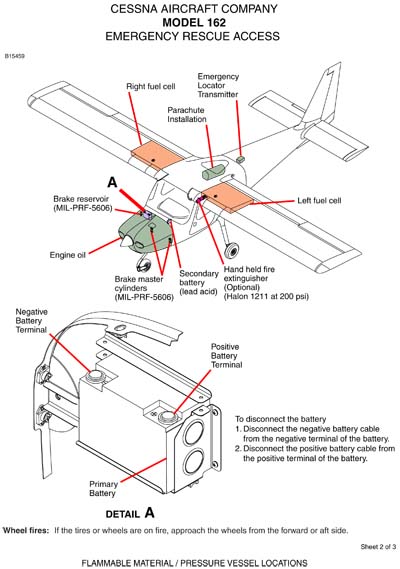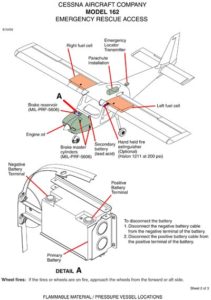 Recently a longtime friend and aviation business associate, Tom Peghiny alerted me to a request from Keith Leonhardt, the manager of operations and maintenance at Massachusetts' Hanscom Field airport. He wrote, "As an airport operator, we often provide our ARFF (Aircraft Rescue & Fire Fighting) crews with 'crash crew' charts for the type aircraft that are based at our airport." He asked Tom, the North American importer of CTs, "Would you happen to have any documentation that shows fuel capacity, battery location and BRS location for your fleet, particularly the CTLSi? We would like to use those documents to train on the Flight Design aircraft based at our airport." Keith was asking about documents like those accompanying this article.
You see, Flight Design wisely took a lesson from the success of Cirrus and at the insistence of Peghiny and Flight Design USA, the German manufacturer made airframe parachutes standard equipment on Light-Sport Aircraft delivered in the USA and Germany. It may be related, as it was for Cirrus, to the fact that Flight Design has sold more LSA than any other brand in America.
To show what he was seeking Keith sent Tom crash crew charts for two companies as examples. One was the set you see nearby for the now-defunct but still flying Cessna Skycatcher. The other was for Cirrus, whose models now appear on airfields all around the world.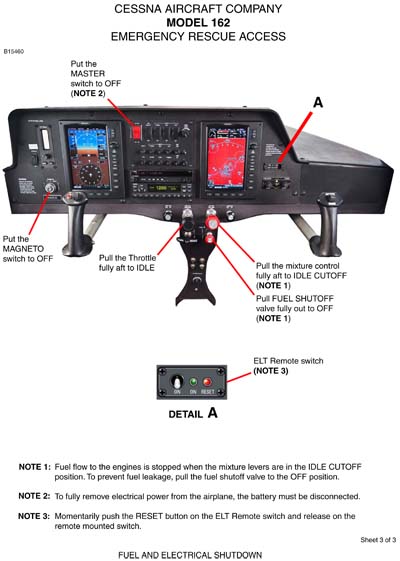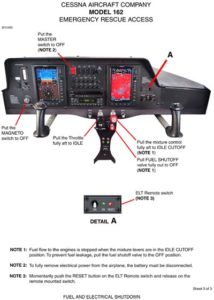 Look. Here's why this otherwise rather mundane topic might be vitally important. A few years ago, I was one of the people described at the top of this article except the scenario was not hypothetical. See these two reports if interested: my accident and some reasons. BTW, that happened about 10 years ago. I'm doing fine and flying as often as possible. Kudos to the doctors and others in the health care industry.
I don't bring up this personal story for any reason except than to say, "IT CAN HAPPEN TO YOU." You may not think it will ever happen to you, and, believe me!, I certainly hope it does not. However, why jeopardize your chances of rescue? Ideally, emergency workers who may have to help you will have such aircraft-specific information.
Here's the valuable message:
MANUFACTURERS — These days nearly all producers use CAD software in their design. Making crash crew charts are thereby not a major burden. If you upload these charts to your company website, you can make airport managers aware of where to find them. Fellows like Keith Leonhardt may seek such material. Others will not be so vigilant but at least you'll have them available if a first responder organization contacts your company. The Imperative — Not only are you potentially helping a customer get rescued with greater success but you will have one more line of defense if a lawsuit occurs. I hope neither happens, but if you sell enough airplanes, it becomes increasingly likely.
PILOTS / OWNERS — Encourage your manufacturer to make such crash crew charts available. It could be very important to your life. Well informed first responders can do their job faster and more effectively… and that could be the difference between life and not. The Imperative — If you find yourself in a situation as I once did, you may be very grateful that rescuers have the guidance they need to extricate you swiftly. Consider this as insurance (that is not very costly). You hope you never need it but may be so glad you arranged it ahead of time if the need arises.