Introducing…WHISPER!
One of the most popular airplane series in all of aviation is the RV series. They make wonderful airplanes but they require a considerable investment of your hours to build plus you have to wait a year and a half (as of late 2023) to experience delivery of an order today. Both use up valuable time. Both delay your enjoyment of flight in your new airplane.
Longtime LSA importer Deon Lombard has a solution. Shhhh… it's Whisper! Deon operates as Fly Light Sport CA.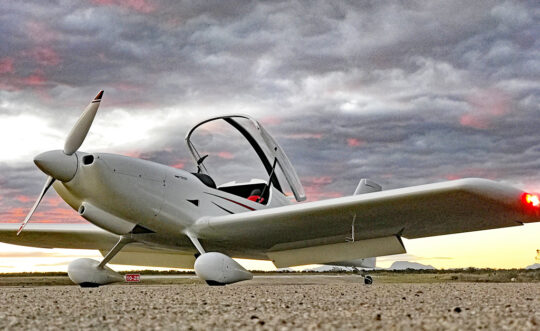 "Whisper X350 is an affordable, two-seater, sport aircraft design for cross country trips," Deon explained. A second-generation model Whisper X350 is a creature meant to go fast. The "350" part of the name speaks to a potential top speed of 350 kilometers per hour, which translates to 190 knots.
Whisper is a smooth side-by-side two-seater in tailwheel landing gear with a tricycle gear option for those uncomfortable with a taildragger. Photographs reveal a new carbon fiber wing loaded to 12 Gs positive; the wing is shown very heavily loaded to arrive at this discovery. For regular use, Whisper has a design load factor limit of +6 Gs –4 Gs.
Wide-span, electrically-operated flaps extend deeply to 45 degrees. Wings now in production for the Gen II iteration feature a wet-wing system capable of holding 63 gallons of fuel. This gives Whisper great range. Flown at a more modest 45-55% power range, where Whisper remains quite speedy, you could fly from the center of America to almost any point in the continental U.S.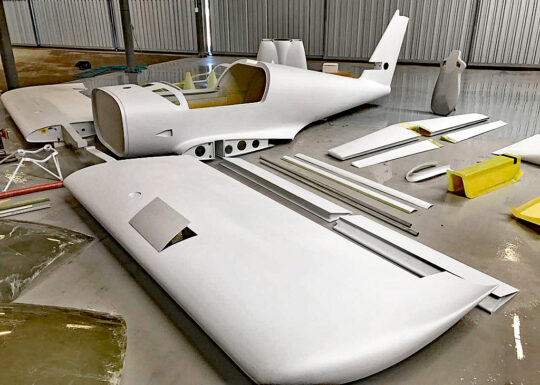 According to Whisper Aircraft, "An X350 kit can be completed in about 500 hours depending on your current skill set." All structural components and large surfaces are shipped completed. Composite parts have a base coat already sprayed to assure product quality.
"The kit ships with 90%-built wings, horizontal stabilizer, rudder, flaps, ailerons, elevators, and fuselage. Within a short time your aircraft will be ready for motor installations," said Whisper Aircraft. While the big parts apparently come substantially done, the details of engine installation, wiring and plumbing, plus finishing the exterior and interior easily assure Whisper X360 Gen II can quality as a U.S. Experimental Amateur Built aircraft.
U.S. importer Deon Lombard added, "The first tricycle gear model is completed and the prototype is waiting for the South African CAA approval and proving flight. This effort has been somewhat delayed due to Covid. It will be ready in January or February 2021." A parachute option has been added as well. "We are very excited about Whisper as the completed luxury interior can be included in the kit as well," he added.
See Fly Light Sport CA at Sun 'n Fun 2024 and check out Whisper in person.