For many years AeroSport has represented the BushCat, one of the most affordable airplanes in the entire LSA fleet, yet one that charms buyers all over America and around the world.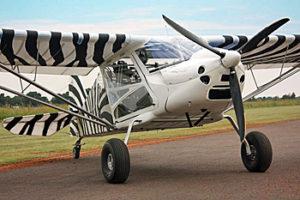 More than just an affordably priced airplane, BushCat adds value by its versatility. BushCat can be bought ready-to-fly, as a kit, as a tri-gear or taildragger, on floats or not. It is roomier inside than it may appear. At 52 inches, BushCat has one of the broadest cockpits among all LSA.
Bushcat's tough and light Dacron-Trilam fabric covered aircraft (needs no paint, which reduces added weight) offers a higher-than-typical payload yet substantial fuel load (24.8 gallons). Additional features include sprung aluminum landing gear, hydraulic brakes, dual controls via a central stick, dual rudder pedals, pitch trim, and unique dual throttles at the end of each outside armrest that fold up out of your way for entry/exit.
Most pilots will enjoy BushCat's wide-open visibility and beside the low purchase price, ease of maintenance and low operating costs have been enhanced with continued improvements from developer SkyReach.
In the U.S. BushCat is represented  by AeroSport, distributor for SkyReach (Pty) Ltd., a company once known to readers as Rainbow Aircraft, maker of the Cheetah. When SkyReach took over and professionalized the organization and marketing, they rebranded the aircraft as BushCat. They also made a series of positive improvements to an airplane that flew well and had singular features. In fact, SkyReach has demonstrated that they continuously upgrade and improve BushCat.
AeroSport represents BushCat from two great locations. The original home base is in northern Illinois, making the company almost a neighbor of EAA and providing a central location for Americans to visit. AeroSport's hanger and maintenance facility is located at Galt Airport (10C). This location — Telephone: 888-211-1773 — easily accommodates weekend demo flights and builder-assisted assembly projects. AeroSport is operated by President Daniela Knoll and General Manager Jeremy Knoll.
Now in Florida!
More recently, AeroSport has purchased a large hangar and established a sales, service, and maintenance facility at the DeLand airport in central Florida. They are located on the same airport that hosts the annual DeLand Sport Aviation Showcase.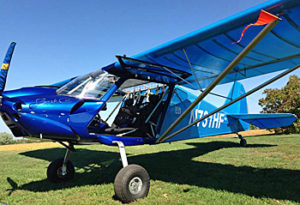 Branching out to a climate that works year-round, Daniela and Jeremy made a major facility investment to provide full manufacturer services for all BushCat aircraft models, of course, but they can also do work on conventional (Standard Category / Part 23) aircraft. The new facility is well-positioned, and is a large, comfortable facility. The Knolls have ambitious plans to go further and this will benefit all recreational pilots in the Southeast USA and beyond.
If you are seeking an affordable LSA that will give years of enjoyment without busting your budget, BushCat by SkyReach may be your flying machine. Find it in Wisconsin or Florida. If you need maintenance services, contact them at their DeLand facility: 888-444-1970. (Illinois number is 888-211-1773.)