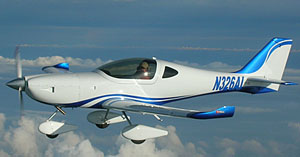 Arion Aircraft, based in Shelbyville, Tennessee is quite centrally located in the USA and that seems appropriate for this is an all-American design. Lightning is U.S. owned, U.S. designed, U.S. built, and U.S. supported with mostly U.S. components. At a time when many of our fine Light-Sport Aircraft come from overseas, many American pilots prefer to deal with a company in their own country, their own language, and in their own currency. Yet, even while this United States company excels at home, their lovely Lightning LS-1 has also found interest overseas, from buyers that were captured by the airplane's smooth lines and sleek speedy performance. Fortunately, American aircraft retain tremendous appeal in many other countries so we can expect to see the Lightning go world wide. Adding to their credibility, Arion Aircraft in 2012 underwent one of FAA's intensive audits (six officials for three full days!); they completed this exercise successfully, thereby reassuring all past and new customers.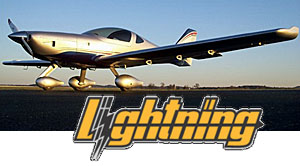 Lightning has long been powered by the Jabiru 3300 six cylinder 120 horsepower engine that gives the model thrilling performance. It is sold as a Special LSA, a kit Experimental LSA, or as an EAB, Experimental Amateur Built. In the latter category, Lightning buyers can elect the UL Power engines (130 to 160 horsepower) and Arion engineers are finishing a demonstration aircraft with the Lycoming O-320 engine supplying 160 horsepower. As I flew an earlier kit version that did not need to stay within the LSA rule's speed limit, I know Lightning can blaze along, true to its name, at approaching 200 miles per hour. Despite its high speed capability, Lightning also slows down well — it meets the LSA regulation stall limit of 45 knots clean — and it uses fuel quite sparingly. Handling is crisp and clean while not being touchy and it lands without special skills. Add all this together and no wonder Arion has moved up into the Top-20 of best selling brands in the LSA space (out of more than 90 manufacturers, plus this ranking does not count kit-built non-LSA models).
Are you convinced yet? Even if Lightning cost $150,000 or more like several other top of the line Light-Sport Aircraft, it's many desirable qualities would keep it in contention for your purchase decision. Yet the base price is $119,900 with 30 gallon fuel tanks, dual brakes, electric flaps and trim, an 8.4-inch EFIS panel plus EMS, comm radio, transponder, and intercom. Naturally, you can save even more by building the kit and the factory is well prepared to provide assistance with this task. For $37,990 (in mid 2013), you can get the standard kit and build it in as small a space as a one-car garage in 500 hours for the average builder. An engine, propeller, interior, paint, and instruments will add to the kit price, of course, but you can get airborne for $70-80,000 and you'll have a well-equipped aircraft that can go ... well, lightning fast. In building this comfortable two seater, you'll deal with a great staff that will patiently assist your effort plus you can personally meet these key personnel at an airshow near you. As their website suggests, Fly Lightning!