Welcome to our newest feature — Launched in January 2022 (Upgraded 1/18/22)
Part 103 Ultralight Vehicles are a special category within the FAA regulations. For one, they are not called "aircraft" as that helped detour around burdensome regulations for FAA approved aircraft. Instead, FAA called them "vehicles."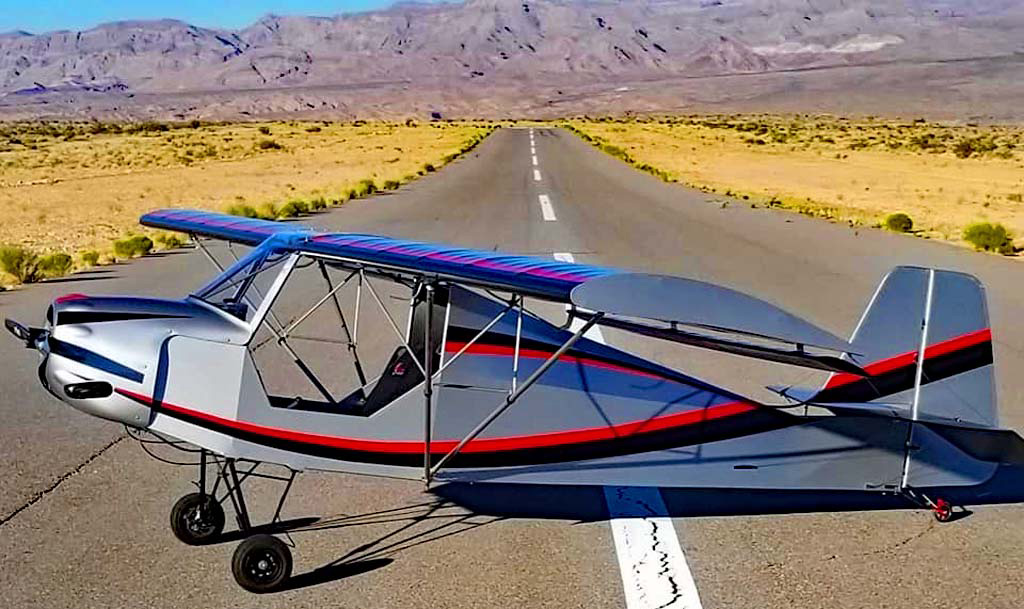 The rule that brought 103 Ultralights into recognition was written in 1982 and has never been changed. It is the simplest, least intrusive FAA regulation available, so brief that it can be printed on the front and back of a single sheet of paper.
Why Is Part 103 So Great?
Part 103 Ultralight Vehicles are specially privileged. How are they special?
They do not need any FAA (N-number) registration.
They need no pilot certificate of any kind.
Therefore, no aviation medical is required to fly one.
The manufacturer can build a 103 ultralight ready-to-fly or in kit form so long as it meets the explanations offered in AC-103-7 — the official guidance for FAA field officers to use in evaluating if a flying machine qualifies as a 103 ultralight.
How the Part 103 Ultralight List works
…and how you can help
If you know of a qualifying Part 103 ultralight vehicle not on this list, send us an email and tell us about it.
You may sort the list to more easily find what you want using column headers: Company, Models, Type, or Origin.
Clicking or tapping the small triangles near one of these column headers will sort the list alphabetically, A-Z or Z-A. This may help you zero in on your target. Most browsers also allow you to search the page for specific words.
The "Type" column uses these abbreviations:
FW = Fixed Wing
FA = Fixed Wing Amphibian
WS = Weight Shift
PPC = Powered Parachute
MGL = Glider / Motorglider
PPG = Powered Paraglider (with wheeled carriage)
GP = Gyroplane
HEL = Helicopter
Follow the Links
The Part 103 List below is full of links in four different types (upgraded 1/18/22):
Company — Click or tap to go directly to more information on the company's website. This is not an advertising page and a listing is not an endorsement of any aircraft.
Model — Clicking on a model takes you to contact information plus any articles or videos about that aircraft that are available on ByDanJohnson.com.
Email — Opens an email letter to an address specified by the company.
Phone — On a connected cellular device you can tap on a number to call. Be aware of added cost when calling international numbers.
Learn More about Many Aircraft Right Here…
Of all models in the Part 103 List, many have articles or videos about them.
To go still further, use Search or Advanced Search to find more plus lots of content on LSA and other aircraft types.
No Paywall — All content here on ByDanJohnson.com is available without cost to you. Happy Shopping! Please consider visiting the advertisers that help us provide all this content.
Many Countries Have Similar Programs…
This list shows all the present-day producers and models of Part 103 ultralights in various forms and from any country. All have been verified to assure they meet Part 103, a U.S. regulation, however, some very similar programs also function in other countries:
120 Kilogram Class — Germany, others
SSDR (Single Seat DeRegulated) and Sub-70 Kilogram — UK, others
Microlight, and other 103-like regulations — France, various other countries
Note that "Ultralight" in other countries (Europe, others) generally means something larger than U.S. Ultralights.
Email
Phone

AVI Aircraft

Swan 120

FW
Email
004-0722-534-430

Tancabesti, Bucharest

Romania

Ace Aviation

Spirit series

WS
Email

England

Adams Aeronautics

CA-2

FW
Email
404-219-7326

Jasper, GA

USA

Adams Aeronautics

T-100D Mariah

FW
Email
404-219-7326

Jasper, GA

USA

Aero Adventure, Inc.

Aventura UL

FW
Email
866-494-5367

DeLand, FL

USA

Aeromarine-LSA

Merlin Lite

FW
Email
262-408-0124

Lakeland, FL

Aeroplanes Dar

UL 115

FW
Email
+359 88 8226445

Bulgaria

Aeros

Aeros-70

WS
Email

Ukraine

Aeros

Aeros-E

WS
Email

Ukraine

Aeros

Ant

WS
Email

Ukraine

Aeros

Compact

WS
Email

Ukraine

Aeros

Simple

WS
Email

Ukraine

Affordaplane Aircraft

Affordaplane

FW
Email

USA

Air Creation

Pixel

WS
Email
33 (0)4 75 93 66 66

France

AirBorne Australia

T-Lite

WS
Email
+61 2 4944 9199

Redhead NSW, --

Australia

Airdrome Aeroplanes

Dream Classic

FW
Email
816-230-8585

Holden, MO

USA

Airdrome Aeroplanes

Dream Fantasy

FW
Email
816-230-8585

Holden, MO

USA

Airdrome Aeroplanes

Fokker D-VI

FW
Email
816-230-8585

Holden, MO

USA

Airdrome Aeroplanes

Fokker D-VIII

FW
Email
816-230-8585

Holden, MO

USA

Airdrome Aeroplanes

Fokker E-III

FW
Email
816-230-8585

Holden, MO

USA

Airtime Aircraft (formerly Sea & Sky Inc.)

Explorer 103

WS
Email
850-999-7887

Fort Walton Beach, Florida

USA

Aviad

Zigolo MG-12

FW
Email
+34 666 385775

Corridonia (MC), --

Italy

Aviad

Zigolo Mg21

FW
Email
+34 666 385775

Corridonia (MC), --

Italy

Badland Aircraft

F-series

FW
Email
702-234-9931

Truman, MN

USA

Better Half VW

Legal Eagle

FW
Email
281-375-5453

Brookshire, TX

USA

Blackhawk

LowBoy III

PPG
Email
209-786-7899

Valley Springs, CA

USA

Blackhawk

Quad

PPG
Email
209-786-7899

Valley Springs, CA

USA

CGS Hawk Singles

Hawk 103

FW
Email
561-512-3230

Port St. Lucie, FL

USA

CGS Hawk Singles

Hawk Ultra

FW
Email
561-512-3230

Port St. Lucie, FL

USA

Carlson Aircraft

Sparrow

FW
Email
330-426-3934

East Palestine, OH

USA

Cloudbase Aviation

Lil' Bitts

FW
Email

USA

Composite FX

XEL (Mosquito)

HEL
Email
352-538-1624

Trenton, FL

USA

Earthstar Aircraft

Gull

FW
Email
805-438-5235

Santa Margarita, CA

USA

Earthstar Aircraft

Soaring Gull

FW
Email
805-438-5235

Santa Margarita, CA

USA

Ekolot

Elf KR-01A

FW
Email
+48 13 436 88 97

Krosno, --

Poland

Eurofly

Minifox

FW
Email
+39 348 802 8399

Tezze sul Brenta, VI

Italy

Eurofly

Snake Trike

WS
Email
+39 348 802 8399

Tezze sul Brenta, VI

Italy

Evolution Trikes

Rev

WS
Email
813-810-9262

Zephyrhills, FL

USA

Fisher Flying Products

Avenger

FW
Email
519-933-2055

Dorchester, ON

Canada

Fisher Flying Products

FP-303

FW
Email
519-933-2055

Dorchester, ON

Canada

Fisher Flying Products

FP-505

FW
Email
519-933-2055

Dorchester, ON

Canada

Fisher Flying Products

Koala FP202

FW
Email
519-933-2055

Dorchester, ON

Canada

Fisher Flying Products

Sky Baby FP606

FW
Email
519-933-2055

Dorchester, ON

Canada

FlyLight

PeaBee

WS
Email
+44(0)1604 494459

England

Fresh Breeze

BulliX

PPG
Email
+49 / (0)5130 / 3769922

Germany

Fresh Breeze

Cross X

PPG
Email
+49 / (0)5130 / 3769922

Germany

Fresh Breeze

Flyke

PPG
Email
+49 / (0)5130 / 3769922

Germany

Fresh Breeze

One Striker

PPG
Email
+49 / (0)5130 / 3769922

Germany

Fresh Breeze

X-One

PPG
Email
+49 / (0)5130 / 3769922

Germany

Future Vehicles s.r.o.

Desire

FW
Email
+420 732 229 915

Czech

Future Vehicles s.r.o.

Dingo

FW
Email
+420 732 229 915

Czech

Future Vehicles s.r.o.

Song SSDR

FW
Email
+420 732 229 915

Czech

Future Vehicles s.r.o.

Song UL

FW
Email
+420 732 229 915

Czech

Future Vehicles s.r.o.

Viera

FW
Email
+420 732 229 915

Czech

Green Eagle

Powered Parachute 2020

PPG
Email
210-724-5086

USA

Green Eagle

PPG EFI

PPG
Email
210-724-5086

USA

Grif Italia

Piuma

WS
Email
+39.0761.555254

Castel Sant' Elia, VT

Italy

Grif Italia

Snake

WS
Email
+39.0761.555254

Castel Sant' Elia, VT

Italy

Grif Italia

Strike

WS
Email
+39.0761.555254

Castel Sant' Elia, VT

Italy

Hummel Aircraft

UltraCruiser

FW
Email
419-636-6700

Bryan, OH

USA

Infinity Power Parachutes

Challenger 503

PPC
Email
260-543-0699 • 260-438-0337

Sturgis, MI

USA

JH Aircraft GmbH

Corsair

FW
Email
+49 4161 6531212

Germany

Jordan Lake Aero

Air-Bike 103

FW
Email
502-523-2154

USA

Kolb Aircraft

FireFly

FW
Email
606-309-6281

London, KY

USA

Lazair Nouveau

Lazair

FW
Email
N/A

Canada

M-Squared, Inc.

Breese SS

FW
Email
251-957-1533

St. Elmo, AL

USA

Mirocopter

SCH-2A

HEL
Email
951-491-9002

Slovenia

Mitchell Wing

A-10D

FW
Email
(317) 847-8564

USA

Monotrike

115

WS
Email
+48 600 072 312

Poland

Monotrike

70

WS
Email
+48 600 072 312

Poland

North Wing Design

ATF

WS
Email
(509) 682-4359

Chelan, WA

USA

North Wing Design

Maverick 4

WS
Email
(509) 682-4359

Chelan, WA

USA

North Wing Design

Solairus

WS
Email
(509) 682-4359

Chelan, WA

USA

Phantom Aeronautics LLC

Phantom X-1

FW
Email
269-271-4568

Three Rivers, MI

USA

Quad City Ultralight Aircraft Corp

Challenger 103

FW
Email
309-764-3515

Moline, IL

USA

Quicksilver Aeronautics

Sport or Sprint I

FW
Email
985-536-3994

Reserve, LA

USA

SD Planes (Spacek)

SD-1 Minisport

FW
Email
+420 605 409 539

Hodonín, --

Czech

Sector Aircraft (Brazil)

Quantum

FW
Email
+55 19 3056-6854

S. J. Boa Vista, SP

Brazil

Sherwood

Kub

FW
Email
44 (0)1328 878809

UK

Simplex Aero

Cloudster

FW
Email
801-830-0612

Old Saybrook, CT

USA

Simplex Aero

Zing

FW
Email
801-830-0612

Old Saybrook, CT

USA

Six Chuter, Inc.

P3 Lite

PPC
Email
509-792-0726

USA

Sky Driving

Skykart

PPG
Email
352-461-6723

USA

Star LSA

Star Bee Gyro

GP
Email
(803) 761-7242

Trenton, SC

USA

Team Mini-Max LLC

1100R

FW
Email
574-214-3660

Niles, MI

USA

Team Mini-Max LLC

MAX 103

FW
Email
574-214-3660

Niles, MI

USA

Thunderbird Aviation

Hiperlight SNS8

FW
Email
586-212-5875

Harrison Township, MI

USA

Top Rudder Aircraft LLC

103 Solo

FW
Email

Seneca, SC

USA

Tri-State Kites

Smithsilver 103

FW
Email
812-781-9882

Mt. Vernon, IN

USA

U-Fly-It

Aerolite 103

FW
Email
386-738-4444

Deland, FL

USA

Wings of Freedom LLC

Phoenix 103

FW
Email
330-534-5548

Hubbard, OH

USA