A funny thing happened on our way to quarterly reporting of LSA and Sport Pilot kit market shares.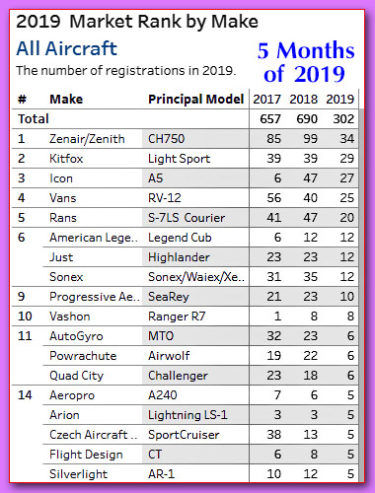 Our first quarterly report in many years should have come about April 1st. It did not. That date came as Sun 'n Fun was getting underway separated by only one day from the German Aero show. So involved were we in those season-starting events that we just blew past the date.
Five Months In
Combined Report
The first chart reflects both LSA and SP kit registrations through May of 2019 and also depicts the equivalent performances for the full years of 2017 and 2018.
What the chart suggests is that 2019 is a solid year with the light sector on track to hit 725 aircraft for the year, up about 5% over last year and up more than 10% over 2017. For space reasons the chart only shows ranks 1–18 but all are available on Tableau Public.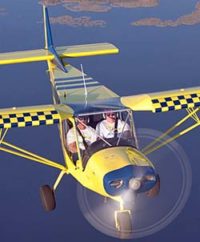 Digging deeper, the chart shows that longtime market leader Zenith/Zenair lead by a substantial margin in 2017 and 2018 but that gap may be narrowing for 2019. Please keep in mind that a kit company completes a sale long before the aircraft gets registered and appears on FAA's database. Also, a kit sold may never be finished.
Conversely, Icon's 27 registrations this year are for ready-to-fly aircraft although that does not mean they were registered by the end customer. The leading LSA builder so far in 2019, Icon is on pace to register 65 aircraft this year, up 38% over last year.
American Legend, which operates both in the RTF and kit business, is ticking upwards. They may hit 29 registrations, up 140% over last year. Arion is another both-ways manufacturer looking to have a much improved 2019 while newcomer Vashon should double last year's registrations.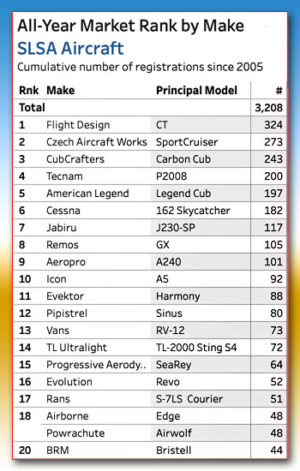 Strong SP kit suppliers include Kitfox, Vans, and Rans — no real surprises but here's a couple observations. Kitfox is on a pace to hit 70 registrations this year, up about 80% over 2018. Van's Aircraft is headed to 60, up 50% over last year. Rans will remain about even. Remember, we only count aircraft that can be flown by a Sport Pilot or a higher-certificated pilot with no medical. Van's, for example, sells many more kits but most won't meet that criteria.
Separating LSA from SP Kits
Flight Design continues its recovery, on pace to increase from last year's low number by 50%. Now that we can separate CubCrafters RTFs from kits, the CT maker is back atop the all-years SLSA rank list. Number two producer, Czech Sport Aircraft should be about even from 2018 but is well off their 2017 registrations. Powrachute and AutoGyro slipped from stronger performances in recent years. On the downside, Glasair suspended production for their Merlin that never found reception in the market.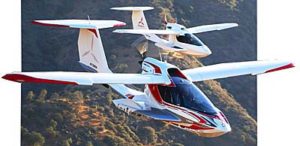 Looking at cumulative registrations, Zenith/Zenair clearly holds the top spot among Sport Pilot kit aircraft sellers. Rans, Sonex, and Kitfox are the next big producers in the light kit space, followed by Quad City and Just Aircraft, trailed a bit further back by Searey maker Progressive Aerodyne, CubCrafters, and Quicksilver.
One More Thing: ELSA Factor
You might see that kits appear to be the larger enterprise over fully-built LSA. That's correct, but consider the kit companies have been building their business and networks for far longer and they have lower price points …although you obviously must invest a good many hours to complete a project and some will get discouraged along the way and never finish the job.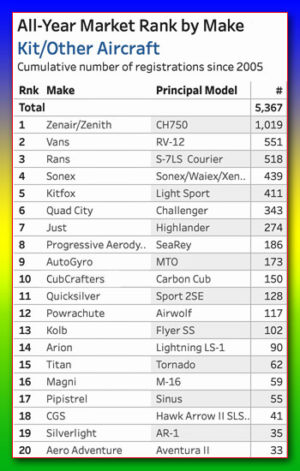 Yet the real surprise comes when you look at our final chart of this article. Kits appear ascendant since 2013, especially when compared to Special LSA that seems to have found a stable registration rate of around 200 aircraft per year. However, when you combine SLSA with Experimental LSA, you can see that all LSA types number closer to 300 units per year, compared to all SP kits at just shy of 400. Specialty registrations like Experimental Exhibition are steady but at a far smaller unit count.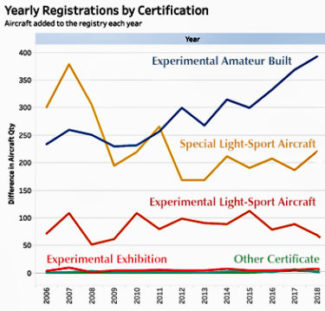 Any ELSA must be shipped from the factory as a bolt-for-bolt copy of the SLSA model, as required under the regulation. No producer can sell an ELSA without first getting approved for a SLSA, so to my mind, combining SLSA and ELSA makes for a fairer comparison to Sport Pilot kit aircraft.
If you love these numbers, please visit Tableau Public. You can learn a lot more about the vibrant light aircraft sector. Enjoy!
Disclaimer: These reports rely on FAA's registration database. We believe this to be a reliable resource but it presents data that are different than what any company reports in sales or deliveries. Over time, these two sets of data draw closer but will not precisely mirror one another. Data presented on Tableau Public are arranged according to a defined method explained on that page (see button labeled "Where the numbers come from").