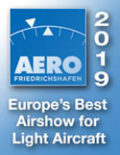 Jetting straight from Sun 'n Fun, we were able to arrive at Aero Friedrichshafen by noon on opening day. A quick swing around the most light-aircraft-filled halls (the "B" halls) brought some fresh surprises. Following are a few designs that caught my eye on an initial pass.
The profusion of light aircraft we don't see in the USA — some of which will never reach the market — is one of the main reasons Aero Friedrichshafen is my favorite show in Europe. This mostly indoor fair (as Europeans call such shows) always has many ideas of interest.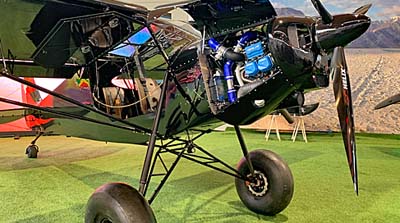 Zlin Ultra with Rotax 915iS — Never one to rest Pascale Russo reintroduced his Ultra Shock from last Aero with the more powerful Rotax 915iS. Ultra Shock plays on the term "ultralight," which means something different in Europe than in the USA (it is a reference to light aircraft quite similar to Light-Sport Aircraft). The use of the term implied a lighter, leaner version of the Shock Cub — renamed Outback Shock in the USA because "Cub" is owned by CubCrafters.
Potency is has been increased in the revised Ultra Shock by using the newest and most powerful engine from Rotax, the Austrian company's 915iS. Delivering 135-140 horsepower, the lightened Ultra Shock has become nearly as awesome as the 180 horsepower Titan-powered Shock Cub/Outback Shock. The two likely perform very similarly because the Rotax powerplant is lighter than the Titan even before considering airframe lightening.
Flight Design All-New F-Series — You may feel you have not have seen as much of Flight Design since their reorganization but they've assembled an impressive team to make a new family of models titled F2–F2e–F4. Briefly, F2 is a larger, significantly changed follow-on to their CT-series that has sold so well around the world. That series will continue along with entries like CT Super, the "entry-level" model. CTLSi will be in the middle with F2 representing the top-of-the-line
A new team of engineering, manufacturing, and flight personnel have dedicated themselves to this and other projects under the corporate umbrella of Lift Air. F2 has many changes, among them losing the stubby appearance (to some eyes) of the CT series. It also addresses the older population that buys new LSA, with doors that are at once wider, taller, and lower, easing entry even more; it was always a turn-around-and-sit proposition.
Another literally large change is cabin size. F2 has a voluminous area aft of the two seats; you can carry a lot of payload in this aircraft, weight and balance considered. However, in mentioning this cabin volume, I can segue to F4, the company's planned four-seater project. This is not to replace the company's earlier C4 four seater based on the CT series. The middle number F2e is a reference to an electric propulsion model to follow but reviewed at Aero 2019.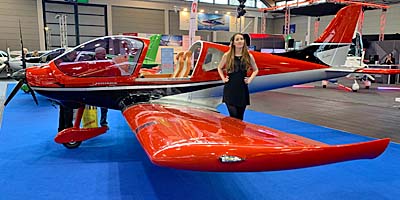 Belmont Aero DW200 — With its distinctive canopy slid forward as seen in the nearby photo, this design may not look obviously like its design heritage, but close that canopy and you can easily see the similarity to SportCruiser. That design, first brought to market by the former Czech Aircraft Works, founded by longtime entrepreneur Chip Erwin, has spawned other variations including the current company, Czech Sport Aircraft, that once labeled the model as PiperSport. Another is the very successful Bristell aircraft from BRM Aero although this entry has highly refined many aspects of the design because its creator, Milan Bristela, was associated with the airframe since the very beginning; he and I first met back in 2003 when he was employed at Czech Aircraft Works. As does Bristell, Belmont is available in a retractable version, which is permitted by European regulations.
Belmont is using a variety of equipment suppliers. Rotax is the preferred engine but the company also offers the UL Power 350is. The Latvian business, with production in the Czech Republic, offers a wide variety of propellers and other equipment for purchase consideration.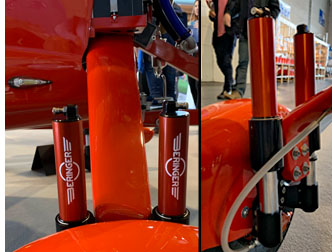 Beringer Everywhere — It seems anywhere you look you see Beringer's signature orange finish to their beautiful hardware. That was true at Sun 'n Fun last week and it is even more common this week at Aero Friedrichshafen. The French company is enjoying a strong acceptance for their high quality products.
While their wheels and brakes comprise the main thrust Beringer has made into aviation, they also produce a tailwheel option and now a unique shock absorber offering seen nearby fitted to a weight shift trike.
From their days in performance equipment for ground-based vehicles, Beringer moved strongly into aviation products and they have done so well — received warmly by many airframe producers — that a couple years ago, they left the auto business and are now focused entirely on aviation. They established a strong U.S. presence and have a base in Greenville, South Carolina (864-214-4274).