Special Light-Sport Aircraft, or SLSA, are 100% factory built light aircraft that may be used commercially for instruction and rental. These aircraft are accepted by FAA after the manufacturer demonstrates compliance with industry consensus standards and proves they have proper manufacturing controls.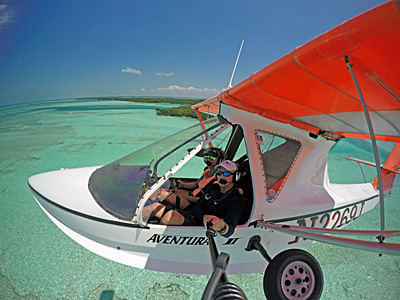 Since the first SLSA approvals in April 2005, the LSA industry has gained FAA approval for more than 150 aircraft models. ByDanJohnson.com is pleased to list all of these models in the order in which they were approved for a LSA airworthiness certificate.
How the SLSA List works… and how you can help
If you know of an approved aircraft not on this list, send us an email and tell us about it.
Keep up with all these new approvals returning to this page frequently. The newest FAA-accepted SLSA appear at the top (default view). Click the No. header to see which aircraft received certification first.
Sort the list to find what you want. Reorder the list by clicking on the up and down arrows next to each column header for Certification Order number (No.), Airplane Model, Manufacturer, or Importer.
The "Type" column uses these abbreviations: FW = Fixed Wing • FA = Fixed Wing Amphibian • WS = Weight Shift • PP = Powered Parachute • GL = Glider / Motorglider
"(U.S. Built)" after an importer's name signifies that the primary fabrication is done in another country — or the design was created in that country — but the U.S. builder buys components and assembles the aircraft in the USA. This is permitted as an "extension" under defined conditions.
Once you've found airplanes of interest, use search to find content about each aircraft here on ByDanJohnson.com or you can click to the manufacturer's website, or its U.S. importer.
| No. | Type | Model | Manufacturer | U.S. Importer | Phone | Website |
| --- | --- | --- | --- | --- | --- | --- |
| 158 | FW | A50 Junior | Junkers Aircraft | 1445 | +41 71 5664671 | Visit Site |
| 157 | FW | Norden | Zlin Aviation | SportairUSA | (501) 228-7777 | Visit Site |
| 156 | FW | F2 | Flight Design GmbH | Flight Design USA | (860) 963-7272 | Visit Site |
| 155 | FA | Aventura SLSA | Aero Adventure, Inc. | Made in USA | 866-494-5367 | Visit Site |
| 154 | FW | MC01 | Montaer Aeronaves (Brazil) | | +55 75-3015-1207 | Visit Site |
| 153 | FW | Transition | Terrafugia, Inc. | Made in USA | (781) 491-0812 | Visit Site |
| 152 | GL | Elf KR-010 | Ekolot | NIU Group (Ekolot) | 815-758-4691 | Visit Site |
| 151 | FW | Colt 100 | Texas Aircraft Manufacturing | Made in USA | 830-423-2067 | Visit Site |
| 150 | FW | FX1 | InnovAviation | 1102 | 011-39-389-2408723 | Visit Site |
| 149 | FW | Aurora | Sunward USA | Sunward USA | 469-908-5001 | Visit Site |
| 148 | WS | Goat | Wild Sky Aircraft | Made in USA | 509-990-5060 | Visit Site |
| 147 | FW | A32 Vixxen | Aeroprakt Ltd. | Aeroprakt USA | 901-356-5175 | Visit Site |
| 146 | FW | Fusion 212 | Magnus Aircraft USA | The Aviator Family | 830-998-7270 | Visit Site |
| 145 | WS | Revolt | Evolution Trikes | Made in USA | 813-810-9262 | Visit Site |
| 144 | FW | Ranger R7 | Vashon Aircraft | Made in USA | 425-527-9944 | Visit Site |
| 143 | FW | Legend 600 | Aeropilot Ltd. | 1102 | (01142) 0-605-296-563 | Visit Site |
| 142 | FW | J170-D | Jabiru Australia | US Sport Planes | 940-597-6860 | Visit Site |
| 141 | FW | Skytrek (Sport) | Triton AeroMarine | Triton America | (360) 941-3565 | Visit Site |
| 140 | FW | Merlin LSA | Glasair Aviation | No Longer Produced | (360) 435-8533 | Visit Site |
| 139 | PP | MK 3.2 | SkyRunner LLC | Made in USA | (318) 219-5722 | Visit Site |
| 138 | FW | S-20 Raven | Rans Incorporated | Made in USA | (785) 625-6346 | Visit Site |
| 137 | FA | A5 | Icon Aircraft | Made in USA | 800-577-2379 | Visit Site |
| 136 | FW | Astore | Tecnam Costruzioni Aeronautiche | Tecnam US Inc. | (863) 655-2400 | Visit Site |
| 135 | FW | Sport S2SE | Quicksilver Aeronautics | Made in USA | 985-536-3994 | Visit Site |
| 134 | FA | Super Petrel LS | Scoda (Edra) Aeronautica | Super Petrel USA | 855-557-7877 | Visit Site |
| 133 | FW | Super Legend | American Legend Aircraft Company | Made in USA | (903) 885-7000 | Visit Site |
| 132 | FW | Dragonfy 912 | Pitman Air LLC | Made in USA | (530) 529-3030 | Visit Site |
| 131 | FW | SC 07 Super Cruiser | B.O.T. Aircraft | The Aviator Family | 830-998-7270 | Visit Site |
| 130 | WS | Skypper | Air Creation | Air Creation USA | (520) 203-1275 | Visit Site |
| 129 | FA | SeaRey LSA | Progressive Aerodyne | | 352-253-0108 | Visit Site |
| 128 | FW | Dragonfly 582 | Pitman Air LLC | Made in USA | (530) 529-3030 | Visit Site |
| 127 | FW | Vulcan C-100 | SAB Aviation S.r.l. | SAB Aviation of Americas, LLC | (01139) 8-2448-1712 | Visit Site |
| 126 | FW | Alpha | Pipistrel LSA s.r.l. | Pipistrel USA | (0481) 522-000 | Visit Site |
| 125 | FW | Sling | The Airplane Factory | The Airplane Factory USA | 424-241-0341 | Visit Site |
| 124 | WS | Scout XC | North Wing Design | Made in USA | (509) 682-4359 | Visit Site |
| 123 | FW | FK12 Comet | FK-Lightplanes | Hansen Air Group | (770) 427-6311 | Visit Site |
| 122 | FW | Sinus | Pipistrel LSA s.r.l. | Pipistrel USA | (0481) 522-000 | Visit Site |
| 121 | FW | Bristell (NG 5) SLSA | BRM Aero, s.r.o. | Bristell Aircraft (USA) | +420 608 306 338 | Visit Site |
| 120 | FW | Spirit | World Aircraft Corporation | Made in USA | (731) 642-1995 | Visit Site |
| 119 | FW | Harmony LSA | Evektor Aerotechnik | Evektor (Dreams Come True) | (800) 883-1897 | Visit Site |
| 118 | GL | Taurus | Pipistrel LSA s.r.l. | Pipistrel USA | (0481) 522-000 | Visit Site |
| 117 | GL | Virus (glider) | Pipistrel LSA s.r.l. | Pipistrel USA | (0481) 522-000 | Visit Site |
| 116 | FW | Virus SW | Pipistrel LSA s.r.l. | Pipistrel USA | (0481) 522-000 | Visit Site |
| 115 | FW | Topaz | Ekolot | NIU Group (Ekolot) | 815-758-4691 | Visit Site |
| 114 | FW | Viper SD-4 | Tomark Aero | Eagle International Aircraft Inc. | 954-377-8333 | Visit Site |
| 113 | FW | Storch | Criquet Aviation | Operations Suspended | (011) 571-676-4216 | Visit Site |
| 112 | FW | Alto 100 | Direct Fly s.r.o. | US AeroSports (Alto) | 501-207-2301 | Visit Site |
| 111 | FW | Phoenix | Phoenix Air s.r.o. | Phoenix Air USA | (420) 724-084-966 | Visit Site |
| 110 | PP | Maverick | I-TEC | Made in USA | (352) 465-4545 | Visit Site |
| 109 | FW | MC | Flight Design GmbH | Flight Design USA | (860) 963-7272 | Visit Site |
| 108 | PP | Predator | SkyTrails LSA | Made in USA | (979) 282-2005 | Visit Site |
| 107 | WS | Revo | Evolution Trikes | Made in USA | 813-810-9262 | Visit Site |
| 106 | FW | P2008 | Tecnam Costruzioni Aeronautiche | Tecnam US Inc. | (863) 655-2400 | Visit Site |
| 105 | FW | Skycatcher | Cessna (Shenyang) Aircraft | Made in USA | (800) 423-7762 | Visit Site |
| 104 | FW | Carbon Cub SS | CubCrafters | Made in USA | (509) 248-9491 | Visit Site |
| 103 | FW | Sirius TL-3000 | TL Ultralight | SportairUSA | (501) 228-7777 | Visit Site |
| 102 | WS | Trident | Ramphos | Ramphos USAU.S. Built | (631) 872-2332 | Visit Site |
| 101 | FW | BushCat (Cheetah XLS) | Rainbow SkyReach (Pty) Ltd. | AeroSport, LLC | 888-444-1970 | Visit Site |
| 100 | FW | RV-12 | Van's Aircraft, Inc. | Made in USA | (503) 678-6545 | Visit Site |
| 99 | WS | Cygnet | Airtime Aircraft (formerly Sea & Sky Inc.) | Made in USA | 850-999-7887 | Visit Site |
| 98 | FW | Aerotrek A220 | Aerotrek Aircraft | Aerotrek Aircraft | (812) 384-4972 | Visit Site |
| 97 | FW | Kitfox Light Sport | Kitfox Aircraft (FoxAir) | | (208) 337-5111 | Visit Site |
| 96 | FW | Lightning LS-1 | Arion Aircraft, LLC | Made in USA | (931) 680-1781 | Visit Site |
| 95 | FW | Century | Storm Aircraft | Air Elite Aviation | | Visit Site |
| 94 | FW | GX | Remos Aircraft GmbH | Remos Aircraft, Inc. | (888) 838-9879 | Visit Site |
| 93 | FW | CH 750 LS | Eastman Aviation (formerly AMD) | No Longer Produced | | Visit Site |
| 92 | FW | Samba (Samba XXL) | Distar CZ a.s. | Distar Air USA | (559) 289-5519 | Visit Site |
| 91 | FW | S-6 Coyote (SLSA) | Rans Incorporated | Made in USA | (785) 625-6346 | Visit Site |
| 90 | FW | Breese 2 DS (SLSA) | M-Squared, Inc. | Made in USA | 251-957-1533 | Visit Site |
| 89 | WS | Sport X2 | North Wing Design | Made in USA | (509) 682-4359 | Visit Site |
| 88 | FW | FA-04 Peregrine | Flaeming Air | Hansen Air Group | (770) 427-6311 | Visit Site |
| 87 | FW | Flyer SS | Flyer Industria Aeronautica Ltda | Kolb AircraftU.S. Built | 606-309-6281 | Visit Site |
| 86 | FW | Navigator 600 | 3Xtrim Aircraft | 3Xtrim, Inc | | Visit Site |
| 85 | FW | Outback 2 | Australian Lightwing | Airgyro Aviation | | Visit Site |
| 84 | FW | Sky Cruiser | Bilsam Aviation | Light Wing Sport Aircraft | | Visit Site |
| 83 | FW | Super 2 | Opus Aircraft LLC | Operations Suspended | (336) 573-3779 | Visit Site |
| 82 | FW | Renegade (formerly Falcon LS) | Renegade Light Sport, LLC | Made in USA | (314) 322-5660 | Visit Site |
| 81 | WS | Monsoon AS-IV | Apollo Aircraft | Made in USA | (813) 786-8290 | Visit Site |
| 80 | FW | Apollo LSA | Apollo Aircraft | Made in USA | (813) 786-8290 | Visit Site |
| 79 | PP | Pegasus 582 | Powrachute Corporation | Made in USA | (574) 286-9670 | Visit Site |
| 78 | FW | X-Air LS | Raj Hamsa (Rand Kar) | X-Air LSAU.S. Built | (541) 388-5337 | Visit Site |
| 77 | FW | Hawk Arrow II LSA | CGS Hawk Aviation | Made in USA | | Visit Site |
| 76 | FW | Toxo Sportster | Composite Aeronautic Group | No Longer Produced | (513) 984-5880 | Visit Site |
| 75 | PP | Legend XL Tandem | Six Chuter, Inc. | Made in USA | 509-792-0726 | Visit Site |
| 74 | PP | Legend P103 | Six Chuter, Inc. | Made in USA | 509-792-0726 | Visit Site |
| 73 | FW | AT-3 | Aveko s.r.o. | No U.S. importer at present | (01148) 177745700 | Visit Site |
| 72 | FW | Eaglet | Tecnam Costruzioni Aeronautiche | Tecnam US Inc. | (863) 655-2400 | Visit Site |
| 71 | FW | Sting S3/S4 | TL Ultralight | SportairUSA | (501) 228-7777 | Visit Site |
| 70 | FW | P1 | Paradise Industria Aeronautica Ltda | No U.S. importer at present | (561) 632-8428 | Visit Site |
| 69 | FW | CTLS | Flight Design GmbH | Flight Design USA | (860) 963-7272 | Visit Site |
| 68 | FW | Rampage | ICP / Skykits | Skykits CorporationU.S. Built | (403) 601-8700 | Visit Site |
| 67 | FW | J230-SP | Jabiru Australia | US Sport Planes | 940-597-6860 | Visit Site |
| 66 | FW | WT-9 Dynamic | Aerospool CR | No U.S. importer at present | (772) 597-2443 | Visit Site |
| 65 | FW | S-19LS Venterra | Rans Incorporated | Made in USA | (785) 625-6346 | Visit Site |
| 64 | FW | S-Wing | S-Wing VSLZ s.r.o. | S-Wing USA | | Visit Site |
| 63 | FA | SeaMax | Seamax Aircraft (formerly AirMax) | SeaMax Aircraft (USA) | 386-281-6742 | Visit Site |
| 62 | FW | EA-100 | Eagle Aviation LLC | No Longer Produced | (877) 398-9541 | Visit Site |
| 61 | WS | Quik GT450 | P & M Aviation | P & M Aviation USA | (404) 561-7632 | Visit Site |
| 60 | WS | Quik | P & M Aviation | P & M Aviation USA | (404) 561-7632 | Visit Site |
| 59 | PP | Sky Trek | Soaring Concepts, Inc. | Made in USA | (269) 467-9572 | Visit Site |
| 58 | PP | Legend XT SSDC | Six Chuter, Inc. | Made in USA | 509-792-0726 | Visit Site |
| 57 | FW | Lambada UFM-13 | Distar CZ a.s. | Distar Air USA | (559) 289-5519 | Visit Site |
| 56 | GL | TST-14 | TeST, spol. s r.o. | LSA Gliders LLC | (608) 219-5459 | Visit Site |
| 55 | FW | AT-4 | Aero Sp. Z.o.o. | Aero AT USA | (413) 949-0828 | Visit Site |
| 54 | FW | Sport Hornet | Higher Class Aviation (DBA Oklahoma Light Aircraft) | No Longer Produced | (866) 974-9222 | Visit Site |
| 53 | FW | BushCaddy/Explorer | BushCaddy | No U.S. importer at present | (613) 931-3133 | Visit Site |
| 52 | WS | XT-912 Outback | AirBorne Australia | US AirBorne Sport Aviation Center | +61 2 4944 9199 | Visit Site |
| 51 | FW | Elitar Sigma | Samara VVV-Avia | A&P Aircraft | | Visit Site |
| 50 | PP | AirWolf 912 | Powrachute Corporation | Made in USA | (574) 286-9670 | Visit Site |
| 49 | FW | A-22 | Aeroprakt Ltd. | Aeroprakt USA | 901-356-5175 | Visit Site |
| 48 | FW | Savannah VG | ICP / Skykits | Skykits CorporationU.S. Built | (403) 601-8700 | Visit Site |
| 47 | FW | Savannah ADV | ICP / Skykits | Skykits CorporationU.S. Built | (403) 601-8700 | Visit Site |
| 46 | FW | Mystique | Flying Machines s.r.o. | Made in USA | (01142) 739292850 | Visit Site |
| 45 | PP | Commander 912 S-LSA | Infinity Power Parachutes | Made in USA | 260-543-0699 • 260-438-0337 | Visit Site |
| 44 | FA | Freedom S100 | Colyaer Products | | (256) 355-1022 | Visit Site |
| 43 | FW | Silvaire LSA-8 | Luscombe Silvaire Aircraft Company | Made in USA | (951) 682-5385 | Visit Site |
| 42 | FW | Skylark DV-1 | SkyView Aviation, LLC | Operations Suspended | (209) 830-7666 | Visit Site |
| 41 | FW | Skyboy | Interplane Aircraft | No Longer Produced | | Visit Site |
| 40 | FW | Calypso SP | Jabiru Australia | Jabiru USA (North America)U.S. Built | (800) 522-4781 | Visit Site |
| 39 | FW | Savannah | ICP / Skykits | Skykits CorporationU.S. Built | (403) 601-8700 | Visit Site |
| 38 | WS | Voyageur II | Delta Trikes Aviation | Adventure Sport Aircraft | (877) 835-9464 | Visit Site |
| 37 | FW | Sport Cub S2 | CubCrafters | Made in USA | (509) 248-9491 | Visit Site |
| 36 | FW | Faeta | Atec Aircraft | Atec Aircraft (USA) | (208) 523-3073 | Visit Site |
| 35 | WS | Delta Jet 912 | Apollo Aircraft | Made in USA | (813) 786-8290 | Visit Site |
| 34 | PP | Summit II | Summit Powered Parachutes | Made in USA | (810) 697-9638 | Visit Site |
| 33 | FW | Highlander | Just Aircraft | Made in USA | (864) 718-0320 | Visit Site |
| 32 | FW | Aerotrek A240 | Aerotrek Aircraft | Aerotrek Aircraft | (812) 384-4972 | Visit Site |
| 31 | FW | G-3 | Remos Aircraft GmbH | Remos Aircraft, Inc. | (888) 838-9879 | Visit Site |
| 30 | WS | XT 912 | AirBorne Australia | Precision Windsports | (434) 851-6804 | Visit Site |
| 29 | FW | Rally | Storm Aircraft | Air Elite Aviation | | Visit Site |
| 28 | WS | GTE 912 | Air Creation | Air Creation USA | (520) 203-1275 | Visit Site |
| 27 | WS | Tanarg 912 | Air Creation | Air Creation USA | (520) 203-1275 | Visit Site |
| 26 | FW | Sport | Taylorcraft Aviation | No Longer Produced | (956) 986-0700 | Visit Site |
| 25 | FW | Zodiac CH-601 (650) | Eastman Aviation (formerly AMD) | No Longer Produced | | Visit Site |
| 24 | FW | FK9 B Mark IV | FK-Lightplanes | Hansen Air Group | (770) 427-6311 | Visit Site |
| 23 | FW | J170-SP | Jabiru Australia | US Sport Planes | 940-597-6860 | Visit Site |
| 22 | FW | J250-SP | Jabiru Australia | US Sport Planes | 940-597-6860 | Visit Site |
| 21 | FW | Sky Arrow | Magnaghi Aeronautica S.p.A. | No U.S. importer at present | (01139) 81-597-7202 | Visit Site |
| 20 | FW | S-7LS Courier | Rans Incorporated | Made in USA | (785) 625-6346 | Visit Site |
| 19 | FA | Mermaid | Wet Aero, Inc. | Operations Suspended | (772) 919-2949 | Visit Site |
| 18 | FW | SportCruiser (formerly PiperSport) | Czech Sport Aircraft (now Cruiser Aircraft) | Cruiser Aircraft, Inc. | 772-918-8242 | Visit Site |
| 17 | FW | Parrot | Czech Sport Aircraft (now Cruiser Aircraft) | No U.S. importer at present | (208) 523-3073 | Visit Site |
| 16 | FW | CH-601XL | Czech Aircraft Works | No Longer Produced | | Visit Site |
| 15 | FW | MD-3 Rider | FlyItalia | Space Coast Aviation Services | 011-39-373-978-008 | Visit Site |
| 14 | FW | iCub / Savage | Zlin Aviation | SportairUSA | (501) 228-7777 | Visit Site |
| 13 | FW | Festival | Aerostar | LightSportFlying.com | | Visit Site |
| 12 | FW | Breezer II | Breezer Aircraft GmbH & Co. | Breezer Aircraft USA | | Visit Site |
| 11 | FW | C42 | Comco Ikarus GmbH | No U.S. importer at present | (01149) 7572-60080 | Visit Site |
| 10 | FW | Legend Cub | American Legend Aircraft Company | Made in USA | (903) 885-7000 | Visit Site |
| 9 | FW | Skyleader 600 | Skyleader (was Jihlavan) | Skyleader USA | 559-289-5519 | Visit Site |
| 8 | FW | Bravo | Tecnam Costruzioni Aeronautiche | Tecnam US Inc. | (863) 655-2400 | Visit Site |
| 7 | FW | P92 Echo Super | Tecnam Costruzioni Aeronautiche | Tecnam US Inc. | (863) 655-2400 | Visit Site |
| 6 | FW | Sierra | Tecnam Costruzioni Aeronautiche | Tecnam US Inc. | (863) 655-2400 | Visit Site |
| 5 | FW | StingSport | TL Ultralight | SportairUSA | (501) 228-7777 | Visit Site |
| 4 | FW | Thorpedo | IndUS Aviation | Operations Suspended | (214) 330-5300 | Visit Site |
| 3 | FW | Allegro | LSA America, Inc. (Allegro) | No U.S. importer at present | (252) 586-1200 | Visit Site |
| 2 | FW | CTsw | Flight Design GmbH | Flight Design USA | (860) 963-7272 | Visit Site |
| 1 | FW | SportStar | Evektor Aerotechnik | Evektor (Dreams Come True) | (800) 883-1897 | Visit Site |