Welcome to TL Ultralight's Sparker, a Mosaic-ready Light-Sport Aircraft.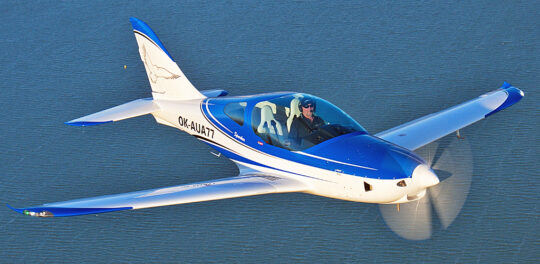 The model was introduced to the European 600 kilogram (1,320 pound) standard but over the last year it has gone through an extensive evaluation and upgrade to carry a 750 kilogram load (1,653 pounds). It was also revised to accommodate Rotax's 915iS and 916iS engines.
With greater capacity and with 160 horsepower available, Sparker is ready to energize the brand-new sector called Mosaic-ready Light-Sport Aircraft, or simply mLSA.
"Sparker is more than just an aircraft recertified to a higher take off weight," reported Trey. The new entry is spacious and makes good use of the space and weight capacities.
Additional take-off weight allows for a large luggage area that can hold 55 pounds in a space large enough for two sets of golf clubs. A smaller area up front can handle lightweight items you need in flight. Besides the additional load, you'll be able to access the compartment through an exterior door, eliminating one annoying aspect of loading some low-wing aircraft, requiring that you kneel on the seats and sling bags over a bulkhead.
Sparker is high end throughout. TL fitted luxury heated leather seats and in-cabin heat. Electric adjustable pedals make it easy to find the perfect fit.
TL Sport Aircraft importer Trey Murdaugh presented the attributes of Sparker:
Comfort: A

 

49.5 in. wide cabinwith comfort for two larger passengers up to a 6'6" pilots. "Electric adjustable pedals make it easy to find the perfect fit."
Ergonomics: Side stick controls with avionics switches incorporated into the handle, similar to Cirrus. "No center stick to impede the space for your legs."
Luggage: Large volume luggage area: 24 cubic feet , "For perspective, enough to accommodate two golf bags."
Amenities/Luxury: Internal USB power for charging personal devices "…plus an iPhone or iPad Mini holder that slides in and out of the dash to allow for up to 5 screens in the cockpit. Luxury heated leather seats and in cabin heat."
Power: TL offers Sparker with Rotax 912ULS, 915iS, or new 916i. "A TurboTech turbine engine producing 160 horsepower is in development."
Payload: Increased MTOW to 1,653 pounds (750 kilograms). "With this new weight limit Sparker can accommodate up to two 220 pound pilots, full fuel (36 gallons), and the maximum luggage allowance." Empty weight is approximately 910 pounds.
Performance: Cruise speeds of 165-175 knots with 916iS with a stall speed of 44 knots and up to 2,000 fpm climb. "This wide envelope is due in part to the electric slotted Fowler flaps."
Efficiency: Typical 7 gph fuel burn at cruise with range up to 900 miles.
Avionics: 3 Garmin 10-inch G3X displays, Garmin GMC 507 autopilot, Garmin 245R ADSB in and out, Garmin radios, "…and an option for IFR flight with the Garmin GTN 650 avionics package."
Visibility: "Sparker has a near-360 degree viewing area and the dash is low providing an excellent site picture even in the landing configuration."
Safety: Sparker offers a Stratos Magnum 601 ballistic recovery chute. "The design of the Sparker also incorporates a Kevlar-wrapped cockpit with crumple zones similar to modern automobiles. The kevlar keeps the carbon from shattering and the crumple zones help to absorb impact in the unfortunate event of a collision."

TL Sport Aircraft also represents the popular Sting, an American favorite since near the start of Light-Sport Aircraft, and Sirius, their all-composite high wing LSA. The line completes with Stream, a higher performance tandem seating low wing.