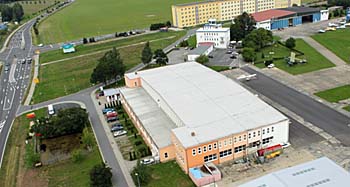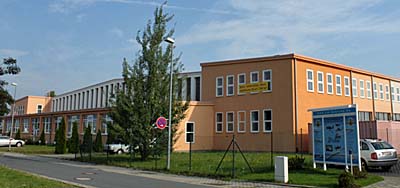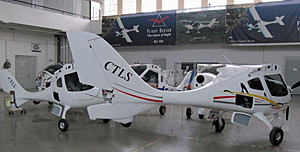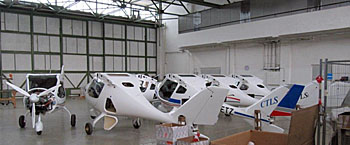 Since the beginning of Light-Sport Aircraft almost ten years ago — this summer at EAA AirVenture, the SP/LSA sector will celebrate its tenth anniversary with special functions — Flight Design has continuously led the fleet size statistics as seen in our market share charts. In recent years, along with most other LSA manufacturers, a tough global economy slowed the enterprise. However, as 2013 began to show renewed sales activity and with positive forecasts for 2014 and 2015, Flight Design and many other of the LSA "majors" have been again growing their staff, inventory, and physical facilities. Recently the German company sent photos of its new quarters in Kamenz (pronounced like "commons") in eastern Germany almost directly north of Prague in the Czech Republic.
Most senior staff moved from the company's Stuttgart, Germany base to the new facility and the Light-Sport models including the CT series and more are now housed in a spacious hangar on an airport. Previously the growing company had operations in multiple locations, which can affect efficiency. The new Kamenz location helps. "We are now occupying a big hangar plus a smaller structure used for pre-delivery flight testing. The new quarters are located at a former military base, 100 miles (160 km) south of Berlin with a 3,000 foot (1.000 m) paved runway," noted Flight Design GmbH board member and company director, Christian Wenger. "We are able to use the large hangar to stage finished aircraft after routine production and flight testing is complete. Once approved by engineers, Light-Sport Aircraft and European Ultralight aircraft are prepared for shipment to dealers in other countries or for pick up by European dealers and customers." Departments include work shops for avionics and engine installation, composite repairs and painting, plus final assembly after receiving major components from another division outside Germany.
Flight Design's Kamenz facility takes over all responsibilities of Flight Design's former Stuttgart center, the company noted, to further streamline operations, optimize costs, and reduce complexity in the manufacturing and distribution of CTLS Light-Sport Aircraft. Inside the main building referred to as "Hangar 1" the company reported having ample office space for the EASA Part 21J Design Organization (including engineering and flight test) and EASA Part 21G Production Organization (including quality management staff and production management). The upper floor on the northeast side is occupied by Finance & Administration, including meeting room and Directors office. Why all this new space and those obscure new regulatory designations? "Presently we employ 18 people in Kamenz," Wenger said, "with 10 of them working on aircraft completion and delivery. The German company continues to own and operate a large component fabrication facility in Ukraine, which is constantly monitored and supervised by Flight Design personnel.
Flight Design is one of an expanding group of LSA manufacturers that are pushing into larger aircraft with four seats or more. Evektor was one of the first with their four seat Cobra and close behind is Italian giant, Tecnam, which has a four seater in progress (P2010). The company is presently marketing its dual-Rotax-engine Twin and has announced plans for larger commuter-sized aircraft. Pipistrel has flown their sleek retractable four seater, Panthera. The Airplane Factory is flying their four-occupant Sling 4. Others not yet publicly unveiled are in the works. Flight Design is also working steadily in the sector with their four-seat, all carbon-fiber C4 among other ideas under consideration. With legacy producers like Cessna focused on jets and other working aircraft, the new breed of four seaters might emerge powerfully from the LSA space and Flight Design is preparing for that future with their move into the new quarters in Kamenz.