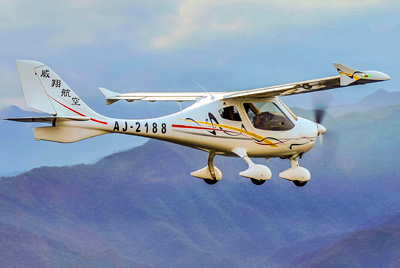 AeroJones Aviation is the licensed manufacturer of the CTLS and CTLSi aircraft designed by Flight Design of Germany. AeroJones serves the Asia-Pacific market from its factory in Xiamen, China. A recent tour of the manufacturing facility revealed a first-class operation steadily building this very popular aircraft.
Since 2005, this Light-Sport Aircraft has been the most successful model in the USA. Around 2,000 of this handsome high wing, cantilevered design are flying worldwide and increasingly in Asian markets. Born of aeronautical genius, the well-evolved CT-series has a distinctive shape with a sleek and smooth exterior finish that allows it to fly at the LSA speed limit of 120 knots.
Powered by the fuel-injected Rotax 912iS engine (that company's latest powerplant), CTLSi can also cruise with 75% power at a respectable 112 knots (129 mph) while using fuel most sparingly (about 4 gallons per hour). Thanks to large 34 gallon fuel tanks you can fly non-stop flight more than 1,000 miles.
CT boasts a flat 14:1 glide yet this speedy LSA slows nicely for landings even on shorter airstrips with full flap stalls at only 39 knots. Takeoff requires only 300 feet of ground roll and climb hits 1,000 fpm. CTLSi has electric flaps (-6 to +30 degrees), three-axis trim, cabin heat, multi-adjustable seats, and many more features.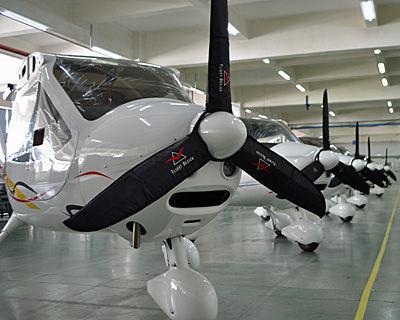 Occupants have 49 inches of width (a whopping 10 inches wider than a Cessna 172). Floor space and a hatrack area in the cockpit allow for items needed in flight. Exterior luggage compartments, with doors on each side, can carry 55 pounds per side.
Loaded with extras that cost more on other designs, every CTLS comes equipped with a BRS High-Speed 1350 emergency airframe parachute. Additionally all CTLS or CTLSi aircraft come standards with large dual screen digital flight info instrument with engine monitoring. An autopilot is a common option.
AeroJones is headquartered in Taiwan and its parent company makes optics for the best smartphones among other high quality components. Their quality approach to manufacturing shows in the finished CTLSi product.