You wanna go fast? Of course you do. What pilot doesn't want to go fast?
Lightning Fast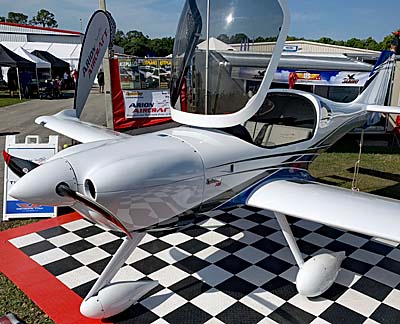 Now, ultralight pilots (me, for instance) will go on enthusiastically about the beauty of flying slowly, of drifting leisurely over the landscape at a "human speed" that allows enough time to enjoy the expanse of an aerial view of your surroundings. Open cockpit flying adds to the joy facilitated by low airspeeds.
Yet the allure of going fast is great, zipping over the countryside. I get that and when contemplating a cross country trip of any real distance, fast cannot be too fast. In addition to a higher TAS, we all yearn for a tailwind that will raise our speed by another 20 mph.
Arion Aircraft boss Nick Otterback also feels that desire to fly fast. Along with his since-retired but longtime business partner Pete Krotje, Nick created the dashing, sleek and smooth Lightning, first offered as a kit and a compliant Light-Sport Aircraft.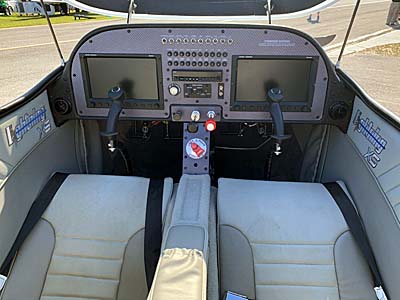 Lightning has enjoyed and continues to execute a good run but like many designers, Nick felt the design could handle more speed. He set out to bump the numbers by installing a Titan X340 with 180 horsepower. This triggered other changes such as a new cowl to accommodate the powerplant.
"Our Lightning XS kit has a redesigned forward fuselage structure that gives the builder the option to choose engines up to 180 horsepower," said Nick. "Taller landing gear for bigger props, bigger brakes, and 20 gallon fuel tanks are among some of the features of this new kit."
How fast does Lightning XS go? Testing is not complete yet; it recently took to the air. However, Arion is calculating 165 knots (190 mph) TAS at 8,500 feet density altitude at full gross. Climb is a stunning 2,000 fpm.
Of course Lightning XS is not a Light-Sport Aircraft and will require a Private or better certificate plus a medical.
Stronger Climb–Efficient Cruise–Greater Safety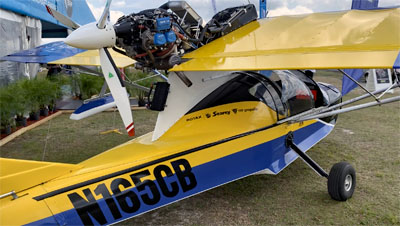 Rotax, Searey builder Progressive Aerodyne, and RS Technology continue work to acquire knowledge and data about what's called Single Lever Control (SLC). They've been at it a couple years or more and RS Tech is pleased with initial results.
Since I first interviewed Michael Stock about this on video, the team has changed to Rotax's newest 915iS engine that supplies 135 horsepower. Combined with the adjustable prop, this becomes an enthusiastic performer.
The beauty of the system, in my mind, is that it is so simple. A literal single lever makes the pilot workload no more difficult than a conventional throttle on a fixed pitch prop yet it can deliver increased performance to shorten takeoff runs without sacrificing cruise at altitude. This is a win-win safety argument that FAA recognizes. In our discussions with top executives with the agency they proved surprisingly and pleasantly receptive to considering SLC as they rework the SP/LSA regulation. That's not a guarantee but the odds seem promising. Nonetheless, that regulation is still years away — how many years is an unanswerable question at this point but the wheels of progress are in motion (see an earlier article on this subject).
In talking about regulation change, lots of folks are still asking about a speculated weight increase. Yes, one is definitely coming but not to a specific number. A formula will develop gross weight, and no, the final version of that formula is not yet established.
Lightning Bug 2 Encore Appearance
In the LSA–Sport Pilot kit aircraft–ultralight space, we had a rising star, an emerging talent, and one of the nicest people I've met. His name was Brian Austein. Sadly, this bright young man succumbed to cancer and died since last Sun 'n Fun …a terrible loss. However, his unique legacy lives on in Paradise City in 2019.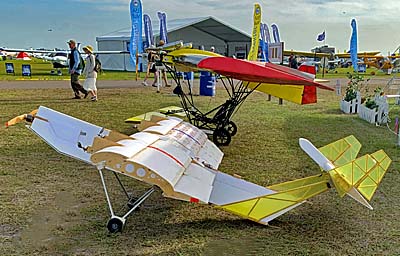 Brian's last full-sized project, the Lightning Bug 2 (the version number is mine not his), was quite remarkable. LB2 was a 150-pound empty weight aircraft — ponder that weight for a minute — powered by two model aircraft engines. It cost Brian a mere $3,000 out-of-pocket and he produced a man-carrying flying machine. I still find that story rather magical and his one-of-a-kind aircraft design to be utterly a fresh creation. I've never seen anything like LB2 and I'm not sure I ever will again. Catch this video interview with Brian about Lightning Bug.
Given his prodigious design ability and inventiveness I found it fun to see some of Brian's other ideas (photo) that he worked on until he died. He bubbled over with ideas as I interviewed him and he wrote from the hospital  of another new project in this same ultra-affordable aircraft space. R.I.P. Brian…