Most pilots love a fast-looking aircraft that looks as good on the ramp as it does in the air? Sure, gnarly backwoods airplanes on huge tires and tall gear struts have huge appeal, and float-equipped aircraft and seaplanes also draw strong interest. Yet aviation's leading draw may be speed …more is better, right?
If that's an accurate assessment, then let the drooling begin over this beautifully contoured flying machine that can race 135 to 185 miles an hour for a fairly modest investment. I'm writing about Lightning from Arion Aircraft, available as either a Light-Sport Aircraft or an Experimental Amateur Built version. That these handsome aircraft are also 100% designed and manufactured in the USA may be sweet icing on the cake for many readers.
LS-1 is a true Light-Sport Aircraft that meets all the parameters and survived a detailed FAA audit a few years ago. In the field owners I've spoken to love Lightning and its speedy ways.
Bolts of Lightning
Lightning LS-1 is an all-composite design with welded or machined elements. All components are made in house by Arion's experienced staff. More than 100 Lightnings are flying American skies (latest data here). The company reported 160 Lightning models are flying world wide since Lightning first flew on March 3, 2006.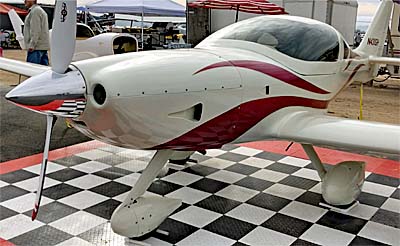 "Lightning LS-1 is designed and built around Jabiru's powerful 3300 aircraft engine," noted Arion. "With a displacement of over 200 cubic inches and a direct drive crank, this little beauty has over 120 horsepower on tap for performance rarely matched in a Light-Sport Aircraft." Lightning has no trouble hitting the LSA speed limit of 120 knots (138 mph).
"[We] spent more than three years making the kit Lightning as efficient and fast as we could, so slowing down to 120 knots was a complete reversal of thinking that had its benefits," said principal and designer, Nick Otterback. "By changing the airfoil slightly and adding three feet of wing span, LS-1 stalls below 44 knots clean, giving our aircraft an impressive 52 knot approach speed." Solo climb is in excess of 1,200 fpm and owners can expect 1,000 fpm at 1,320 pounds. At cruise speeds of 120 knots range fuel burns runs 5.5 gallons an hour. "These are real performance numbers a pilot can rely on; not on a perfect day at sea level or flying around solo, but all loaded up," stated Nick.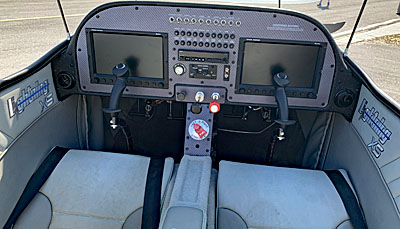 Most companies list useful load, but Arion said the more meaningful payload can be up to 470 pounds. That will allow two big Americans plus some luggage assuming weight and balance confirms. "Now standard equipped with 40 gallons of fuel, you can go over 800 nautical miles with VFR reserves," Nick added.
Lightning is offered only in tricycle-gear configuration — as most pilots prefer — but a taildragger version has been created by a builder. Read about that here.
Lightning XS, available only in kit form, offers a redesigned forward fuselage structure that gives the builder the option to choose engines up to 180 horsepower. At Sun 'n Fun 2019, Arion displayed an XS powered by the Continental Motors Titan XIO340, although the company also supports "legacy piston engines O200-O320 at 115 to 160 horsepower and UL Power's UL520is at 180 to 200 horsepower.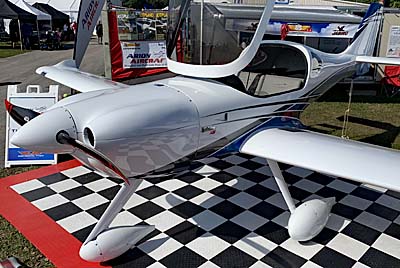 Taller landing gear permits bigger props on this new kit to allow the speedier model to hit speeds of 160 knots (184 mph). Firewall aft XS is much the same as the classic Lightning including its 42-inch wide cabin.
Arion also offers several propeller choices for the engines above. "For fixed pitch we like Sensenich wood or composite ground adjustable props," said Arion. "We have tested in-flight adjustable props as well. For the Titan or Lycoming types, Whirlwind aviation makes the RV200 series light weight CS prop. For Jabiru or UL Power we have tested the Airmaster series." Installation of an in-flight adjustable prop can increase performance but, of course, builders must plan for the extra weight on the nose during the build process. Pricing and other questions are answered on Arion's FAQ page.
For those unsure about building a kit, you can always choose the LSA model and pick it up ready to fly. If you want the extra speed, Arion offers a builder assist center at the Shelbyville, Tennessee facility about an hour south of Nashville.
As the video mentions, Lightning was selected by Bye Aerospace as the airframe for its electric propulsion project. The sleekness of the model is a perfect mate for electric power (here's an earlier article about that project).