Let me be honest. I've built one aircraft in my life. It was a Quicksilver MX series, a design that can be assembled by first timer with reasonable skills in only 80 hours or so. A lot depends on your skills and interest, your basic mechanical aptitude, the space you have to work, your tools, and how much time you can put into a project. Quicksilver is a super-simple kit. What if you desire something more complex?
I deeply admire those who have built some of the most beautiful aircraft I've ever seen.
As many a manufacturer has told me, even kit manufacturers — "A homebuilder can do an even better job than we can at the factory because they can spend all the time needed to get every detail exactly right. We have a business to run and even though we're very good at what we do, we cannot justify the hours a homebuilder may invest." Sounds right to me… even considering how many superlative factory-built kits I've seen.
Yeah, still, though, if I'm going tackle a project like a sleek and shapely Arion Lightning, I'm going to need expert help. Many builders love the idea of someone checking their work and suggesting an order of events before you start cutting a piece of metal. At Experimental Aircraft Build Center Arizona, Greg Hobbs, Jack Norris, and others are present and ready to give you advice or lend a hand if you feel uncomfortable.
When the job is done, you may find a level of satisfaction that is hard to duplicate with almost any other activity in your life. So, pack a bag, rev up your passion for aviation, and get ready to build.
Fortunately, Americans have many build center choices, but I was duly impressed with the Hobbs' Build Center in Arizona. Come on along (video below) while we took a flight from Copperstate to their facility.
Build Your Dream
Aided mightily by the real boss, Greg's longtime spouse Crystal, the pair have created a idyllic setting to build your own aircraft. Located about 30 miles northwest from Tucson or a hour and a half south of Phoenix, Arizona, Greg and Crystal built with their own hands a large hangar with all the space and all the amenities needed to get your airplane kit put together. Yours and several other projects all at once.
While you work at the project in time periods that work for you, the experience will be a eat-sleep-breath kit building from Day One. As Greg notes, entertainment and restaurants are a few miles away at the closest and people come to the Build Center not to go out for dinner or a movie but to build airplanes. So, build airplanes they do.
They'll work with you 12 hours a day if you want, but "it's whatever the customer wants to do," clarified Greg. If eight hours maxes you out (probably understandable at first, anyway), you can collapse on one of the lounge's comfy chairs and recharge your batteries.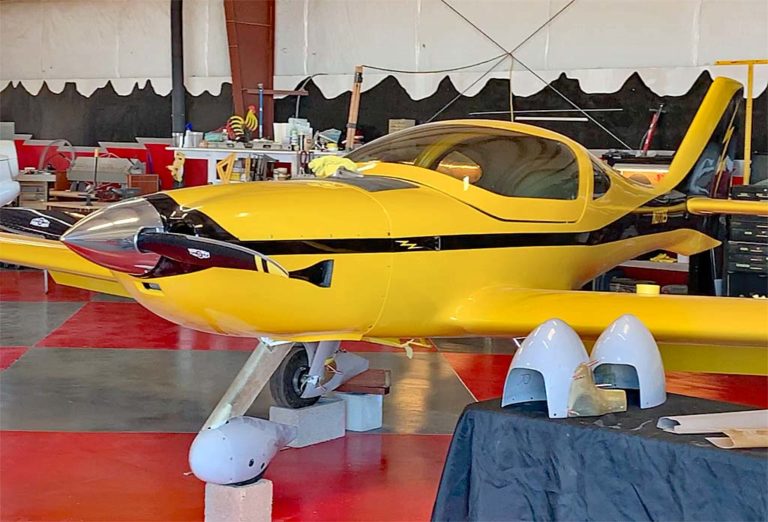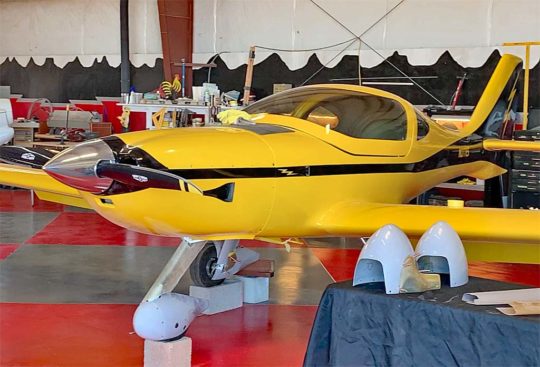 I was told by several builders that Crystal puts out a good food spread and generally these two make you feel at home, even providing bedrooms so you can stay on the job as long as your schedule allows. "Most spend time, return home, and come back to finish the task," explained Greg.
Building a Lightning — Greg observed, "All the primary fiberglass assemblies are preformed and fully fabricated including fuselage halves already bonded together with bulkheads installed; wings are substantially finished with fuel tanks installed; and all flight controls are installed." The kit also includes cowls, the prop spinner, cockpit canopy frame, seats, and baggage floors.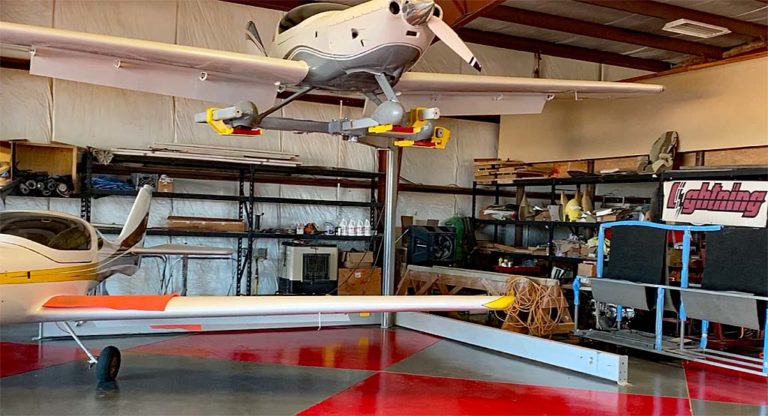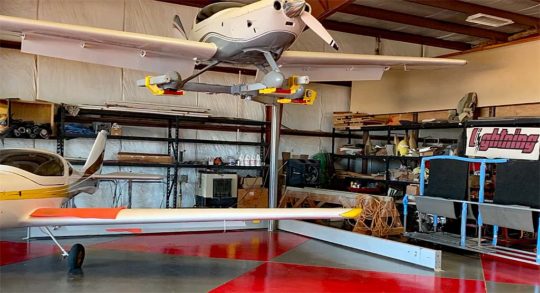 Welded structures, such as the motor mount, spar box assembly, gear leg sockets, and various brackets, are finished and epoxy painted at the factory making them ready to install. Lightning's landing gear is machined from 7075T6 aluminum and ready to fit.
An airplane like Lightning "goes together pretty fast," said Greg, continuing to say that the process takes only about three weeks. If you try this at home, plan on more time, other builders told me. The help the Build Center gives is invaluable plus it's more social than many projects.
The Experimental Aircraft Build Center Arizona also helps builders create the Flying Legends Tucano and the ICP Savannah.
The Build Center is 10 miles west of Marana's municipal airport, which itself is 20 miles northwest of Tucson, Arizona or about 100 miles south of Phoenix. This is baking hot country but Greg and Crystal's facility will keep you comfortable.
Find out more by visiting Experimental Aircraft Build Center Arizona. As you will see and learn, you need bring nothing but your enthusiasm. Greg and Crystal — along with partner Jack Norris — will provide everything. You get a sleeping room. Crystal prepares meals and several builders told me this may be the highlight of the whole experience. The Build Center provides all the tools, jigs, and work tables you need. Let's get to work!
---