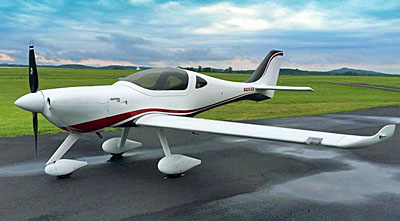 I readily admit I find Arion's Lightning LS-1 (the Special LSA model designation) one of the most handsome in the Light-Sport fleet …which is saying something as we enjoy dozens and dozens of quite beautiful aircraft in this sector. It's also all-American, referencing its design and manufacturing.
Lightning lives up to its name, running easily to the 120-knot maximum for LSA, especially when powered with a very muscular six-cylinder, 120 horsepower Jabiru 3300 powerplant.
Every Lightning to date has been a tricycle gear airplane and, honestly, for most pilots, that is the right choice. However, like many aviators, I love the look of a tail dragger so when I stumbled across the one you see in the photos, I did a double take. Whoa! That looks hot!
What you see here is a product of seven years of work by builder/owner Mike Lotz. I asked him to tell me about it and he offered enough that I'm going to let him tell his story. Mike wrote: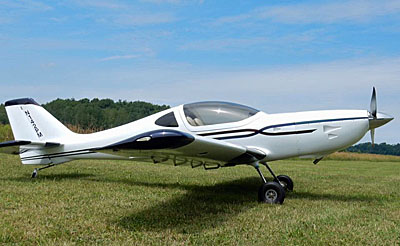 "My wife, Kathy, and I live in Chautauqua County in western New York. I've flown a converted Piper Colt out  of a small grass strip airport (D79) at the end of Chautauqua Lake since 2004. After a few years , I thought I would like something a little 'zippier.'
"In 2008 I came across the Lightning at Oshkosh. I loved the look and specs for being a Light-Sport. I spoke with company boss and designer, Nick Otterback, and asked about the possibility of a tail wheel version. He thought that might be a possibility down the road.
"I saw Nick again the next year but still no tail wheel. However, I did schedule a demo ride. I was sold and bought my kit."
About this project, Nick wrote, "Home builders are a resourceful group. We don't offer a tailwheel yet, but Mike went and did it! She looks so sexy with her low tail!
"That's a big undertaking," said another Arion follower, Leroy Brandt.
How did Mike Lotz do it?
"While doing first basic construction steps, I kept toying with the tail wheel idea. I started researching plans and books: Tony Bingelis' Sportplane Builder and my favorite, Ladislao Pazmany's Landing Gear Design For Light Aircraft.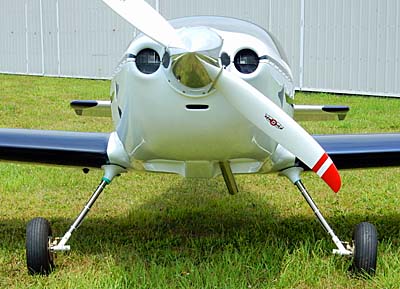 "While in construction, I decided I would commit to the tail wheel conversion. At the same time, just to see if it could be done, I decided to modify Lightning's controls to create center stick, another thing the factory had not done. I thought this would make entry easier and also let my wife have her own uncluttered space. This was my first project and at the rate I was going, I figured I wasn't going be doing too many of these so I wanted to do this one exactly how I wanted it.
"I contacted Nick and got some better clarity on center of gravity and possible wheel positions and applied them to Pazmany's formulas until everything came in within the guidelines. Theoretical weight and balance and prop clearance were also considerations. I am a retired machinist, so the metal work and fixturing was very familiar to me although I did have to 'tune' up my welding for about a year and a half before I attempted the landing gear legs and supports.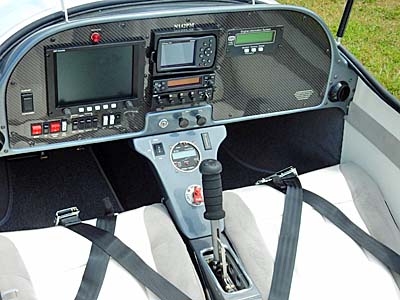 "At this time I've got about 2,500 hours into it. Although the empty CG moved a little more than an inch aft with the tail wheel, we are still well within the envelope and Light-Sport limit with two people and 20 gallons of fuel.
"I'm using the Jabiru 3300 and without the nose wheel, I hope to add a few miles an hour in cruise and lose a couple on landing."
Wisely, Mike hasn't decided if he'll do the test flight on his Lightning TD. "I've spent more time building than flying lately," Mike admitted. This is a common, smart move… to let a person other than the builder do the test flight.
Mike continued, "Buzz Rich, who is very involved with Nick at Lightning and has a ton of time in the Lightning and tail wheels, has offered to do the first flights and it would be a kick to get his take on my project if we can work it out. I'll be flying amateur built but Lightning TD will come within Light-Sport limits.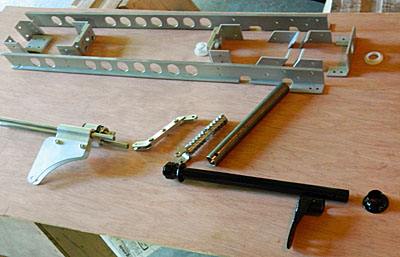 "This is way more plane than I could have ever imagined for myself."
Make is both clever with technical skills and is diplomatic as he added an essential thank-you note.
"Thanks to my wife Kathy for the great seats she sewed, for helping me move, lift, hold, and generally assist in the barn and for tolerating airplane parts in rooms around the house for seven years now. In fact, I think she misses the propeller not being in the living room anymore."
Mike also added thanks to Nick, Mark, and Buzz at Arion Aircraft.
So, now that you know Mike's story, what will you do this weekend?