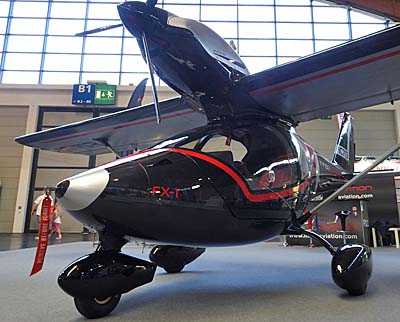 Years ago, back in the late 1990s, I flew an aircraft called JetFox 97. It resembled the Flightstar of the day and both were modeled on talented European designer Hans Gygax's designs. Along came Light-Sport Aircraft in 2004; years passed with not much word about the increasingly aged JetFox 97.
It's back and looking handsome, cloaked in a carbon fiber fuselage. Since this is an Italian design, it has the beauty we often associate with products from that country. I am describing Alfredo Di Cesare's FX1.
You can read this article for more details of the history of this handsome aircraft along with many points of interest about it and some in-flight video. An earlier article provides more background from American John Hunter, a longtime light aircraft enthusiast and expert who assisted Alfredo as he completed the design.
FX1 at Aero Friedrichshafen 2018
I had some correspondence with Alfredo but we had not met until this year's Aero show in the south of Germany. Since I worked closely with my associate, Videoman Dave — whose YouTube video channel 40,000 of you obviously enjoy — we captured a video interview with the design. See that below.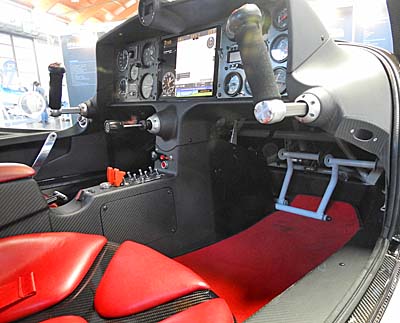 While FX1 clearly follows the Jetfox 97 — its overall shape, planform, and layout are very similar — the new model is very different in some ways not obvious in the nearby photos.
To start, FX1 uses a chrome moly steel internal structure, with a beautifully-shaped carbon fiber exterior, and riveted aluminum wings and tail.
No doubt, Alfredo's latest is a dramatic update from the one of two decades back.
Today, as then, the main engine choice is the Rotax 912 ULS carbureted engine but InnovAviation will soon begin offering the Rotax 912iS Sport fuel injected version.
When in USA and How Much?
While our video (below) is already up around 15,000 views in just five days after it was posted, I've also heard plenty of chatter on social media about FX1. Although lots of pilots love the look, several have said, "Well, it'll never be available here" (I don't know why they think that) or "I never see the price."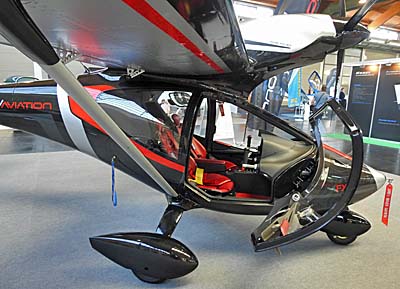 We've got the answers and more.
FX1 will make its first showing at EAA AirVenture Oshkosh 2018 and even its designer, Alfredo will be present. It is being imported by Deon Lombard of AeroPilot USA, the same man who brings in the L600 that we've reported here. An 80% scale version of Cessna's 182 — at a most agreeable price — L600 a beautiful flyer (watch our Video Pilot Report here).
FX1 will make a nice complement to L600.
Deon expects to sell the sleek black aircraft for $135,000 and based on what we've seen for L600 it may be quite well equipped for that figure.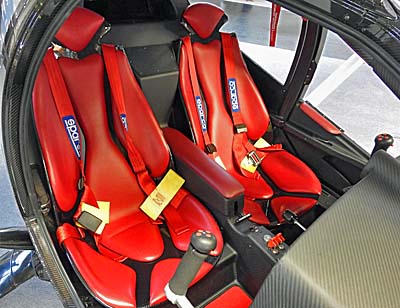 Look for Deon, Alfredo, FX1, and L600 in the ultralight / light plane area of Oshkosh at the south end of the sprawling airshow grounds (you can take a free tram ride if the hike is too much for you).
Meanwhile, enjoy our video interview and look for Videoman Dave and I at Oshkosh (though we'll be a blur as we zoom back and forth making many more of the videos you love. Specifications are shown below the video.
EAA AirVenture Oshkosh is only six weeks away. It is followed by the Midwest LSA Expo in early September.
Weight & Dimensions
Seating: 2
Cabin width: 49 inches (1.26 meters)
Wingspan: 27 feet 7 inches (8.454 meters)
Chord: 4 feet 5 inches (1,345 meters)
Wing area: 122.7 square feet (11.4 square meters)
Wing loading: 10.75 pounds per square  foot (56 kilograms per square meter)
Empty weight: 728 pounds (330 kilograms)
Max takeoff weight: 1,320 pounds (600 kilograms)
Useful load: 592 pounds (270 kilograms)
Payload (at full fuel): 406 pounds
Fuel capacity: 30.9 gallons (117 liters)
Baggage Allowance: 77 pounds (35 kilograms)
Powerplant: Rotax ULS producing 100 horsepower (74 kilowatt)
Propeller: E-prop 3-blade, 67 inch diameter (170 centimeters)
Performance
Max. continuous speed (VH): 136 mph/ 120 knots (220 kilometers per hour)
Cruise speed (75% power): 124 mph / 108 knots (200 kilometers per hour)
Stall speed (VS0), flaps down: 40 mph / 35 knots (65 kilometers per hour)
Never exceed speed: 150 mph / 130 knots (240 kilometers per hour)
Range (with reserve): 559 statute miles (900 kilometers)
Endurance (with reserve): @ cruise: 5.5 hours
Glide ratio: 11:1
Best glide: 80 mph / 70 knots (130 kilometers per hour)