As the recreational flying season slows and northern states button down for winter, one Florida LSA supplier is headed further south, much further. As he prepares for the upcoming 2024 season, Deon Lombard is headed to South Africa where he will work with the Whisper factory for three months as manufacturer and importer prepare to launch the product in the USA.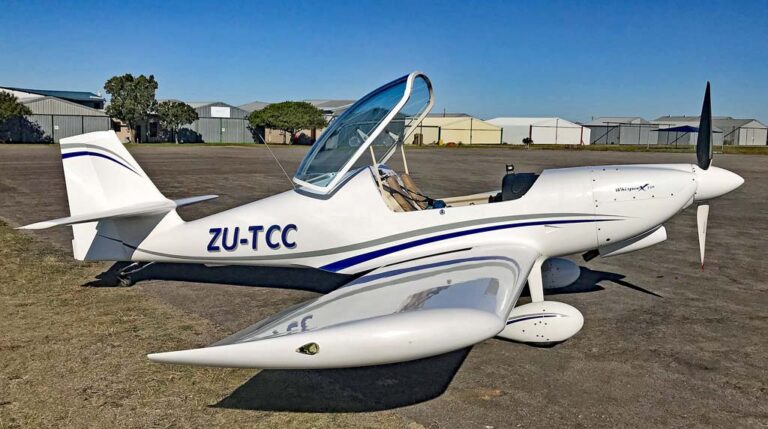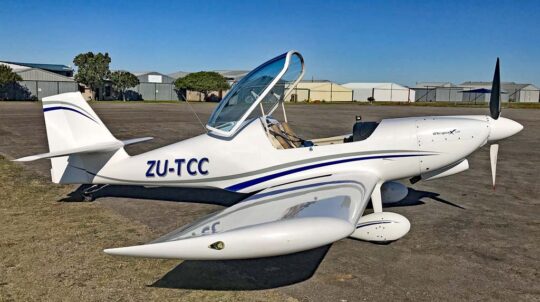 Deon is not the first to go after the Whisper prize in America but he is taking a different approach. Here's the update on Whisper, which looks remarkably like an RV made out of composite.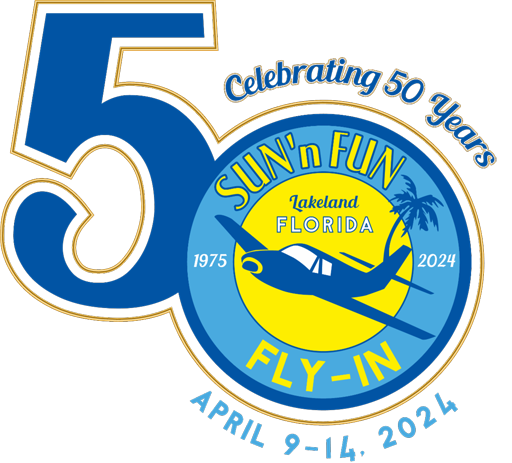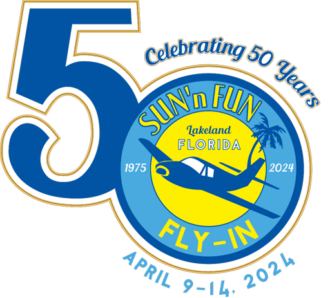 As spring arrives, look for Deon and Whisper at Sun 'n Fun 2024 when the famous Florida event celebrates its 50th anniversary.
With wait times exceeding a year for most fully-built LSA and even for many kits, Whisper looks more interesting with faster delivery predicted plus Mosaic-rule top speeds.
Article Updated 11/13/23 — see area captioned with **
Why "Whisper?"
This is not a battery electric aircraft so why call it Whisper? "Our enterprise started as a hobby, producing the affordable Whisper motorglider kit," said the South African company. The hobby start evolved into an enterprise that sold 50 kits worldwide, 40 of which are flying. "A few years later, [we] introduced the Whisper X350, an affordable, two-seater, sport aircraft design for cross country trips." In late 2017, the Whisper X350 Gen II model was developed.
After Whisper Motorglider was designed by Russell Phillips in 2004, Christiaan van Zyl and his sons purchased the Whisper Gen II design in 2015.
For van Zyl and sons, the focus was the kit-built speedster. Motorgliders are not known for great speed — glide and sink rate performance are more valued by pilots of such aircraft.
Contrarily, Whisper X350 Generation II is a creature meant to go fast. The "350" part of the name speaks to a potential top speed of 350 kilometers per hour, which translates to 218 miles an hour or 190 knots.
In actual use, Whisper can hit 175 knots at 75% power the producer noted although most cruising may be done at 155 knots or 55% power where fuel consumption can decrease to only eight gallons an hour, they said.
Examining Whisper
As nearby images show, Whisper is a smooth side-by-side two-seater in tailwheel landing gear. A tricycle gear option (image) is an option for those who prefer tricycle gear.
Photographic proof shows a new carbon fiber wing can loaded to 12 Gs positive. However, for regular use Whisper has a design load factor limit of +6 Gs –4 Gs. Despite the short wing's obvious strength, the manufacturer recommends against aerobatics.
Wide-span, electrically-operated flaps extend deeply to 45 degrees. Wings now in production for the Gen II iteration feature a wet-wing system capable of holding 63 gallons. Flown at the more modest 45-55% power range where Whisper remains very speedy (more than 150 knots), you could fly from the center of America to almost any point in the continental U.S.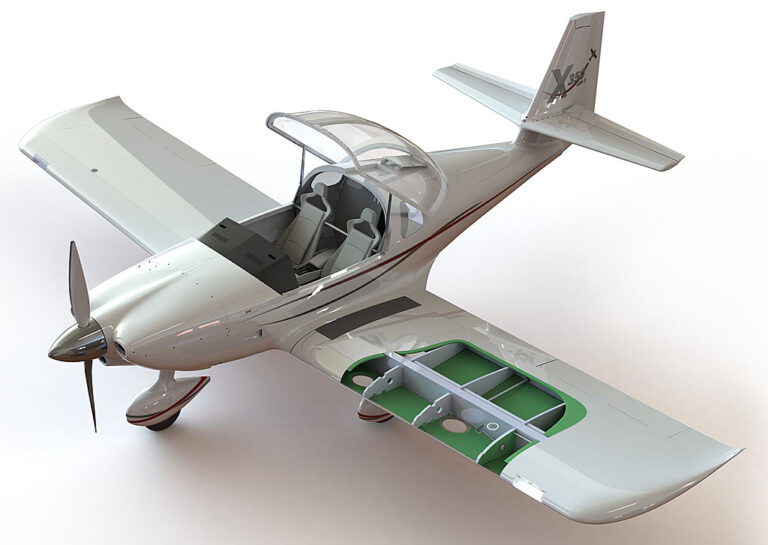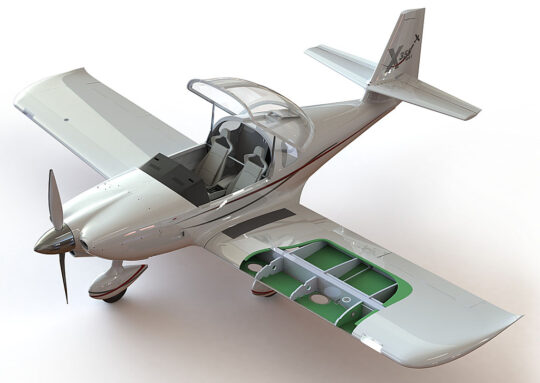 Designed for up to 200 horsepower Whisper can perform well on 160-180 horsepower (perhaps making it a kit-builder candidate for Rotax's new 916iS at 160 horsepower). Like many RVs, Whisper Aircraft currently recommends a Lycoming 180 horsepower engine.
The fuselage, molded in upper and lower sections, is furnished as a fully joined assembly, complete with vertical fin, rather than as two halves requiring gluing together. Working with composites requires different skills than metal or joining tubes together by bolts or welding but can be finished quicker than most RVs are done, claims the factory.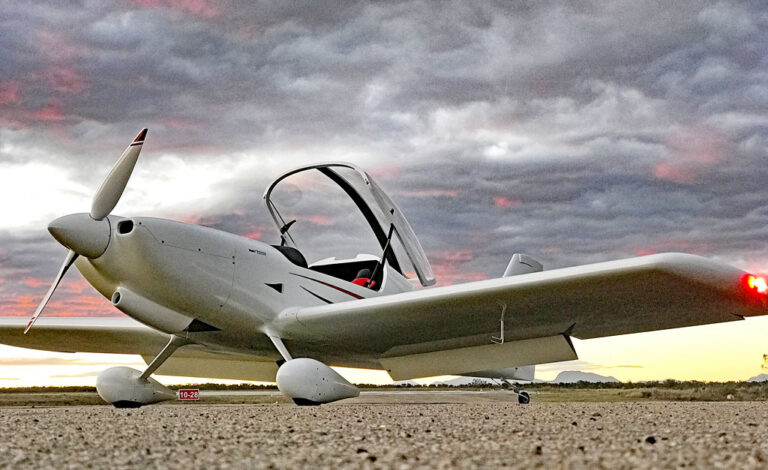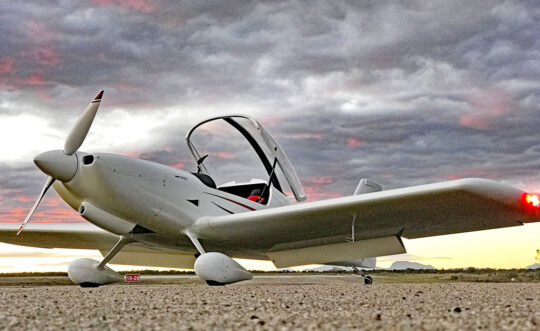 According to Whisper Aircraft, "An X350 kit can be completed in about 500 hours depending on your current skill set." All structural components and large surfaces are shipped completed. Composite parts have a base coat already sprayed to assure product quality.
"The kit ships with 90%-built wings, horizontal stabilizer, rudder, flaps, ailerons, elevators, and fuselage. Within a short time your aircraft will be ready for motor installations," said Whisper Aircraft. While the big parts apparently come substantially done, the details of engine installation, wiring and plumbing plus finishing the exterior and interior easily assure Whisper X360 Gen II can quality as a U.S. Experimental Amateur Built aircraft.
Acquiring a Whisper
The first Whisper kit bound for the USA is expected to ship in the first week December 2023 and a second kit by mid-December," confirmed Deon. "A base airframe kit starts around $52,000," Deon reported, adding that quick-build kits options can significantly reduce build time while still meeting FAA's 51% major portion rule. A quick-build kit requires around "half the build time of metal" said Deon.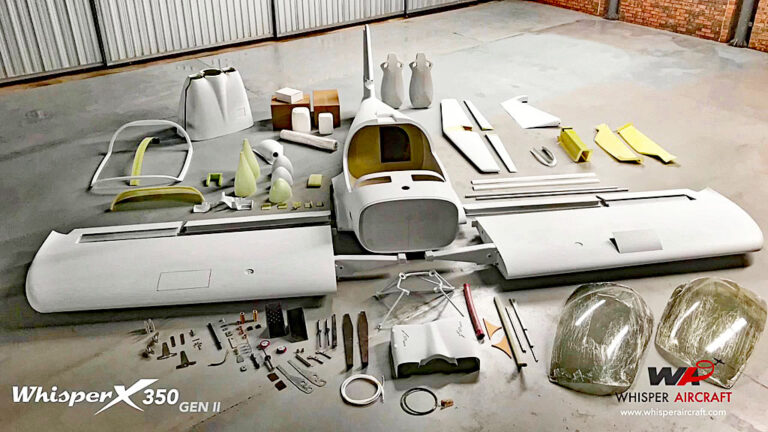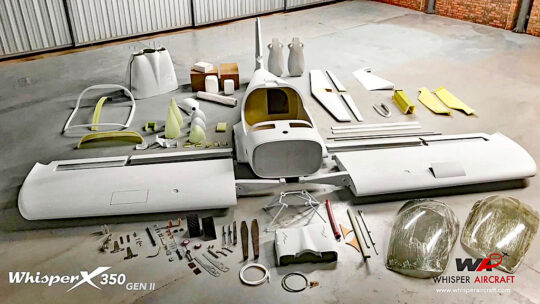 ** Shipping will add about $8,000 per kit in a 20-foot container. If they can bring in multiples, freight cost may go down substantially. Engine, avionics, interior, paint, and any customization will add to the cost but getting a Whisper airborne looks possible for less than $160,000, especially for more capable builders.
As he prepares for his South Africa work effort, Dean reported in fall 2023, "We can offer build assist in Florida or a client can go to South Africa for about two weeks. Using these means, a Whisper can fly in eight months time start to finish." **
The factory is working to fabricate two airframe kits a month by July 2024 and hope to maintain an eight-month delivery lead time. "We expect to quote first deliveries by mid-2024," Deon clarified.
"We are aiming to have an assembled kit on display for Sun 'n Fun 2024," Deon ventured.
"Quick build kit can be completed in half the time as a RV, taking about 500 hours due to carbon fiber, semi-monocoque assembly composed of two primary fuselage components. Sanding and other finish work is minimized by Whispers base coat preparation.
"We can fit a UL power engine that's quicker to supply and even lighter than Lycoming powerplants," Deon said. The engine from Belgium has declared compliance with ASTM consensus standards.
You have various customization options including two control sticks, or a center stick with two handles. Buyers can also choose a ballistic emergency airframe parachute.
ARTICLE LINKS: