Problem: The fleet of aircraft trainers in the USA is getting old. The familiar, reliable standard is the Cessna 172. While these are being made brand new, their base cost has risen to half a million dollars. Meanwhile, much more affordable vintage 172s normally have dated instrument panels and the airframe often looks well-worn. Built in the last decade or so, nearly all LSA have fully digital cockpits among other modern features. [Update 9/15/22 — see new info regarding trim. —DJ]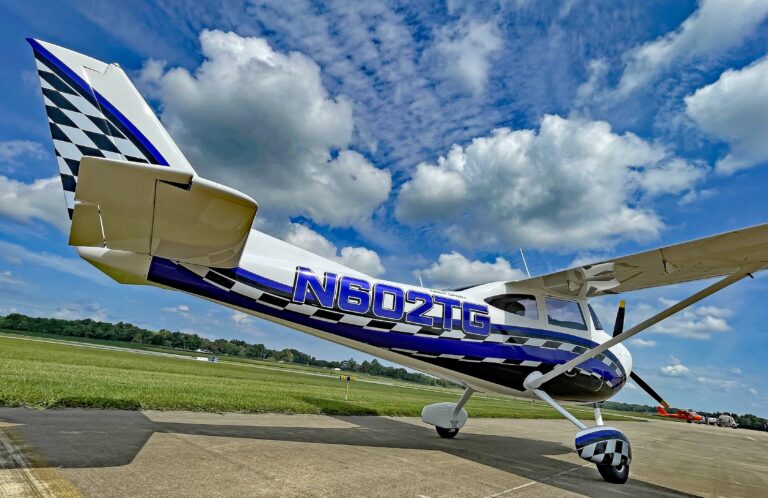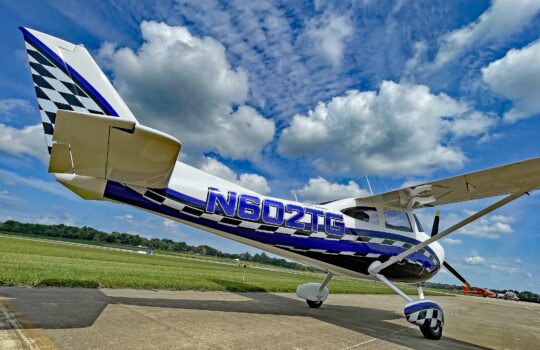 With their goal of getting a good pilot job, flight students that visit schools today want to pursue their training in something more contemporary. They definitely need experience with digital avionics as that's what they'll encounter in a professional cockpit.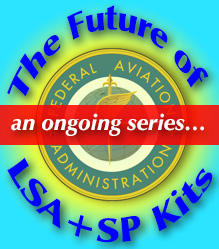 "LSA are the future of flight instruction [airplanes]," stated Chip Griewahn. Before he sold the business, he operated a very successful flight school in the Savannah, Georgia area called Fly Corps Aviation. He continues a role helping the new owner and advising them about training aircraft and other matters.
In recent years, Chip reported that he examined and flew many LSA and finally found exactly what he was looking for when he came across Orlican's M-8 Eagle. I went aloft with this talented pilot to see how the new model compares.
Describing M-8 Eagle
Orlican's M-8 Eagle seems made for pilots seeking a general aviation-like familiarity. With that goal, this is one of the best executions I've seen. Such a statement is tough because quite a few other LSA are close on Eagle's tail. Indeed, many other airplanes have a much longer history to go along with their desirable features.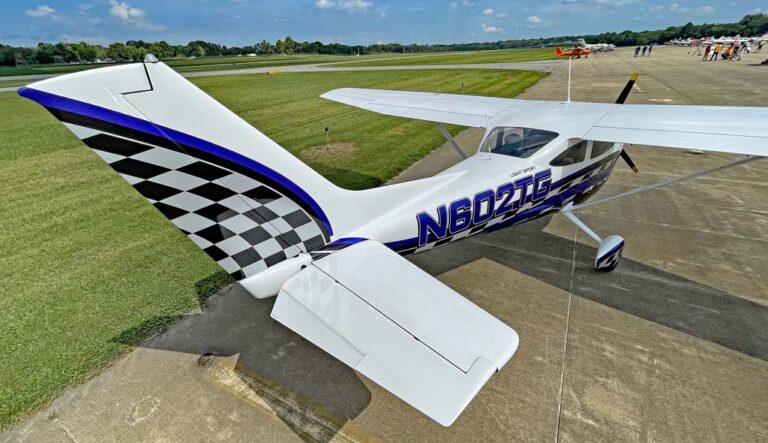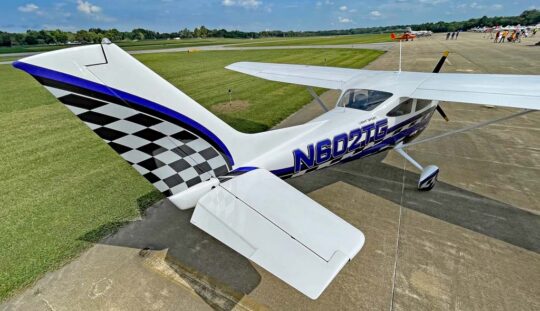 M-8 Eagle is actually a second-generation aircraft. Engineering talent left Aeropilot for Orlican and created an enhanced version of the L600 Americans have seen (known as Legend in Europe and elsewhere).
Although new to the market, one cannot deny that engineers at Orlican have created, developed, and begun to produce an airplane that may prove very competitive in the like-a-GA-airplane space.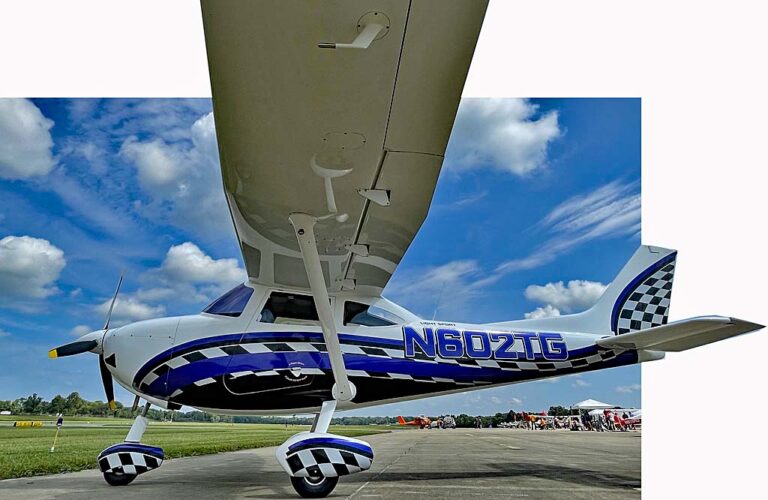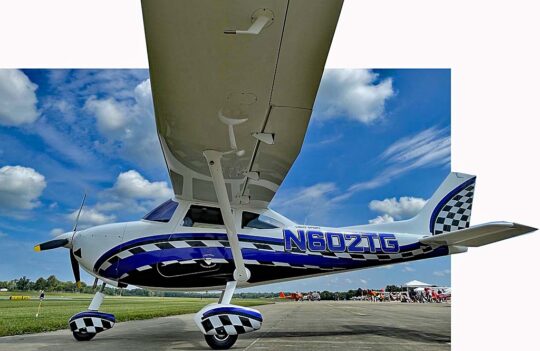 First, general appearances — Anyone paying attention is probably already aware that this aircraft bears a striking resemblance to a very successful GA airplane: Cessna 182 Skylane. One clear giveaway of the resemblance is when you view it from the aft where a 182 has a full-width rear window that sets it apart from the two-pane 172 rear window. Of course, windows are not what's important but this is a clear visual confirmation that M-8 Eagle is an 80%-scale version of a 182.
A giant difference between the two: price. Orlican's M-8 Eagle is around $150,000 where a new Cessna 182 is $600,000 base price. Four times as much is a big difference but, to be fair, this is somewhat apples and oranges. A 182 carries more, flies 145 knots on 230 horsepower, and seats four. M-8 Eagle does not. Both feature fully-digital cockpits — used 182s rarely do.
Yet M-8 Eagle's interior may be even higher quality and it's definitely more spacious; Eagle's cockpit is almost four inches wider than 182 although a Skylane boasts two aft seats that Eagle lacks (at least under present LSA regulations).
Construction — Further unlike the 182, M-8 Eagle uses a carbon fiber airframe. This permits smooth curves and no rivets to disturb airflow over the surfaces. Of course, carbon fiber is valued for its great combination of strength and light weight. A three-blade, ground-adjustable Woodcomp Propulse propeller features carbon fiber blades.
Our test M-8 Eagle had a Dynon HDX installed with autopilot and central panel controls duplicating those available via software buttons. Two small analog instrument back up the electronics. An analog inclinometer may help students more easily see how their control coordination is developing.
A four-position fuel selector has a smart design that will not let you push the start button until the fuel selector is moved from the off position. You can select left or right, which may be useful, because fully-loaded with fuel M-8 Eagle can carry 34 gallons.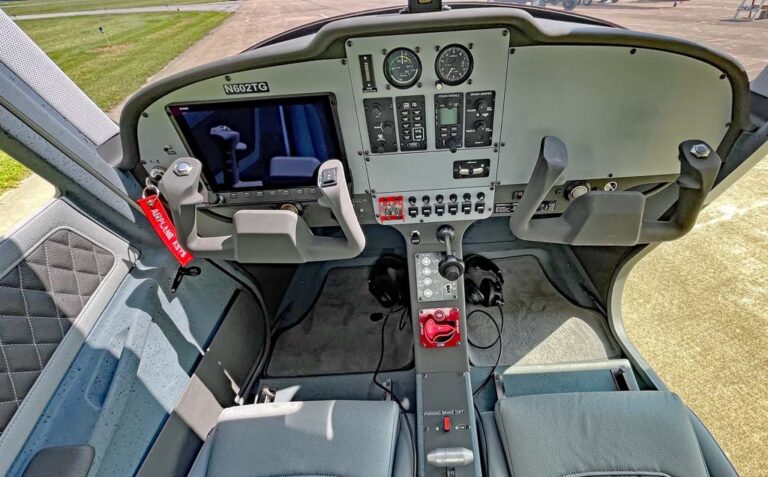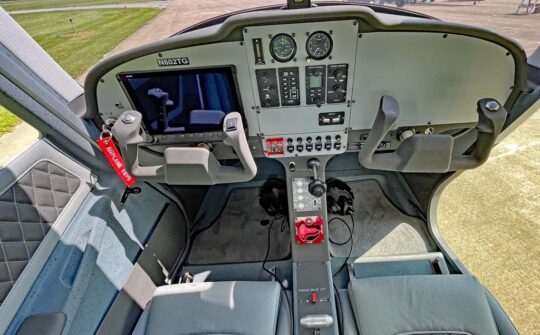 Flight Controls — M-8 Eagle offers dual yoke controls and dual rudder pedals, however this particular unit had the standard central dual-wheel hand-brake lever. It was quite effective and may be preferred for many individual buyers. For flight schools training students to fly professional aircraft, dual toe brakes are an option.
In this Eagle, a central control console houses the brake lever with a parking feature relying on a hydraulic valve lock. At the center base of the main panel, you find a vernier throttle plus choke. Below the throttle are the flap buttons and switches for fuel pump and landing light. Flap buttons and the switches are all colorfully lit to easily see their state of function.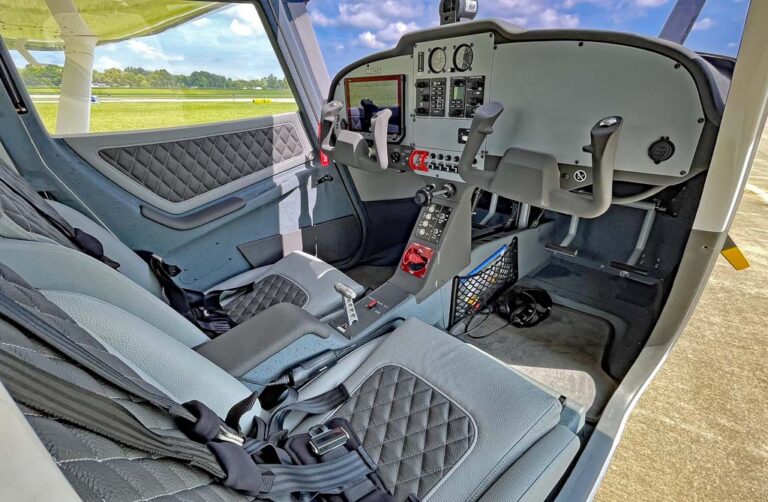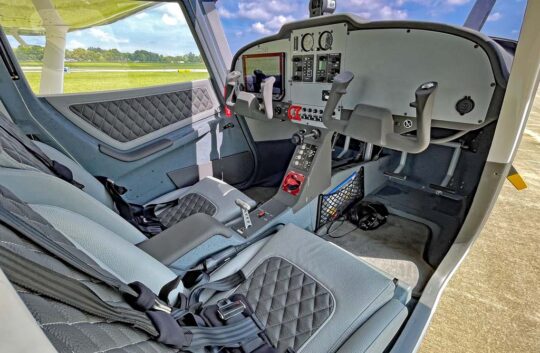 Trim — While M-8 Eagle is excellent in most choices, trim is a weak point. This particular Eagle only had trim on the left yoke and the electric elevator trim control was far too touchy. A mere bump of the switch easily resulted in more trim than desired.
Update… Since the Midwest LSA Expo, Chip employed capabilities of the Dynon HDX to route the trim control through the instrument so that its sensitivity could be adjusted in a dynamic way. Now, as Eagle flies faster, trim sensitivity has been reduced. This is a savvy way to use digital instrumentation to solve a problem.
Flaps – Contrasted with the trim, flaps could not be easier. Hit a button, check its glowing light and return to flight controls. It is beautifully executed and works well. The preset positions result in extension to 15, 30, and 40 degrees. They can be moved to any other position after assuring you are within flap extension speed.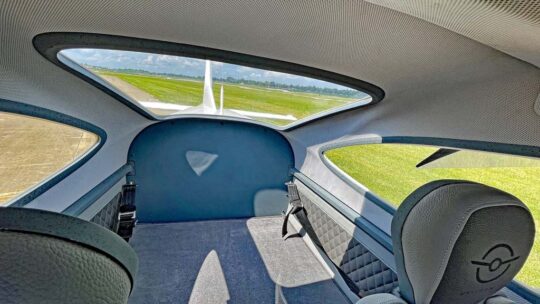 Interior — M-8 Eagle has better seats than a Cessna 182. I don't speak to comfort — both are quite good — but to Eagle's ability to fold its seats completely flat so that an adult male could fully stretch out in the airplane. This could allow air ambulance operations in an Eagle (where permitted).
Eagle had sewn leather seats and the interior is completely finished to a high quality. No wires or cables are visible. Seat are length and height adjustable and you can move the seats fore and aft while sitting in them. Seats also have a head rest. Four-point seat belts were provided.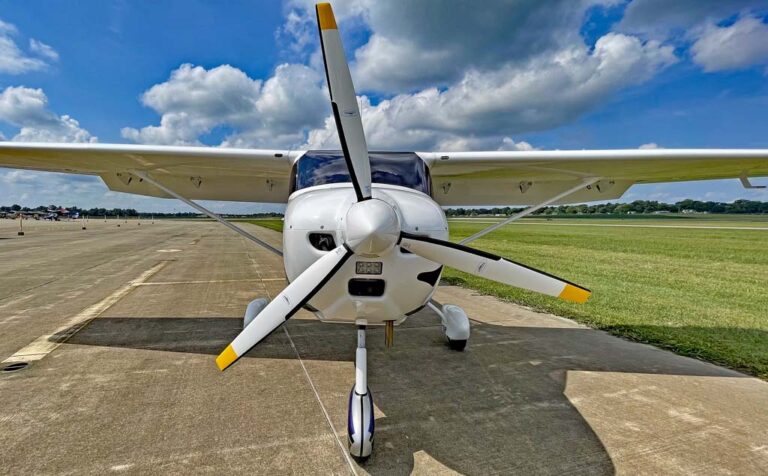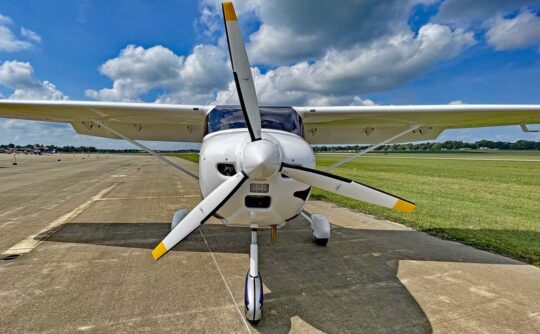 Exterior — Gas spring doors open wide for easy entry. They close gently and latch securely fore and aft, Eagle has lockable doors on both sides.
The nose wheel its fully steerable and response to pedal movement is crisp and effective.
M-8 Eagle has aerodynamic carbon fiber wheelpants and wingstrut covers. Tie down rings are provided on both wings and at the rear of the fuselage. A towbar is provided for maneuvering on the ground.
Flying M-8 Eagle
Handling — Pilots familiar with yokes (most of you) should feel instantly comfortable. A center mounter vernier throttle allows pilots like Chip and others to accelerate smoothly by twisting the throttle steadily. By the time it was fully open, M-8 Eagle was ready to fly and off we went, climbing out beyond 1,000 feet per minute. En route climb was better than 700 feet per minute.
Eagle was extraordinarily well behaved in turns. It took almost no stick or rudder movement to go around in circles even at a 45-degree bank angle.
I almost never used the trim, for two reasons. Most importantly, Eagle coordinates well and has light enough controls that it simply doesn't require much trim. However, as mentioned above, trim as presently implemented is too quick to be useful without practice. The left-yoke-mounted switch took the a merest poke of the button to move and that was often more than I sought. It was tricky to use. This was one of the few complaints I could muster for this new model.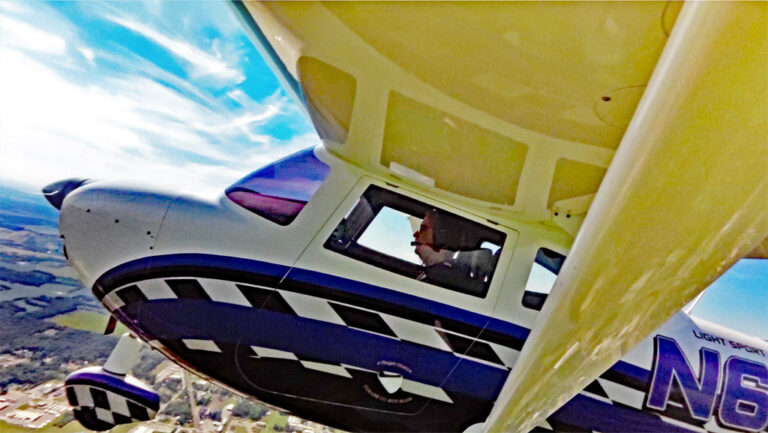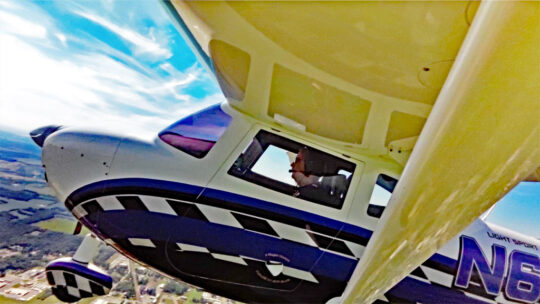 Performance — One measure of performance is fuel burn. In these days of $6-9 per gallon avgas and considering a 182 consumes about three times as much fuel, M-8 Eagle will prove far less costly to operate than a 182. Chip adds that maintenance should also be much less costly each year.
As we performed slow flight and checked cruise speed, the flaps were easily operated. Four buttons located on the center console permit one-touch flap extension or retraction. M-8 flew slowly at 45 knots — not even close to stall — with lateral control slowed but effective. At near full throttle, M-8 Eagle averaged 105-110 knots at a low altitude (2-3,000 feet AGL on a warm day).
Eagle will burn 3-5 gallons per hour, where a 182 will burn more than 10 gallons an hour. At today's prices, that is a substantial difference, one that is very important to an active flight school.
M-8 Eagle with the carbureted 100 horsepower Rotax 912 ULS will roll about 490 feet, about half what it takes a Skylane to break away from terra firma.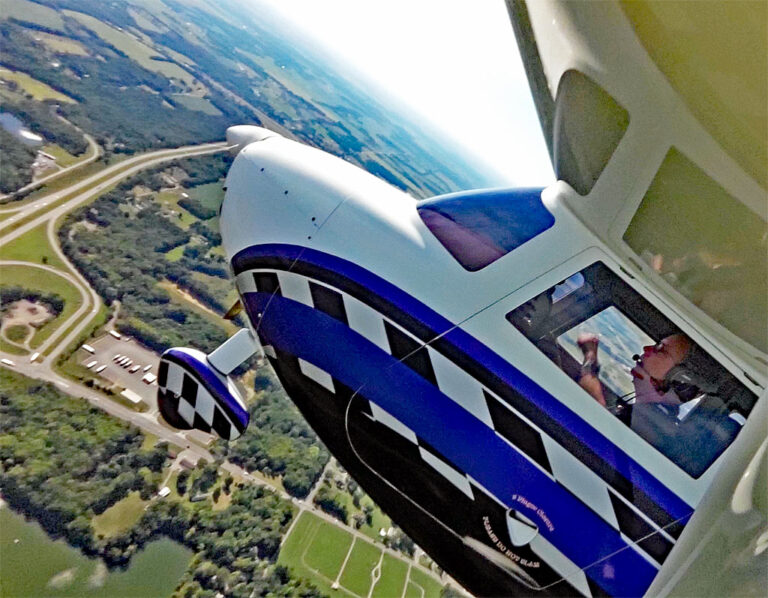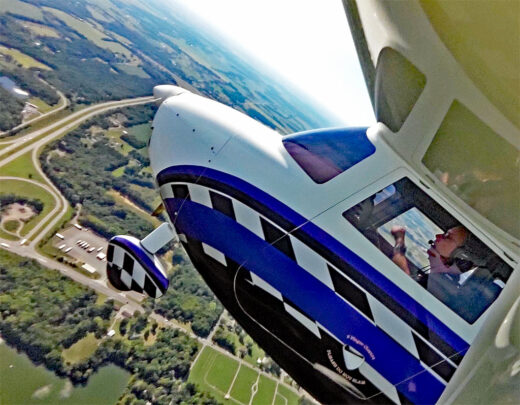 Stability and Safety — A full regimen of stalls — departure, approach, accelerated in each direction — showed M-8 Eagle is superb as stalls required almost no pilot input for recovery and did not tend to fall to either wing or break abruptly. In fact, it is so benign, some might say it won't teach a student (of course, a good instructor will make sure of that lesson).
Every stall we tried, including mine where I went more suddenly into a low power approach-type stall, resulted in the most gentle of nose drops and a quick return to non-stalled flight.
Only one stall, an accelerated stall to the right, broke somewhat more abruptly but in every other trial it was impossible to make Eagle behave badly.
In every case, stall brought the airspeed indicator down into the 30s. I witnessed stall breaks — if you can call them such; stalls break very gently — at 33-37 knots. Students and experienced pilots will enjoy Eagle's slow-speed capability.
Although Chip did not select it for his flight school M-8 Eagle, a whole-airframe ballistic recovery system is available; such "rescue systems" are required in Germany so most European brands have worked out installation.
When I went aloft with Chip, I quick realized I was on board with a thoroughly professional instructor. Since he investigated many LSA quite carefully and chose M-8 Eagle for his flight school, it shows this second-generation entry is ready to fly! I can practically guarantee a smile will follow.
ARTICLE LINKS:
---
TECHNICAL SPECIFICATIONS
Orlican M8 Eagle
all figures supplied by the manufacturer
Wing Span — 29.8 feet (9 meters)
Wing Area — 116 square feet (10.7 square meters)
Length — 23 feet (7 meters)
Height — 8.7 feet (2.65 meters)
Horizontal Tail Width — 9 feet (2.8 meters)
Empty Weight, base — 728 pounds (330 kilograms)
Maximum Take-off Weight — 1,320 pounds (600 kilograms)
Useful Load — 592 pounds (269 kilograms)
Fuel capacity — 34 gallons / 204 pounds (93 kilograms)
Payload with Full Fuel — 388 pounds (176 kilograms)
Payload at 17 gallons of fuel* — 490 pounds (222 kilograms)
Endurance with Full Fuel — 8.5 hours
Takeoff Roll — 490 feet (150 meters)
Range with Full Fuel — 900 nautical miles (1450 kilometers)
Climb Rate  — 1,200 feet per minute (6 meters per second)
Stall Speed with Flaps — 29 knots (53 kilometers per hour)
Max Cruise Speed — 120 knots (222 kilometers per hour)
Common Cruise Speed — 110 knots (204 kilometers per hour)
Landing Roll — 490 feet (150 meters)
Luggage Capacity — 66 pounds (30 kilograms)
Cabin Width — 45.8 inches (1.16 meters)
* Enough for at least two one-hour flight lessons with generous reserve