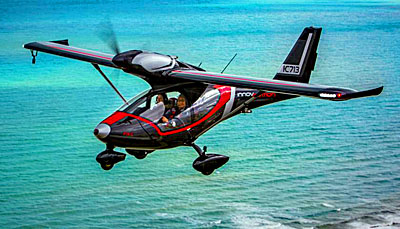 If you are an ultralight enthusiast (as I certainly am!), then you are probably celebrating with me as FX1 joins the Special LSA fleet — which it does as Number 150 on our popular SLSA List.
Here's a secret: the SLSA List is one of the most-visited features on ByDanJohnson.com. Those who frequent that page know they can find all the Special LSA that have been accepted by FAA with links to the manufacturer, their importer if appropriate, contact info and all our content about any of the long list of aircraft.
We are nearly at the 15-year anniversary since FAA released the regulation for what is now known as Sport Pilot / Light-Sport Aircraft; the rule came out in early September 2004. It was grandly previewed at Airventure Oshkosh that summer. The first approvals — Evektor's SportStar and Flight Design's CT2K — were granted in April of 2005 at the Sun 'n Fun event.
In those 15 years, the industry has risen to gain acceptance* for 150 new aircraft models from nearly 100 manufacturers. Aviation has seen nothing like this profusion of new aircraft in all its history.
Thoroughly Modern Ultralight; Now a SLSA
We knew the FX1 from its ancestral JetFox series culminating in the JetFox 97, well… in 1997. See more of its history and background in this article. Here's an earlier report as FX1 completed development.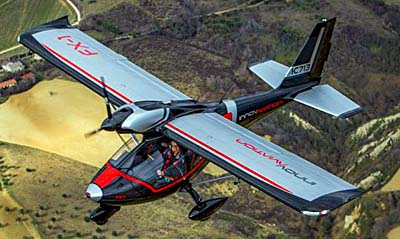 The older JetFox models were more clearly ultralights. These were European ultralights, which are somewhere between a Part 103 ultralight vehicle and LSA of today.
The design always caught my eye and I very much enjoyed flying the late '90s model. However, I did not enjoy worming my way into the cockpit around tubing structure and throwing a leg over the stick. You needed to be something of a contortionist to enter and I did not do so very gracefully.
Times change. Along came modern LSA in all manner of aircraft and along came carbon fiber, digital instrumentation, crashworthy designs, and modern engines like Rotax's 912iS. Longtime JetFox/FX1 designer Alfredo di Cesare made incremental changes to the JetFox series but he kept aware of the changing design of light aircraft and moved forward with an entirely fresh creation. Virtually every part of InnovAviation's FX1 is new compared to JetFox 97. What FX1 retains is a similar shape and configuration.
If that shape looks familiar to you, it should. In the JetFox 97 days — see this full-length pilot report of the 1990s design in an article written before SP/LSA was announced — the Italian aircraft significantly resembled the Flightstar series, which had evolved from designs by prolific Swiss designer, Hans Gygax.
FX1, the SLSA
Alfredo and his team took the advice of Videoman Dave and me to take FX1 to Mt. Vernon, Illinois after Oshkosh. We assured him he and his airplane would be taken care of in the professional and enthusiastic manner of airport manager, Chris Collins.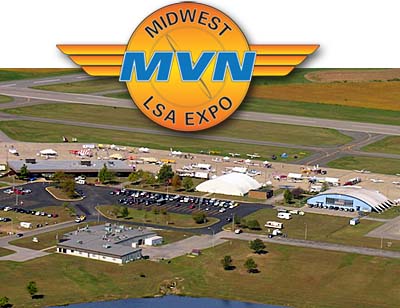 Chris created the Midwest LSA Expo (coming up on September 5-6-7, 2019), an event entering its second decade. We tell all aircraft producers they should go as this event is the No. 1 place for Dave and I to do Video Pilot Reports. These video productions are too demanding and time consuming to attempt at events like Sun 'n Fun or Oshkosh but, thanks to Chris, we can do whatever it takes to make our popular VPRs at his airport. You should attend. It's laid back but that means you can get all the time you want with the aircraft representative.
Alfredo and Team InnovAviation did much more than bring their airplane. Read what Chris had to report…
"The InnovAviation FX1 made its inaugural flight in the United States at Mt. Vernon Outland Airport!
"The long path to the air started with the aircraft on static display at Airventure Oshkosh last week, a late-night arrival at KMVN on Monday, nearly 40 straight hours of assembly and testing, and the inspection and sign off by the Federal Aviation Administration on August 1st.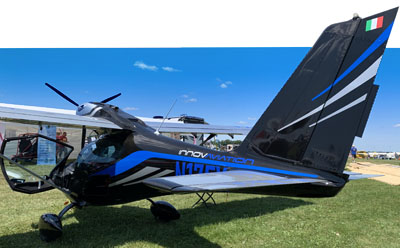 "At the controls were southern California-based reps for the aircraft, Pete Schutte and Deon Lombard. In the post-flight photograph are (from left to right) Deon Lombard, AeroPilot USA; Paolo Silvestrini, InnovAviation Chief Engineer; Pete Schutte, AeroPilot Chief Pilot; Alfredo Di Cesare, CEO InnovAviation (and the aircraft's designer), and Umberto Di Cesare, InnovAviation Chief Operations Officer.
"The aircraft and assembly team hails from Corropoli, Italy. The aircraft is sure to be a hit at the Midwest LSA Expo in early September. It was great hosting Alfredo, Umberto, and Paolo over the last three days. Thank you Deon and Pete for allowing KMVN this honor."
You're Invited to MWLSA!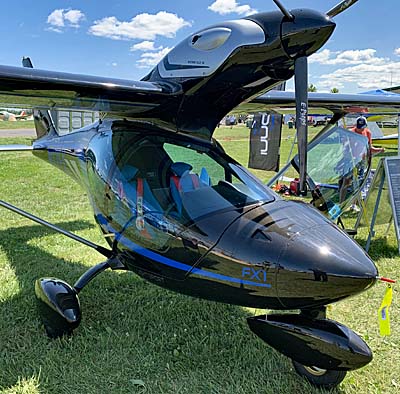 I've already bought my ticket and will be on hand all three days of the Midwest LSA Expo. I hope you can make it, as well.
MWLSA is located about an hour's drive east of St. Louis. The airport is all LSA, Sport Pilot kits, and ultralights for the show days. You can visit with about 40 aircraft vendors (weather permitting and it usually is good) and you can take a demo flight in mere minutes.
The airport has forums, air conditioned inside displays, food, regular bathrooms, and a ramp full of fun airplanes. The town has plenty of restaurants and hotels, all reasonably priced.
What's not to love?
Here's a short video image about FX1 at Oshkosh and Mt. Vernon. Enjoy!
---
---
* Lots of people get this wrong. We've been conditioned by many years of FAA "certifying" airplanes, like Cessna, Cirrus, Piper and so forth. However, Special LSA are not "certified." They are "accepted" by FAA after proving in very detailed form that the design meets ASTM standards and the company uses standard "best practices" in the manufacture of the aircraft.