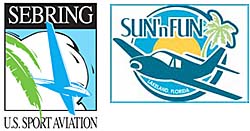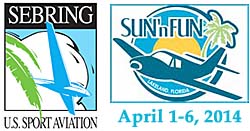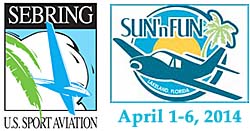 Not long ago, I posted about Kitfox tending to business and expressing regret that they chose to stay home in Idaho versus making the trip to the Sebring LSA Expo 2014. Team Kitfox was not the only one, however. In addition, AeroSport didn't bring their BushCat, nor did Aerotrek bring their A220 or A240, nor did Quicksilver show with their SLSA candidate, Sport 2S, or their joint venture Electric Motor Glider (a very cool project from the west coast about which I will do a further update in the future). The reasons for these no-shows were varied but the good news is that they'll be at Sun 'n Fun. Oh, and one more thing about all four aircraft mentioned below: each of them offers a purchase value that defies the current mindset about the cost of modern LSA.
BushCat by SkyReach is one of those SLSA that easily answers the lament, "These LSA have become too expensive." Too many pilots say this without considering their other choices. Sure, if you want all-carbon fiber with huge glass panels, autopilots, and endless bells and whistles, you'll need to be prepared to pay for those goodies. They'll cost you a literal fraction of what the same gear on a new Type Certified aircraft will cost (for example, a new Cessna 172 lists for more than $400,000!). Yet if you need to watch your budget but desire a capable aircraft, BushCat offered in the USA by AeroSport has an answer. President Daniela Knoll wrote, "Unfortunately we had to cancel our flight to Sebring. The brutal temperatures we have been having in the Midwest are just horrendous." At the extreme temperatures the Midwest has seen this winter problems can arise with engines and other hardware so AeroSport made a decision based on safety. "We plan on being able to make it down for Sun 'n Fun as we also have a booth reserved," finished Daniela. Be sure to check out this modestly priced aircraft with its numerous unique features that make it stand out from the herd.
Another no-show that wanted to be at Sebring was the also-reasonably-priced Aerotrek. Proprietor Rob Rollison wrote, "As much as I appreciate every opportunity and venue to display and promote our Aerotrek aircraft, [we are fortunate to be] sold-out until late-August 2014." Rob has been a steady participant at Sebring, and said, "Over the years the Sebring event has been very worthwhile because it is an event focused on LSA-type aircraft. So, even though we skipped Sebring for the first time this year, we have every intention of being there next year." Rob hasn't been sitting around idly though. He added, "At Sun 'n Fun 2014, we are increasing our aircraft display area. We'll be right across from Cessna at the East end of the Main Area." Why buy such a large space? Well, some ideas aren't ready for public distribution yet but a primary one we can talk about is the effort to create, as Rob put it, "a sort of an annual 'Aerotrek fly-in' for as many of our aircraft owners as can make it to this great event. So, we need lots more room for lots more planes at our display.
One more company that was absent at Sebring but will be present at Sun 'n Fun is Quicksilver Aeronautics, and their joint venture with Adventure Aircraft and their Electric Motor Glider or EMG (see video below). Quicksilver, the producer of more than 15,000 kits over the years, has been head-down to earn their SLSA approval from FAA. The company was audited in December and is tweaking final elements to gain agency acceptance. They hope to roll out their new SLSA-version of the ubiquitous Sport 2S at Sun 'n Fun. The EMG is a fascinating project from LSA maintenance gurus Brian and Carol Carpenter. Their website has a great deal of info on their project but the goal is no less than a Part 103 electric-powered motorglider … one that can accommodate other powerplants so as to remain versatile while electric power continues its furious pace of development. Thinking of aircraft like EMG, Chip Erwin — who debuted his superlight (Part 103-legal) and low priced Zigolo at Sebring — may show at Sun 'n Fun with the electric power version of this charming aircraft from Italy. You'll have lots to see at Sun 'n Fun 2014; I hope to see you in the Sunshine State!
Here's a compilation video of the new EMG project: