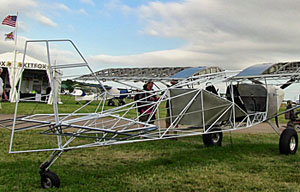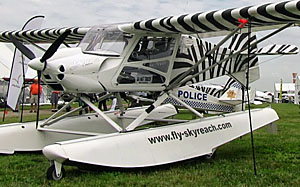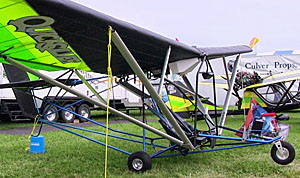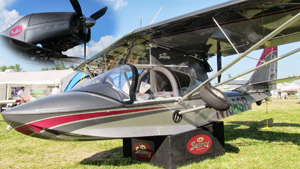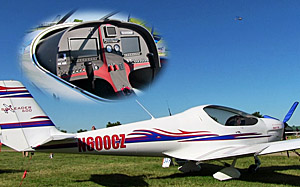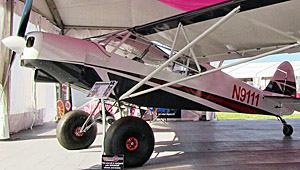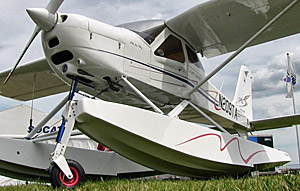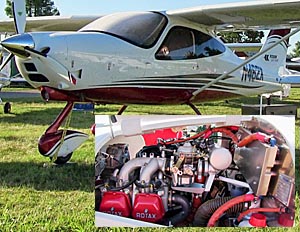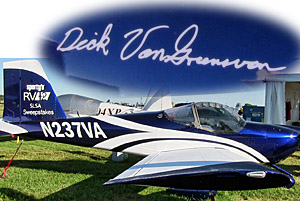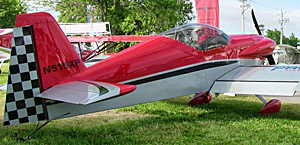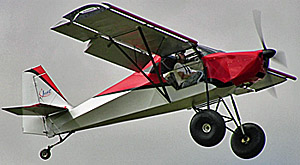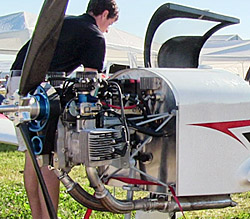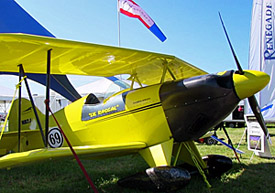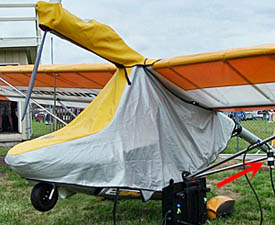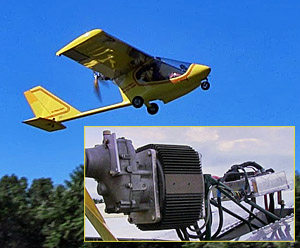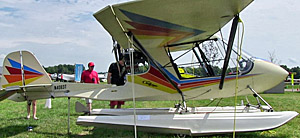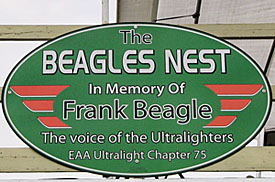 At the big show EAA likes to call the Summer Celebration of Flight, we rove the grounds seeking new airplanes, new engines or propulsion systems, new panel gear, updated models and more. In this very fast tour, we'll zoom around AirVenture for a glance at some airplanes and components that caught our attention. In subsequent posts we'll delve a bit more deeply into certain ideas we thought were novel. All photos accompanying this article are courtesy of Light Sport and Ultralight Flyer, producer of the 300+ videos you can find on this website.
Rans showed off their new S-20 Raven. Those who thought designer and company boss Randy Schlitter got stuck on S-19 were wrong (it's never wise to think he's done designing). His new Raven combines elements of the S-6 and S-7, namely the side-by-side seating of the S-6, with the welded spaceframe and superwide door of the S-7. It also has the S-7's wings and that's great as this is one of their sweetest flying aircraft. However, for those who didn't like the S-7's tandem seating, well … problem fixed. The S-20 also has easily removed, reclining seats that could make this quite a camping aircraft. A huge luggage area also helps. Here's more info.
SkyReach showed off two of their still-very-modestly priced BushCats. You already know these airplanes but under the name Rainbow (former company) and Cheetah (former model name). SkyReach and their new U.S. distributors, Aero Sport Planes, unveiled a new taildragger version for the many that like "standard" gear, all decked out as a "Police" airplane though that was merely decoration not actual function. They also showed a model on some clean-looking composite amphibious floats. These are LSA you can afford, priced in the $50-60,000 range depending on equipment. Yes, you can obtain them in somewhat less attention-getting coloration. Here's more info.
Quicksilver charged on the Oshkosh 2013 scene with three announcements: (1) a partnership with a company doing public-use aircraft. Ident LLC will employ the GT500 in a variation they call Mosquito; (2) the new EMG for Electric Motor Glider, a partnership with Brian and Carol Carpenter and their company Tangent Aviation; and (3) Quicksilver's Sport 2S that is nearly done with ASTM approval. It's taken this industry leader a long time to join the Special LSA sector, but new owners a year and half ago set out on the mission which will conclude with an FAA audit in September. Soon, you can buy a factory built Sport 2S for $39,995. The Temecula, California company will continue offering kits and will add ELSA after they win SLSA approval. Here's more info.
Another company that did very well with kits over the last 20 years is Progressive Aerodyne, famous for their SeaRey flying boat that boats more than 500 kits flying. These owners compose an intensely loyal group of seaplane pilots but all had to push through the effort of kit building. For some, this is highly satisfying, but for lots of folks, building a fairly complex airplane kit is too much work or they don't have the time. Fear not, you can now buy a factory built SeaReay and you'll spend far less money than most other seaplanes. Plus you can have it soon, rather than waiting for your distant delivery slot to come to the top of the list. SeaRey gave demo rides daily at Oshkosh's Seaplane Base. Here's more info.
It was here — you knew it as the Kappa KP-5 — and then it disappeared … for several years. Now, welcome back to the renamed SkyLeader 600. More deluxe than before and with a high-fashion interior, SkyLeader uses the sliding bubble canopy and the excellent handling of the KP-5. Yet, the 600 upgraded the staggered seating that effectively gave more room in the older model by seating the two occupants unevenly to one another; not everyone loved it and the new SkyLeader 600 is bigger so side-by-side seats are still roomy for hamburger-loving Americans. SkyLeader is officially still Jihlavan Airplanes but you don't need to twist your tongue around the more challenging Czech brand name. Just say "SkyLeader" and call rep, Randell Dutton, based near Jacksonville, Florida (904-677-2408). Here's more info.
CubCrafters continues to shine brightly in the LSA universe and the western company is maintaing their delivery pace (they'll likely exceed 50 units in 2013). One reason for their success is a potent 180-horsepower engine that lifts the CarbonCub SS (video) like a homesick angel. Now Czech-based Zlin has a related machine. The iCub and Savage used Rotax power, but a Titan engine gives Zlin's new Cub-S 180 horses to bring great vigor to a vintage design. American Legend is also having an improved year with the Cub-like concept so why not a third entry … especially at a lower price point? U.S. distributor SportairUSA hosted visitors at a huge tent display with two Zlin airplanes inside, the other being the open sided Bobber that you can customize like a Harley motorcycle. Here's more info.
Tecnam is a very active company with more LSA models than any other LSA supplier and more variations of those models than, well … any company. Only Pipistrel comes close. One model we were eager to look over was SeaSky, an obvious name when you see the P92 model set atop amphibious floats. We shot a video with Florida-based representative Tristan Raab and how appropriate given his location at Winter Haven, home to world famous Jack Brown Seaplane Base where so many have earned their seaplane rating. Tecnam developed their own composite floats and Oshkosh visitors saw the first one in the USA. As summer gives way to fall and winter, you may want to contact Tristan about a flight in this newest Tecnam variant (518-428-0804). Here's more info.
Tecnam's SeaSky is a recreational aircraft with its water capabilities but for those who want a smooth sleek speedster, how about one of the prettiest LSA on the market, P2008. A fine credit to Italian design, the P2008 is now more muscular, with the first ever installation of the powerful Rotax 914 turbocharged engine. If you live in one of the high elevation western states, this might be your bird of choice given it offers another 15 horses over the Rotax 912's 100-hp. However, you can only use 115-hp for a few minutes, so an important fact we learned was that the 914 can produce a higher percentage of the continuously available 100 horses to a much higher altitude, thanks to turbo boost that operates full time. Another worthy point: installing the 914 may take more engineering but operating the potent engine is simple. Here's more info.
Sporty's Pilot Shop took some time to give up a preference for the Recreational Pilot certificate. However, as their annual sweepstakes shows, they've made the shift to Light-Sport now, giving away an American Legend this year and planning to award this (photo) sweet-looking RV-12 for next year. Plus, the lucky winning owner won't have to build it because Van's Aircraft partnered with local business Synergy Air to make dozen-lot runs of fully built RV-12s. The first ones bear a special marking, that of company founder and legendary designer, Dick VanGrunsven. The first 12 aircraft Synergy built includes this one that has Van's signature on the pilot's side. You can win this handsome, well-equipped aircraft just for buying something from Sportys and they've got a lot to offer so you ought to be able to find something you need or like. Here's more info.
It appears the time for aerobatic Light-Sport Aircraft has arrived. First, we did a video about Tecnam's Snap single place aerobatic aircraft and at Oshkosh 2013, we found the Panther from Panther Sport Aircraft. Using a 100-horsepower Corvair engine, company boss and designer Dan Weseman says the also-single-place Panther can do "mild aerobatics, like an RV-4 can." The new aircraft offers a number of features, which you can catch on our video. Sold as an Experimental Amateur Built aircraft, Panther meets LSA parameters allowing use by a Sport Pilot certificate holder. Since it's a kit, the Florida-based company will support several different engine installations. Here's more info.
Shown to the public for the first time at AirVenture 2012 (before they even had a name for it), Just Aircraft amazed last year's crowd with the takeoff and landing performance of their now-named SuperSTOL. I've flown this airplane (video) to find it has some of the most docile handling you can imagine from an airplane that looks rather extreme or radical. Yet it's the way it leaves the ground and perhaps even more so the way it returns to the runway that drops watcher's jaws to the ground. Flying with factory demo pilot and lead designer Troy Woodland, we made seven landings with the stick full aft from half way out in the airport pattern all the way to surface yet we had full control and the touchdown was pillow soft, every time. Even after experiencing it, the results are hard to accept. The nearby photo catches the wing in full operation with flaps deployed and leading edge slats out. You can also see the major shock absorbers on the main gear and another on the tailwheel. Here's more info.
I've done some other writing about SkyCraft (see here) but we haven't shown you the engine installation. SkyCraft reported at Oshkosh that they are ready for the FAA to visit seeking the agency's acceptance as a new fully-built Special LSA (last year they were planning to offer a kit, but chose to go forward with factory building the Czech design). SkyCraft will use the Hirth F-23 two stroke engine. Helping to permit their very attractive price ($55,000), the company will install the dual ignition, fuel-injected 50-horsepower Hirth that operates at the refreshingly low fuel burn of just 1.8 gph. The lightweight engine gives a 1,000 hour time before overhaul but SkyCraft offers a free top-end overhaul at 500 hours. Likewise, their prop has a 600 hour overhaul point but when those hours are reached, SkyCraft is offering to replace the prop … for free. This young company has some consumer-friendly ideas and, if it turns out as they expected at Oshkosh, they'll be the first single seater approved as a SLSA. Here's more info.
Renegade Light Sport Aircraft worked for many months on installing the Lycoming O-233 LSA engine into a pair of FK-12 Comets. The now-Florida-based company cited difficulties working with the Poland-based FK Lightplane manufacturer as a reason to stop that effort, but they immediately turned their attention to an aircraft modeled after of the Pitts S1S. Another biplane the Pitts has quite a reputation as a high performing small aircraft that is not burdensome to own and operate. Renegade plans to enlarge the cockpit and make significant use of carbon fiber to keep the single seater light and agile. At Oshkosh, they showed the Lil' Rascal (they can't use the Pitts name, of course) in nearly full clothing. We'll keep an eye on this development. Here's more info.
We already reported and lots of other media have offered plenty of media to GreenWing International, the producer of the now-on-sale eSpyder pure electric aircraft. The company was featured in EAA's Innovations pavilion and flew a two-aircraft airshow routine, which you could hardly hear as the electric motor is quieter at full power than two people having a conversation. Another thing we didn't hear much about was charging the batteries. Our nearby photo show a buttoned-up eSpyder taking on juice for another hour-long flight. The smart charger talks via Bluetooth technology to each battery cell, assessing the health and needs of each segment of the battery set. Note the big power plug kept out of morning moisture (arrow). Such "fueling" is a new requirement for aircraft flying at Oshkosh, but the volunteers in the Ultralight Area handled it like old pros. Here's more info.
eSpdyer wasn't the only electric aircraft regularly flying at Oshkosh. Mark Bierle flew his eGull as he has for the last few years. This soft-spoken but brilliant designer has been hard at work on electric power for several years and may be one of the most innovative in trying new ideas. This year he had a particularly potent motor in the usual pusher configuration. reportedly delivering the equivalent of 55 horsepower, Mark's lightweight, single place eGull zoomed into the sky with great enthusiasm. Since pilots seem to always vote for more rather than less power, I can imagine this could be a trend started by Bierle that might play out among other electric aircraft producers. One downside is that a bigger motor empties batteries quicker, but the same can be said about bigger gasoline engines burning more fuel yet that doesn't appear to have reduced demand for bigger engines. Here's more info.
As I wind up this quick tour of interesting stuff at Oshkosh, I have to pay a bit of tribute to one of our longtime aircraft suppliers, Quad City Ultralight Aircraft. This company has delivered more than 3,500 aircraft, every one of them very reasonably priced. They're also all kit aircraft but it's clear the building proposition hasn't discouraged many from taking to the skies. Now, the company was able to trumpet its 30th anniversary and all the while the company has had the same leader, Dave Goulet. Congratulations to Dave and his team for a job well done over a long, long time. As if in honor of the company's birthday, three of four AirVenture 2013 awards in the Ultralight category went to Challenger builders including LSA Grand Champion, Gold Lindy winner Mike Riley. Here's more info.
Last but certainly not least in my mind was a salute to an old friend who sadly won't be joining us anymore. Frank Beagle was for years the announcer for the Ultralight Area. His powerful bass voice could be heard throughout the public address system pretty much all day every day and he knew his light aircraft. So, it seems enormously fitting that the leaders and volunteers of this part of Oshkosh named the announcer's stand "The Beagles Nest" complete with a large plaque to commemorate Frank's decades of volunteer effort on behalf of light, recreational aviation. A dedicated 'Dac (Pterodactyl ultralight) pilot, Frank was also a friend to me and many others so we can all take pleasure at seeing his name emblazoned on the side of the announcer's stand. A tribute was also held for Frank during Oshkosh 2013.