The weeklong celebration of flight known around the planet as "Oshkosh" is now history. Although EAA was challenged by inclement weather before the show and as it opened, the weather gods smiled on the event and provided a wonderful week with all the action you can imagine.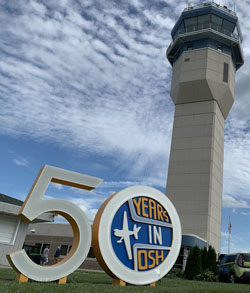 EAA announced attendance numbers identifying solid growth over last year, to 642,000 attendees*. That's a ways from the 800,000 back a couple decades but is solid growth from recent years. Especially as EAA had to work hard to overcome weather issues before the event, the organization is to be commended for handling a huge number of details with professionalism.
The week of Oshkosh brought outstanding weather and only brief periods of rain. Those of us from hot states enjoyed the mild temperatures and beautiful cloud-dappled blue skies (photos).
So, after getting back in the saddle after an intense week, here are a few stories of interest.
One point given the nearby graphic. The logo seen in many locations was widely misinterpreted by those who thought EAA was celebrating 50 years of the event. Wrong. It has been in Oshkosh, Wisconsin for 50 years but the event itself is now 67 years old.
Rotax Meets a Need with 915iS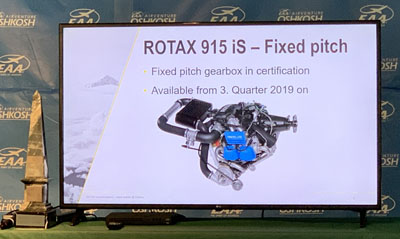 True to form as you might expect, Rotax followed through on a question I asked 15 months back. As reported in this review of the 915iS and 912iS the company's top man strongly hinted at a fixed pitch version of this engine. Thomas Uhr has since moved up higher in the organization but at a journalist event last year, he answered a questions about fixed pitch on the 915 engine. He did not then answer directly but said, "Every engine Rotax has produced has been able to use a fixed pitch prop. Take from that statement what you will."
Sure enough, the new powerful engine from the Austrian company will be available for used with fixed or ground adjustable prop by fall of this year. Good on Rotax and the well-spoken Mr. Uhr.
Some countries allow constant speed or in-flight adjustable props but not the USA. FAA specified no in-flight adjustment in the current regulation. We believe this will change with the new reg (recent report) but that could be some years in the future. Until then, only fixed pitch can be used on American Light-Sport Aircraft.
Rotax is enjoying good success with the 915iS fuel injected, turbocharged, intercooler power plant. More than 400 engines are now flying on aircraft and the number of airframe producers using the new engine continues to grow. More about Rotax success.
The 915iS is also an important engine for the larger, up to four seat, aircraft to come in the LSA world as well as on kit-built aircraft and some models preparing for approval under the new version of Part 23 certification (that will use industry consensus standards modeled significantly after the LSA set of standards).
High from Low (wings, that is)
Two leading companies exclusively using low wings will be introducing high wing models in the near future. One is a trade secret for now, but another was announced at Oshkosh.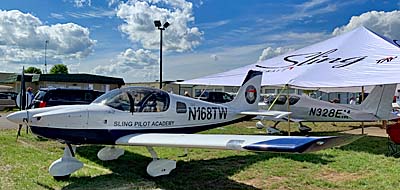 What's interesting here is that both companies have exclusively made low wing models in various configuration. Neither has made a high wing. One of these is also planning the new, powerful Rotax 915iS engine (though both producers are using that power plant in one of the low wing models.
For more on the entry from South Africa's The Airplane Factory Sling TSi High Wing, see the video below. What's interesting  is that this entry offer more seats and more capabilities. For the immediate future, Sling TSi High Wing will have to be kit built but as you read here, FAA will allow four seaters as basic Light-Sport Aircraft.
Once again, TAF founder Mike Blythe is ahead of the game. He was the first producer I personally observed getting excited about what he could do with the 141-horsepower Rotax 915iS. Barely a couple years after I saw his mind working, he not only built the low wing Sling TSi but the new model promptly flew around the world, literally. I expect to see a plan for the high wing TSi to also make the globe-girdling flight.
LAMA's Dual Award
For only the second time, the association awarded two persons their highest honor, the Presidents Award for Outstanding Individual. A few years ago, a rare tie produced a dual award. This year, voting for the 28th year of the LAMA award, resulted in another dual award. Hundreds of members of the business community for light aircraft offered nominations. The person with the most such wins; it's a very simple system to recognize hardworking, creative people who helped move light aviation forward.
One of this years winners was Kerry Ritcher. With his father, Wayne, Kerry founded three aviation companies. He started manufacturing aircraft in 1977 and his enterprises have produced a total of more than 3,000 aircraft, continuing to the present. His best known design is the SeaRey from Progressive Aerodyne based in Tavares, Florida.
A Private Pilot with over 12,000 hours, Kerry has designed a dozen varied aircraft including Hi-Nuski; Cobra; King Cobra; Sea Wolf; Carrera; Carrera 180; Buccaneer SX; Catalina; Colibri; SeaRey; Stingray; and, SeaRey LSX/LS. The latter are in active production by the company he founded.
The second awardee is also a LAMA board of directors member. Scott Severen started flying hang gliders in 1973 and has since been active in several aviation enterprises. He also assisted many organizations supporting light aviation including the U.S. Ultralight Association; the Airpark Owners and Operators Association; the EAA Ultralight & Light-Sport Aircraft Council, and the LAMA board.
In 2004, Scott joined IndUS Aviation, and was instrumental in the effort to be the first American designed aircraft to earn SLSA certification.
Severen presently owns and operates US Sport Planes, involved in LSA sales, brokerage, factory authorized maintenance and major structural repairs in Denton, Texas. In 2018, he took over as the North American representative for the Jabiru line of Light-Sport Aircraft. Scott is a private pilot and has accumulated over 2,000 hours in numerous types of aircraft.
Part 103 Success Story
More than one fixed wing producer of conforming Part 103 aircraft expressed strong, continuing interest in these lightest flyers. Kolb and U-fly-It are both so busy building their 103 models that they are not focused on two seaters. Aerolite does not have a two-seat model and no plans for one. Kolb has the Mark III but the action is in their Part 103 models, said Kolb boss, Bryan Melborn. The good news continues…
The arrival of Badland's Part 103 entry F-series in five variations adds to such popular choices as Kolb's Firefly, U-Fly-It's Aerolite 103, Just's True 103 (still in development), models from Team Aircraft and Fisher Flying Products. This listing of Part 103 prospects is not meant to be exhaustive and leaves out players like Evolution's Rev trike or Infinity's Challenger 103 powered parachute plus others. The point being, Part 103 appears not only to be surviving but thriving!
Oshkosh even had an entrepreneur that has organized to provide support to Canada's Lazair. Watch for a video on this interesting development and see the nearby image if you are not familiar with this once-popular ultralight aircraft.
Especially while most LSA run well into six figures, Part 103 pilots enjoy the greatest freedom in aviation. The simple rule has been unchanged since 1982 and allows flight in an ultralight vechile without a pilot certificate, N-numbers, or aviation medical. A producer can sell you a ready to fly model without getting FAA approval. As with LSA, ultralights overcame early issues to become solid members of the aviation fleet. Other countries have similar regulations.
Coolest Rig Seen At Oshkosh
If you're a good, red-blooded American pilot, I don't see how you could not love this setup. Your luxurious motor home towing your Corvette and your Aerotrek A240 in a custom-built trailer that you can handle by yourself.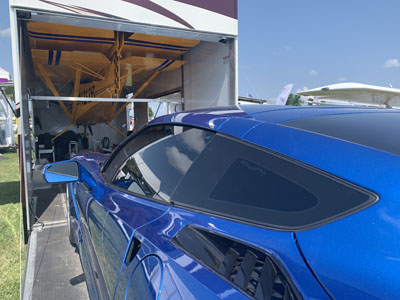 I hope I didn't drool on it as I looked it over.
Built for recreation, this highly-customized trailer is towed behind the owner's motorhome. It can hold his Aerotrek A240, requiring the tricycle gear model so as to fit the owners Corvette underneath. A clever system of ramps and winches allows him to load the aircraft and the car with no assistance. Both sides also open up to make it easier to stow the airplane ramps once the aircraft is secured and to allow proper tie-down of the Corvette.
As a former Corvette owner, a former motorhome owner, and a lover of the Aerotrek aircraft, this setup looked to be about as close to aviation heaven as mere mortals can get. So, this apparatus gets my award for the Coolest Rig seen at the show.
---
Watch here as The Airplane Factory founder, Mike Blythe introduces the Sling TSi High Wing…
---
* The number 642,000 introduces different counting methods. I understand this number to mean the number of people passing through the gates, however, one person entering for several days is counted each day. Taken to task a few years ago, Sun 'n Fun now reportedly counts discreet individuals so the Florida show seems to have smaller numbers. Oshkosh is clearly a good deal larger but not as much as their reported numbers make it appear. Either counting method can be defended but this is comparing apples to oranges. And whatever the numbers, our glimpses of Oshkosh while zipping around doing videos and gathering story material strongly suggested great attendance in 2019.