Once we had Avid Flyer. It begat Kitfox, which begat many models before returning to the starting point by creating a Part 103 ultralight vehicle* called Kitfox Lite …what else? At that time Kitfox was owned by its principal, Dan Denney.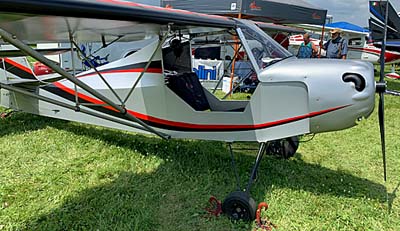 A good marketer Denney's Kitfox once employed a whole staff of sales people following up on loads of leads that the then-new design was generating. Even now, decades later, Kitfox, doing business as Fox Air, is building one of the most successful kit-plane designs in aviation history. (For the facts and market position of Kitfox visit our Tableau Public page of LSA and SP kit statistics.)
While the Dan Denney version of Kitfox Inc., addressed strong demand, they also began working to widen the market they served. Kitfox had found success as a two seater in various configurations but did a market exist for a single seater?
It turned out not as much as Denney wanted. After some years the Kitfox Lite design was sold to James Weibe of Belite Aircraft.** After Belite moved on to their own designs, Badland Aircraft owners found agreement and acquired all the rights and tooling plus inventory for the Kitfox Lite. Weibe and Belite may have moved on to other projects but the availability of Kitfox Lite produced a compelling call to action for Badland's owner, Chris Deuel.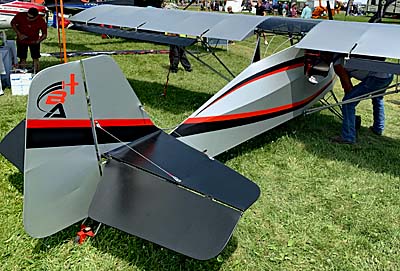 "I've been involved with autos and motorcycles my whole life," Chris detailed, "but I had a passion for aviation. When the chance came to acquire the Kitfox Lite, I jumped." With other family members, Chris established his company and set to building Kitfox Lite as a series of differently configured models… F1 UL base kit, F2 Flyer, F3 Speed, F4 Monster, and F5 Fujita. Each model step comes with addition features or equipment." Yet, as Badland advises, "Every model is 100% Part 103 capable." In fact, the aircraft at Oshkosh 2019 (nearby photos) weighed a mere 235 pounds, generously under the Part 103 limits of 254 pounds empty.
Chris seems determined and proud to protect this ultralight vehicle. "It is our honor to carry the tradition of this Dan Denney design into the future," said Chris.
It's Ultralight and It's Affordable
Budget and household income vary widely as do people's decisions about how to use the funds they have. Some buy $175,000 superdeluxe Light-Sport Aircraft. Some look to save money with ultralights like Kolb's FireFly, U-Fly-It's Aerolite, CGS Hawk's Ultra, Air-Tech Quicksilvers, and M-Squared's Breese I. Some buyers simply like the freedom afforded by Part 103 operations.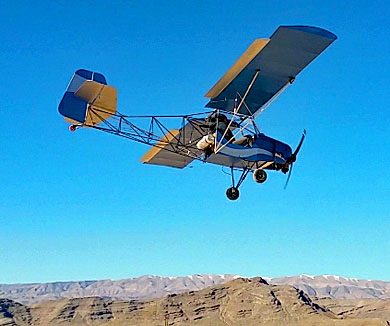 "Expect to spend anywhere between $11,700-$28,500 for a brand spanking new Badland kit," said Chris, the owner of Badland Aircraft. "You can expect to spend another $2,000-$4,500 for the firewall forward parts unless you have an engine laying around."
However, as Chris puts it, "$35,000 will get you one of the baddest bush-style ultralights in existence." Referring to the F5 Fujita he asked, "Who wouldn't love a full titanium airframe, 21-inch bush tires, 8-inches of suspension travel, a 60 horsepower ultralight that can take you anywhere you want to go? The deluxe model is not ready at this time, but Chris said they were moving with the project.
"A ready to fly base model F-1 starts at $18,900 and runs to the top of the line F-5 built with full titanium welded cage, 58 horsepower yet still 100% Part 103 Ultralight legal," said Badland. "[This is] our dream machine, with every option to make you feel on top of the world; for $37,000 we've got you covered."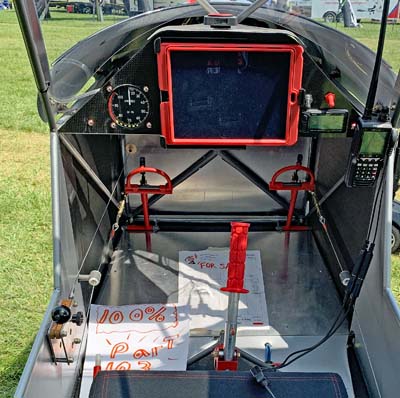 "With the folding wings and the ability to park it in a 20 foot by 8.5 foot enclosed car trailer or a single car garage, you'll appreciate the versatility."
What I examined at Oshkosh 2019 looked good with many quality machined parts and an attention to detail you could see in several places. Badland may be new but Kitfox Lite is known and accepted. I think we'll be seeing more of Badland Aircraft.
One More Thing
Are you not too sure about flying with an Italian Polini engine doing the heavy lifting? Knowing the concern some pilots have about two-stroke engines, Badland has a solution. Here's how they put it: "Stay tuned for more info on our very own 450-cc, 45-horsepower, four-stroke engine that weighs less than 65 pounds!" Indeed! If they meet that goal and if the engine proves reliable, that could be of great interest to the legions of pilots unsure about two-stroke powerplants on aircraft.
---
* Yes, I know I incorrectly (but deliberately) wrote "Ultralight Aircraft" in the title when it is technically "Ultralight Vehicle."
** Some are not aware as I discovered at Oshkosh 2019 but in early June James Weibe and his Belite Aircraft enterprise suffered a terrible loss. The factory was ravaged by a severe fire destroying aircraft, lots of inventory, tools, records, and more. This is why the  company did not exhibit at AirVenture after many years in attendance. We wish Belite a full recovery from this disaster. The sale of the Kitfox Lite to Badland occurred before this fire and the deal is unaffected by the tragedy.