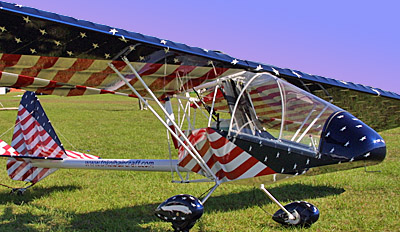 One of the most storied names in all of light aviation is Kolb Aircraft, going back to the days of Homer Kolb and his simple, affordable, well-flying aircraft kits. Several thousand are flying.
Homer was a very early entrant to this field, so much so that his first ultralight aircraft came before FAA created the category.
After a couple changes of ownership after Homer retired, the venerable enterprise is now run by the very likable Bryan Melborn, who has carried the Kolb banner in a way Home would have loved. In fact, the aircraft have never looked better.
Your choices among Kolb are many, starting with the FireFly (see flag-paint job example above). This aircraft can meet Part 103 even with an adequately powerful engine plus full three-axis controls and spirited performance. You can even get it on floats and still make Part 103, when no pilot license is needed, no medical is needed, and no FAA N-numbers (registration) are needed — a grand thing! A Firefly can be delivered fully ready-to-fly right from the factory, and they love doing so.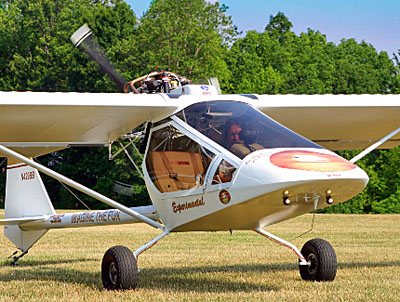 If you need more power you can move up to the experimental Firestar. And if that design interests you but you want a second seat, Firestar II SS will do the job nicely in a side-by-side seating arrangement. It's still very economical. If you want even more room, even more power, the top of the Kolb line is Kolb Mark III Xtra (right image).
Floats are possible on any of these models and all feature Kolb folding wings, that is, wings that fold in literally minutes by a single person. That can save you hangar cost or allow easier trailer transport.
Worried About Flying a Taildragger?
Many pilots have discovered that Kolb taildraggers are some of the easiest-to-fly aircraft on the market, tail wheel or not. This is partly as the "deck angle" is shallow, that is, the nose does not sit high compared to the tail. This makes the tailwheel operation vastly easier and more docile for new taildragger pilots. However, if you're still concerned you can get Firestar with a nosewheel and a tailwheel. This will let you fly in tricycle gear mode but you can experiment with tailwheel operation.
Over the years, we have reviewed every Kolb aircraft the company ever made and you can find most of that on this website (some were flown in the pre-digital era so not all pilot reports are available anymore). Besides being affordable, not too challenging to build, performing well and delivered by some aviation's finest people, Kolb aircraft are simply fun to fly. Need we say more?