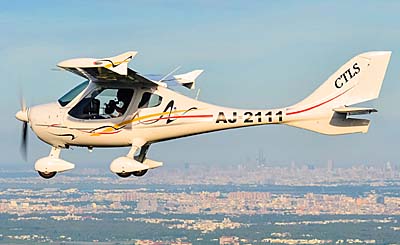 For most years of Light-Sport Aircraft one aircraft model convincingly lead the parade. That aircraft is broadly identified as the CT-series: CT2K, CTSW, CTLS, and CTLSi. Until CubCrafters caught up and passed Flight Design while the company took a breather to reorganize, the CT-series was the best selling Light-Sport Aircraft in America.
The aircraft also sold well in many other countries, concentrated in European nations; close to 2,000 are flying. One part of the world needed a different approach: Asia-Pacific, including countries such as China, Australia, New Zealand and others. For this region, CT representation needed a fresh face attuned to the local culture.
In a deal started a few years ago, a Taiwan-owned / China-based company named AeroJones Aviation Technology Co., Ltd., negotiated a manufacturing license agreement with Flight Design, the German company that created the CT-series. Money changed hands, training started, and eventually AeroJones fired up their production engine.
I visited this company in December 2017 and found a first-class production organization.
However, AeroJones was still a remote facility for Flight Design. They needed the German company to approve aircraft before they could sell directly. Now, that's changed.
Full Approval Granted
In February 2018, the Civil Aeronautic Administration of China (CAAC) completed a successful audit of the manufacturing facility of AeroJones' Xiamen, China factory. Following the acceptance and with the blessing of Flight Design, the company can independently manufacture CTLS aircraft and sell them throughout China and other countries in the region.
"We are very honored and pleased to complete the CAAC audit successfully," observed Hsieh Chi-Tai — known to many people simply as "Tai." He is the vice president of AeroJones and the approval will lead to being granted a Production Certificate. Previous approvals by Chinese aviation authorities had secured a Chinese Type Design Approval (TDA). Now the package of government certification is complete. CAAC authorities visited AeroJones Aviation in Xiamen in November 2017 and twice in January 2018 before finishing the audit in February.
"By proving our company to China's highest civil aviation authority, we open a new door of opportunity for AeroJones Aviation and for the country of China," noted Tai.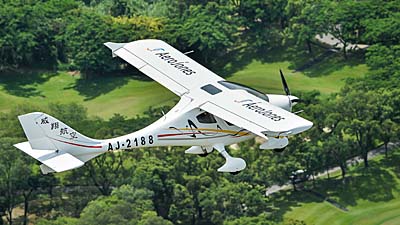 In addition to China, AeroJones Aviation is able to ship fully manufactured aircraft to other Asia-Pacific countries that accept ASTM standards for approvals, including Australia, New Zealand, Indonesia, Malaysia, Philippines, Japan, Korea, Thailand, plus additional countries in the region.
The German developer — since renamed Flight Design general aviation — will supply all other nations as AeroJones Aviation serves the Asia-Pacific market. In the United States, the German producer has been represented by Flight Design USA since the beginning.
Growth Market
Many aviation experts believe China will be a nation of rapid growth with plans from the central government in China to build thousands of airports during the next few years.
"We are proud and pleased that our management, engineering, and manufacturing team performed well during the February audit of our production facility," said Jack Lin, Production Vice President of the operation. "We have been working very hard for three years to insure we can produce the highest quality aircraft."
The Xiamen, China base of AeroJones Aviation Technology Co., Ltd. includes a new manufacturing facility equipped with all the appropriate fixtures, tooling, and highly-trained workers (photo). The majority of components for the CTLS aircraft can be built on the Xiamen premises.
In addition to the manufacturing operation in Xiamen, China, AeroJones also operates an engineering bureau in Wildau, Germany and an active flight school in Pingtong, Taiwan. The company hopes to replicate its flight school concept in many cities of China as the airport construction projects leads to activity in those locations.
I toured the flight school facilities in Taiwan and took a flight in an AeroJones-built CTLS. The school and aircraft reflect a high level of quality and attention to detail.
"We believe we have all the elements in place so we can assist China's growth in civil, sport, and recreational aviation," said Tai. "We have demonstrated the capability to produce high quality Light-Sport Aircraft and to sell them in our region."
Congratulations AeroJones. The company is one of a very few LSA builders to win full approval from Chinese CAA authorities.