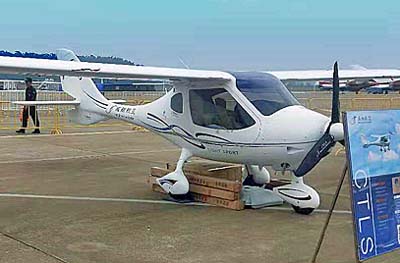 At a major show in China called Zhuhai visitors saw something: a new 6-axis LSA flight simulator. The developer is AeroJones Aviation, the CTLS manufacturer for the Asia-Pacific region. The company exhibited their simulator to a warm reception.
General aviation is beginning to develop in China lead by airport construction at hundreds of the country's huge cities. As I've written before, I have no doubt the airports will be built, but actual flying at most of them — by Light-Sport Aircraft or other recreational aircraft — seems somewhere off in the future.
China has a massive job ahead. Chinese business people have proven very capable of building many things, but developing a culture of the citizenry flying in light aircraft still has quite a distance to go. However, AeroJones new simulator may help the country take a huge stride forward.
First, Simulate — Then, Go Aloft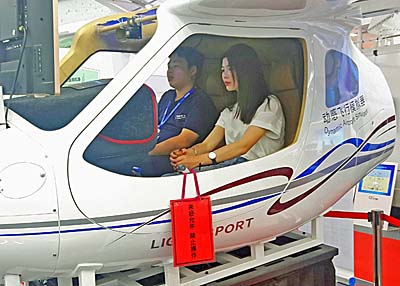 Chinese citizens play games, including flight simulators, as much as (or perhaps even more than) Americans do. Sitting at their computer or using a mobile smartphone or tablet is commonplace.
They know this activity and it may provide a bridge to people going aloft in an actual airplane like CTLS.
Imagine if you had never, ever seen a small plane of any kind. Would you rush to fly it? It's hard for Americans to envision this situation as we have small airplanes everywhere and airports in nearly every town in the nation.
AeroJones may truly be on to something developing their full-motion simulator.
"At the Zhuhai Airshow 2018, our AeroJones 6-axis of motion CTLS simulator was shown for the first time to the public," said Michael Chou, who handles marketing for the company. He reported that reception to the new simulator was very enthusiastic.
"Our flying CTLS also received lots attention in the show," said Chou. "The market is growing for Chinese general aviation. We visited with many prospective customers from flight clubs and flight schools that expressed interest in the AeroJones CTLS."
"The cabin scale of the full-motion simulator is 1:1 of the flying CTLS," added Mr. Chou, meaning that the simulator is an exact size copy of the actual LSA. "Our simulator is equipped with two SkyView digital instrument panels designed by Dynon Avionics in the USA. The simulator has dual control sticks and rudders so an instructor can help a student learn the procedures and perform maneuvers. For the general public, it is a great device for entertainment."
"AeroJones Aviation owner Jones Chen was pleased with the response to our aircraft and especially for our unique full-motion simulator," said Mr. Hsieh Chi-Tai, General Aviation Development Vice President for AeroJones Aviation Technology Co., Ltd.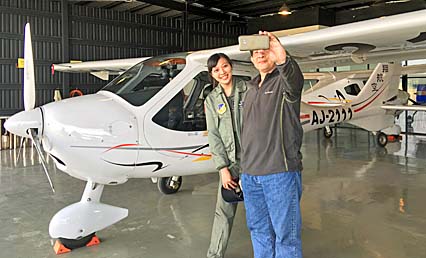 AeroJones is deep into planning for their new aircraft factory in Zhenjiang, China — where, presumably, they will also build the simulator. With the new facility, all manufacturing steps will be easier, less costly, and much more efficient, which will contribute to better values for customers buying the CTLS. Flight schools or other buyers of the modern and sophisticated CTLS will be able to fly to Dalu General Airport to see the factory and take demonstrations flights to confirm their purchase.
At the time the new factory was announced, Mr. Jones Chen said, "We are very pleased about the relationship with leaders of Zhenjiang. We look forward to a long and prosperous relationship."
Who Is AeroJones?
Please let me clarify for readers who may recall seeing the AeroJones brand at American airshows. For a time, it did appear the Taiwan-based company would sell into the USA. However, that plan changed and today, the primary markets for AeroJones Aviation include China, Taiwan, Australia, New Zealand, Indonesia, Malaysia, Philippines, Japan, Korea, and Thailand.
Because Flight Design general aviation, the original developer of the CT-series, does not currently market a full-motion flight simulator, this particular product may find its way into western nations.
Beyond their aircraft factory in Xiamen, China and the new one to come in Zhenjiang — not far from the well-known megacity of Shanghai — AeroJones also operates a flying field, flight school, and maintenance center at an airfield in Taiwan.