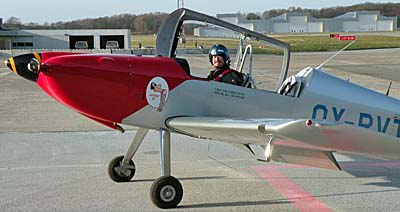 We are heading into a weekend with a couple wonderful airshows immediately ahead. The dry spell since Sebring is over and Aero Friedrichshafen in Germany starts next week — preceded by meetings of the ASTM committee that writes the LSA standards. A couple days after Aero ends, Sun 'n Fun starts. Whew! This is a tight schedule but what could be more enjoyable than going to airshows and finding lots of new airplanes about which to write and shoot new videos. I hope you'll click back regularly to see the latest.
Meanwhile I have some fun bits of news to report here. Perhaps the best is that we obtained "spy photos" of Flight Design taxi testing their C4 in anticipating of their first flight (more below). Plus, Van's Aircraft, the world's largest producer of kit aircraft, set a new record. Let's get started.
Flight Design has been at work on their four seater C4 for several years and it is finally nearing conclusion. We expect to have news of the first flight very soon. The aircraft is a spacious four seater with three doors, the aft of which was planned to be a rear-hinging door. Sometimes called a "coach door" the configuration should make for much easier entry to the rear seat, however, for safety the aft door cannot be opened without opening the front door. Performance is expected to substantially exceed a Cessna 172 while using less fuel and selling for $150,000 less than a new Skyhawk. C4 is powered by Continental Motor's newly certified IO-360-AF, and alternative fuel engine.
Flight Design was recently in the news for their new factory in China that is currently preparing to build CTLS Light-Sport Aircraft. They are currently working with the CAAC (China's FAA) to obtain what is called Type Design Approval (TDA).
"Now that AeroJones has completed building four prototypes culminating in a fully conforming article, they can begin the effort for serial production," explained Christian Wenger, a director of Flight Design in Germany. He added, "AeroJones's manufacturing work builds on an organization foundation by Daniel Guenther and Andrey Yavniy of Flight Design. "Andrey was the man who doubled Ukraine production [of CT LSA] during 2005 to 2007 with more than 250 aircraft delivered in 2007."
"AeroJones parent company GSEO, based in Taiwan, has worked in China for 20 years building high-tech optical products," said Flight Design CEO Matthias Betsch. "GSEO customers are known as very demanding buyers who go to great lengths to assure vendors match design quality. GSEO President Jones Chen brought his experience and his passion for aviation into AeroJones."
"In cooperation with the province of Jiangsu, AeroJones is breaking ground on a 250,000 square foot, brand-new production facility based in Changzhou," added Betsch. AeroJones will produce airframes for the Light-Sport CTLS as well as Flight Design's four seat C4.
Now, for something completely different … Just today Van's Aircraft reported a first-flight report from Mr. Thomas Damm, of Billund, Denmark. "Thomas' RV-8 became the 9,000th RV kit to be completed and flown by a customer," exclaimed Van's.
"Mr. Damm bought the barely-started kit from a close friend and completed it over a span of nine years." Thomas flies airlines for Scandinavian SAS and made his first flight on April 8, 2015. "On the first flight I saw 170 knots at 5,000 feet at [less than full power]. You guys produce great airplane kits," Tom wrote to Van's Aircraft.
The folks in Van's Aircraft's engineering department, obviously very pleased by reaching this benchmark, assembled a few of what they called "thought pictures." They noted that assuming an average wingspan of 27 feet with no gaps, 9,000 RV aircraft parked wingtip to wingtip would form a line of aircraft 46 miles long … and, a rectangular grid of airplanes would be roughly 2,788 feet by 2,362 feet that, with a couple inches of space between wingtips, would cover about 151 acres … and, assuming an average of 180 horsepower per RV, the total fleet of 9,000 aircraft would generate 1,620,000 horsepower.
That should power you through the weekend.
BREAKING NEWS! — On April 9th, Flight Design successfully flew their C4 in a 40-minute initial flight that reportedly went very well, with the C4 at reduced throttle outrunning a Cessna 172 chase plane at full throttle. I'll have more as soon as the company releases it. Congratulations to the whole Flight Design team!