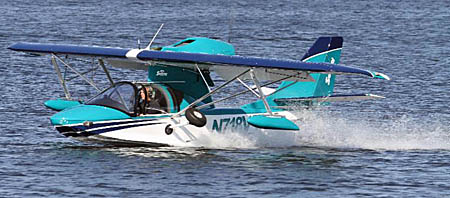 The list of aviation companies involved in one way or another with China is getting so long I won't try to show them all here. Big companies like Cirrus Design or Continental are included. So are LSA manufacturers of various brands. Some business are setting up dealerships (Quicksilver, others). Others have arranged Chinese partners to build planes in-country (Flight Design, Zenith, others). Several companies have been fully acquired by or have received substantial funding from Chinese enterprises (Icon, others) and I'm aware of more that we will hear more about in the weeks and months to follow. The U.S. government and many other nations have borrowed from the Chinese government so a nearly unfathomable amount of dollars or other currencies are parked in China. However, most of the aviation financial arrangements are private, showing that, like their government, Chinese business people have plenty of funds to invest. The big question is, will a true personal aviation market develop? … outside of business jets and airliners, that is. We'll have to wait to see but companies are certainly for big things. Not all China ventures worked out well, for example, Cessna's Skycatcher. Others are vigorously pursuing the Asian market …
With Progressive Aerodyne now owned by an American named Adam Yang, you might think it logical to expect this successful Florida kit builder turned LSA manufacturer to have an Asian presence. In addition, since Searey is already SLSA approved and can boast a long history of loyal builders, this brand and model has a leg up on companies that are still in development (Lisa Akoya, others). So, here's the official announcement: "Progressive Aerodyne is pleased to announce the opening of its newly established sales office in Shanghai, China, to support the sale of Searey Light Sport Amphibious Airplanes." The Searey was first presented to the China market at air shows in 2009, where interest in Searey airplanes was overwhelming. Since then, Progressive Aerodyne participated in subsequent air shows and invested in research and marketing in order to advance the Searey in China." The company reported that it is working with Chinese aviation authorities to gain approval for Searey sales in China and the Shanghai office* will work with government authorities in China while managing marketing and sales efforts. "We are excited about the expected growth potential of Searey light sport airplanes in China. Our new sales office will allow us to penetrate the China market more effectively and access a very large and entirely new group of future Searey enthusiasts," said Adam Yang, CEO of Progressive Aerodyne.
For more than 20 years, Searey LSA and kits have been produced in Tavares, Florida, about 45 minutes northwest of Orlando. Progressive Aerodyne's manufacturing facility is currently in full production of two certified models, Searey Light Sport and Searey Light Sport Elite. In addition, the company continues to manufacture Searey kits. You can find out much more and watch videos with company officials here.
* Progressive Aerodyne's Shanghai office is located at: Room 2809, Maxdo Centre, Building No.8, Xing-Yi Road, Chang-Ning District, Shanghai, 200336 China, Tel: 021-6236-2360.