It's almost July and any active pilot knows what that means: Oshkosh! Except not this year. ☹️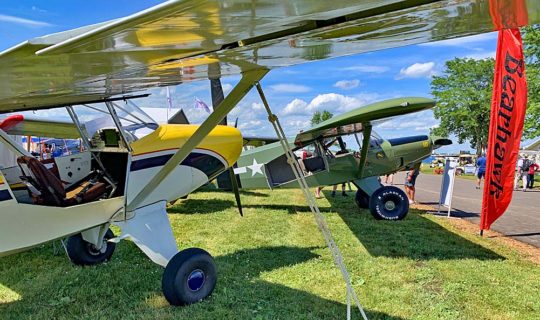 I interrupt the ongoing battle with Covid-19 to take you on a nostalgic tour of Oshkosh-19. View this excursion by video below.
Hey, when you can't go to EAA AirVenture Oshkosh 2020, why not simulate from the safety and comfort of your home or backyard? Just like Netflix urges you — "Watch It Again!"
This brief virtual tour of aircraft and people from AirVenture last year may have you wishing you were starting to pack your bags for the big show this year …sigh!…
Oshkosh Redux
Sometimes called "Disneyland for Airplanes," if you like things that fly — whatever form they take — you can probably find it at Oshkosh. Like a kid in a candy store, everywhere you look offers sweet temptations.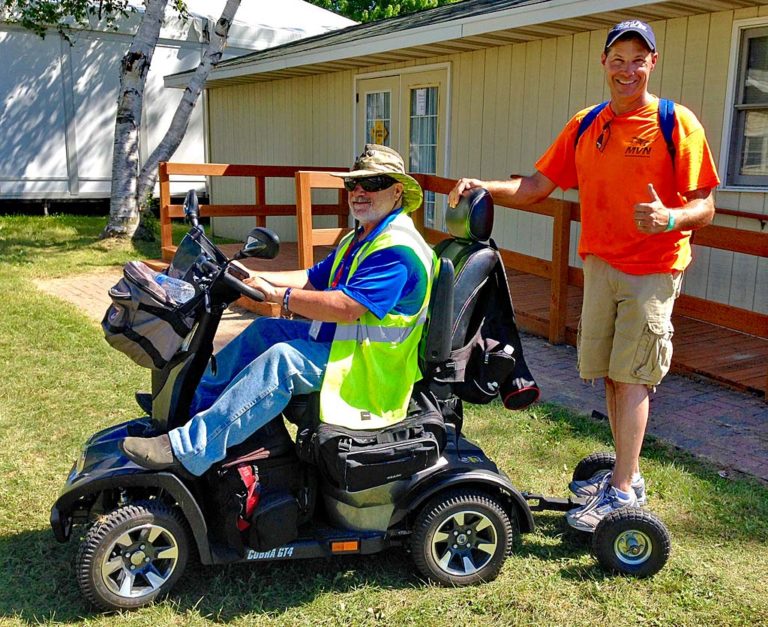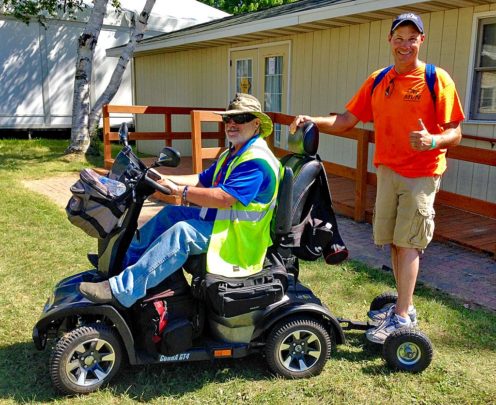 Oshkosh is so sprawling you can't see it all but this post along with the video below tries to capture objects of interest to readers of this website and viewers of Dave's "The Ultralight Flyer" YouTube Channel.
In a nearby photo you'll see Dave's new rig that gets the two of us around Oshkosh in head-turning style while transporting Dave's heavy stash of camera gear. In the photo, my usual riding position is occupied by Midwest LSA Expo producer, Chris Collins.
AirVenture draws immense crowds — on the busiest day, the headcount may exceed a quarter million people milling around every aircraft, inside display, or outdoor food court. That makes impossible a goal of keeping every one of them six feet apart.
By comparison, Midwest LSA Expo has been social distancing for more than a decade. This show allows plenty of room to keep your separation but you can still examine aircraft and have plenty of time to talk to those representing it. Join us in Mt. Vernon, Illinois this coming September 10-11-12, 2020.
Last Year Outtakes
Normally I stick so closely to aircraft and engines — because that's what interests readers most — that I must leave out a number of other points of interest. Here I'll catch a few of them…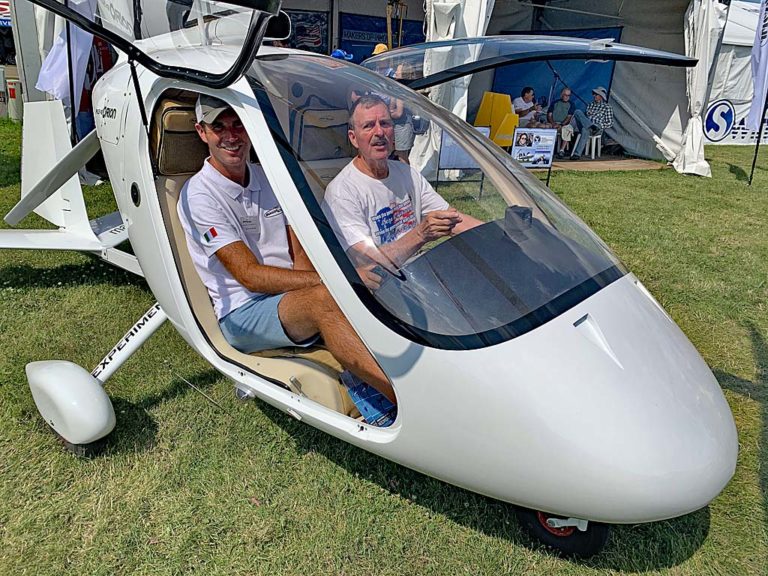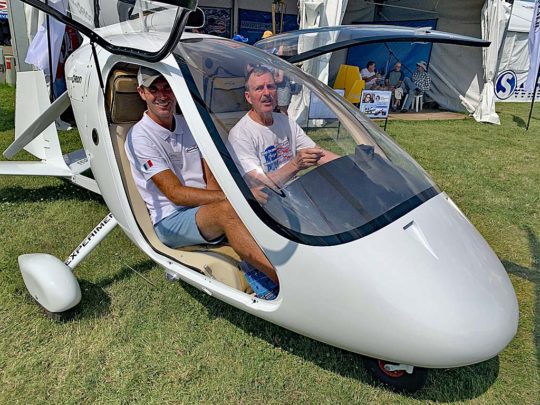 Magnificent Magni — Magni Gyrocopters, the second-largest-selling gyroplane line (after AutoGyro), has been doing an admirable job of putting out news during the lockdown. No one can go to shows or gather in groups, so the Italian producer has created newsy emails.
The gyro giant has been celebrating James Ketchell's around the world gyroplane flight in 2019, announcing their addition of Rotax's powerful 915iS engine, winning Spanish certification, and helping to uncover elephant poachers in Africa.
More than 1,200 Magni gyroplanes have been sold, mostly in Europe but models are flying all over the world. The company's side-by-side, fully-enclosed Orion M24 model is shown nearby.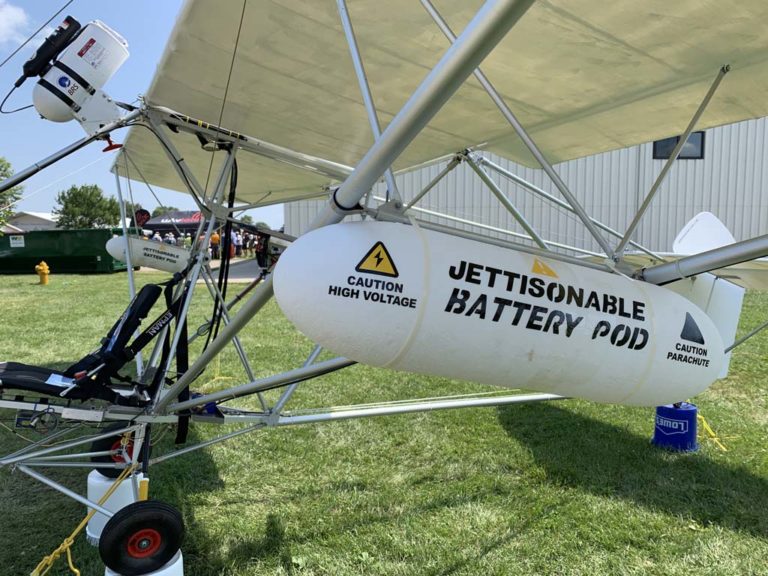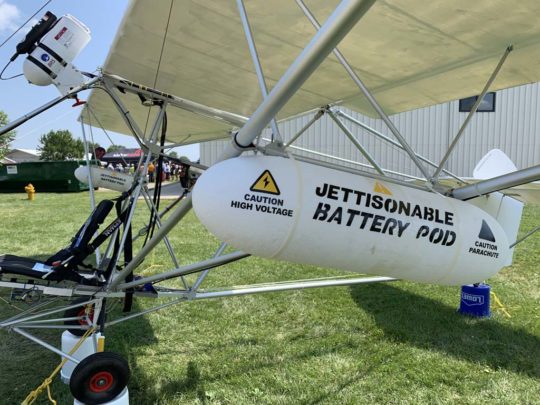 ePower Zigolo — Although it seems a long-delayed project, the electric propulsion of  Aeromarine LSA's Part 103-capable Zigolo continues in development.
At Oshkosh, the Florida enterprise showed their Zigolo electric prototype with externally mounted battery pods that can be jettisoned in the event of problems. The super light aircraft — with a gasoline engine, it easily qualifies for Part 103 — is well described by our associate Dave Unwin in this pilot report.
Any delay in Aeromarine LSA getting to larger production of an eZigolo is, in fact, normal. Note how enormously well-funded companies like Kitty Hawk or Airbus have abandoned electric propulsion as they wait on the batteries of the future. With vastly less cash, developer Chip Erwin continues to make intriguing progress in his lightest-of-all aircraft.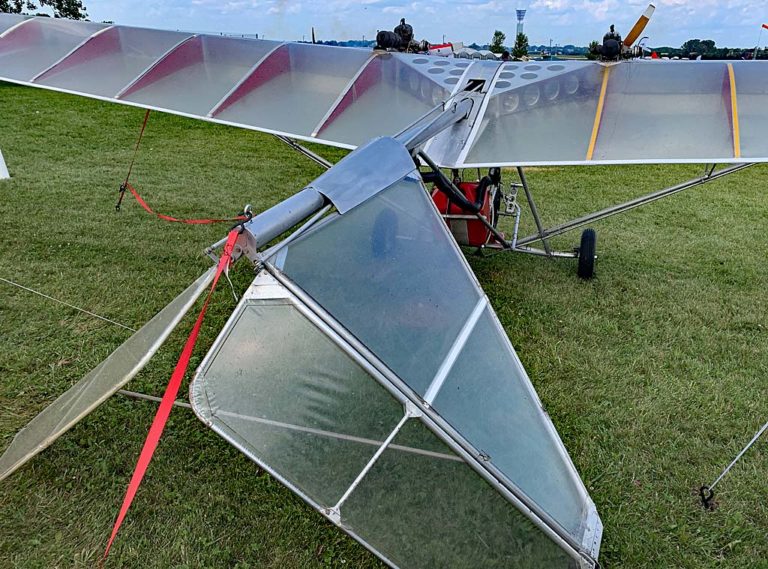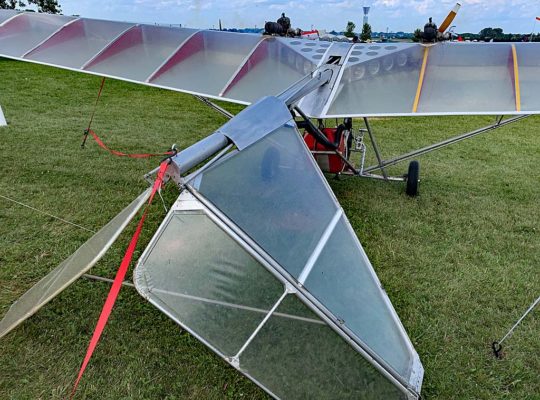 See-Thru Lazair —Is this iconic Canadian design coming back, or not? At present, the good news is that Gene Yarbrough, proprietor of Lazair Nouveau is making parts again for the long-out-of-production light aircraft.
Learn more about this popular design and Gene's enterprise but a glance at the nearby photo shows how distinct this aircraft is compared to any flying machine. Lazair was even more eye-catching back in a time dominated by Quicksilvers and CGS Hawks but even today, its clear coverings, inverted-V tail, and twin engines set this fascinating aircraft apart from most others.
Nearly everything about Lazair was different, but the image shows the central structure clearly and it is easy to imagine how unique this looked when all other ultralight vehicles were so basic… and draggy. Lazair's smoothness and attention to lower drag made it work well on two tiny engines. Power was originally supplied by two modified Pioneer Chainsaw engines of approximately 5.5 horsepower each though these were later replaced by two, single-cylinder, 9.5-horsepower Rotax engines.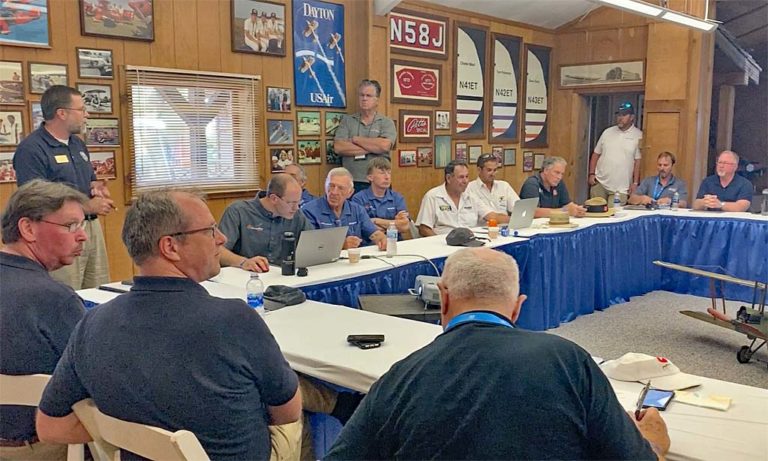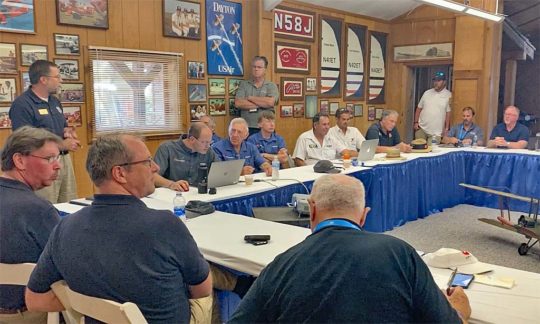 FAA Meets with Industry — FAA has kept a tradition dating back to the beginning of Light-Sport Aircraft in 2004 — the new regulation was announced at Oshkosh that year and became official on September 1st with the first aircraft accepted by FAA at Sun 'n Fun 2005.
In the Heritage Museum located near the entrance to AirVenture, FAA leadership gathers with airplane manufacturers and other interested parties to review the coming regulation widely known as MOSAIC. The Small Airplane Directorate's Terry Chasteen (seen speaking at top left in the nearby photo) also provide his annual safety briefing to those in attendance.
In 2019, the yearly conclave was attended by some of the top executives in FAA. The occasion provides a rare chance for industry to have a conversation with rule writers.
Talking to Reporters — For years, Americans and many others have been hearing plenty about Big Media; comments are not particularly positive. However, in aviation, media players (like yours truly) are more understanding and may portray industry's efforts in a more upbeat way. Facts and details about interesting new aircraft, are the focus of most aviation writers and videographers.
In one impromtu image seen nearby, Flight Design USA's Tom Peghiny is interviewed on camera by reporters from Aero-News Network behind the media tent at EAA's AirVenture media headquarters. In many places at Oshkosh, you may notice variations on this kind of reporting. Videoman Dave and I are happy to be among those working to create content readers and viewers enjoy.
The value of companies running into reporters at events like EAA AirVenture Oshkosh shows why these events are so important. With that in mind, we hope all events can return to normal for 2021.
Here's our race-around tour of AirVenture 2019.
---