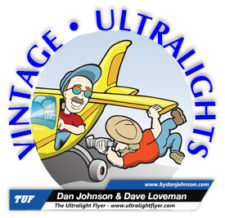 The first time I ever saw Lazair fly — a fly-in at the Tullahoma Airport, as I recall — a then-young Peter Corley flew the lightweight aircraft as though he was the pilot of a military fighter of the day. He pushed the sleek machine with the whining engines as he looped and rolled the machine with such apparent ease. At this early time of development for these aircraft, such maneuvers in what we called an ultralight were very unusual.
To say either Peter or Lazair was unusual proved something of an understatement. Lazair was, and remains, one of the most unorthodox aircraft of any kind. Several reasons stand out to define its uniqueness.
These differences included: an inverted-V tail, said to be the most efficient tail planform; twin engines (the tiniest ones imaginable); an aluminum structure not based solely on round tubing; and see-through wing and tail coverings. All that is just the overview.
UltraFlight Lazair
The Lazair single seat ultralight aircraft was designed by Dale Kramer and the late Peter Corley and produced by UltraFlight Incorporated in Port Colborne, Ontario Canada.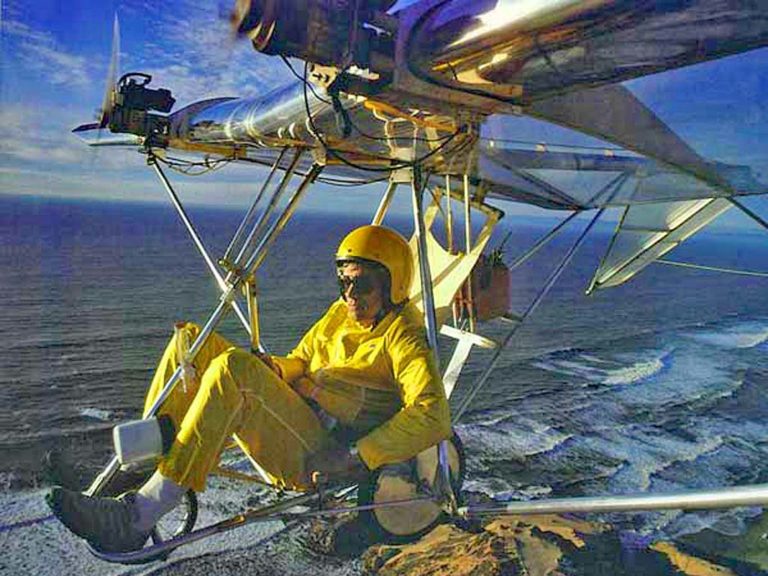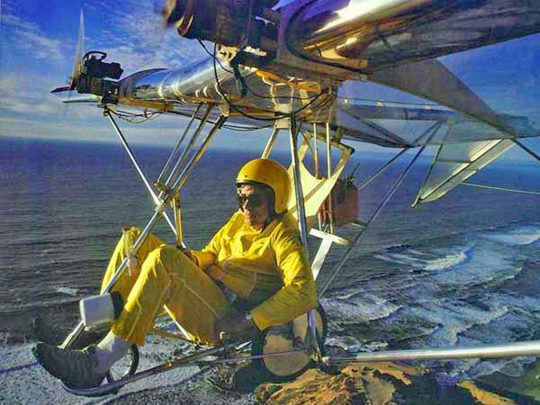 Lazair entered the market in the early 1980s and was sold in kit form. Kits took between 500 and 1,000 hours to build as they were basically a raw materials kit. The fuselage and tail section use aluminum tubing with bolt and rivet construction.
Wings featured an aluminum D-cell construction with styrofoam ribs. These structures were covered in a Mylar or Tedlar fabric.
Lazair is a high-wing, strut-braced, tricycle-gear taildragger. Engines were in tractor configuration with an inverted-V tail equipped with ruddervators.
Dale developed Lazair into in several different variations, still as a single-place ultralight, the last being the Series III.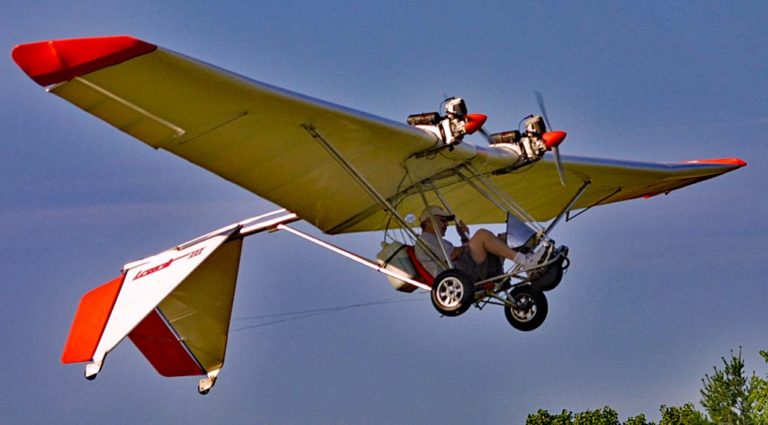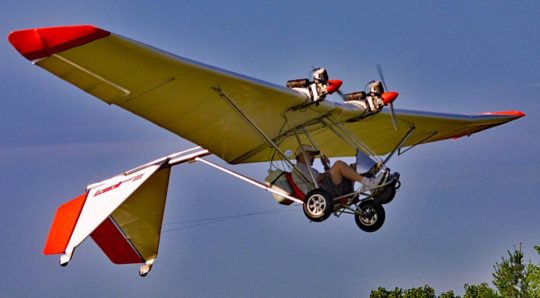 Power was originally supplied by two modified Pioneer Chainsaw engines of approximately 5.5 horsepower each. The Series 2 and 3 models used two, single-cylinder, 9.5-horsepower Rotax engines. These engines were mounted on the leading edge of the wings.
Series 3 Lazairs featured a wider landing gear, a conventional center mounted joy stick, jury struts and toe brakes.
Lazair Series 2 and Series 3 ultralights made great float planes and could be found through out cottage country in Ontario.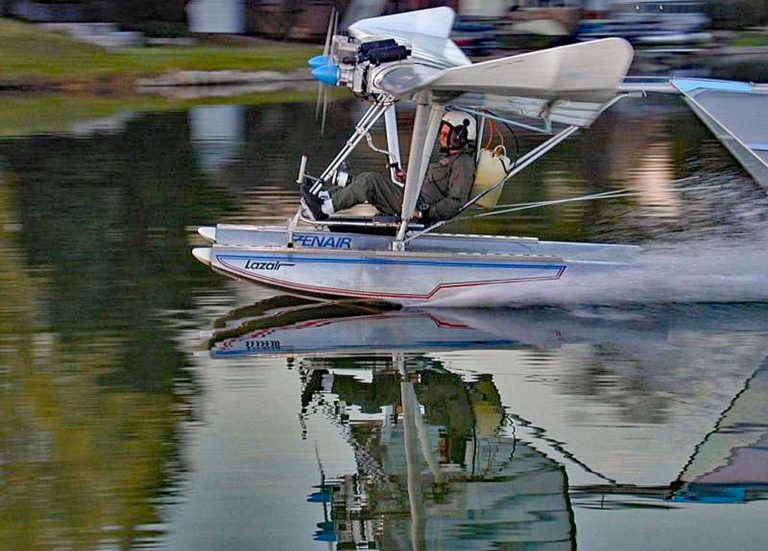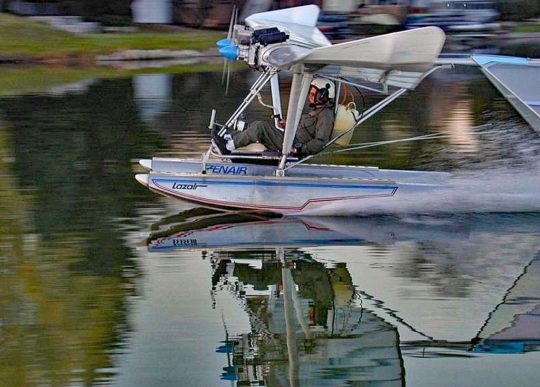 Climb rate on the Lazair Series 2 and 3 ultralights was approximately 450 to 500 feet per minute. Cruise speed was between 35 and 45 miles per hour. Stall is around 25 miles per hour.
UltraFlight enjoyed a very loyal group of owners and builders in both the U.S. and Canada. Problems were reported with both the Pioneer Chainsaw engines and Rotax engines; several articles describe troubleshooting reports on the Lazair. Parts available from New Lazair via their blog page. In this video, learn more about what is available from Gene Yarbrough, proprietor of Lazair Nouveau.
At the time of production of this video The Ultralight Flyer would estimate the resale value of a used Lazair ultralight to be between $3,500 to $6,500. Gene estimated that between 1,200 and 2,000 Lazair ultralights were sold.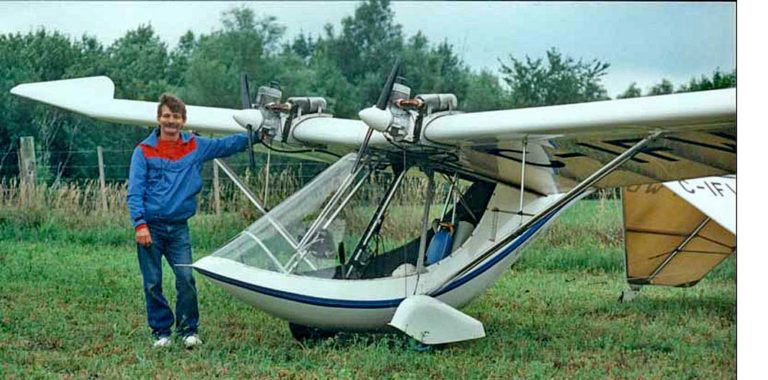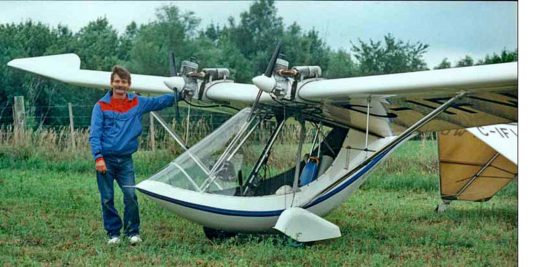 From comments to The Ultralight Flyer YouTube channel, a commenter whose handle is "galactica one," reported, "With Rotax 185 engines, climb rate was 200-250 feet per minute; cruise was 38-40 mph, glide was 15:1, takeoff and landings each occurred in 100-300 feet; and stall happened at 20-25 mph.
The same commenter claimed TUF's "price for a used Lazair [shown above] is way too high; around $1,000 is all one is worth." This person advises, "a lot have damage to the airframe that needs to be repaired and the wing and tail surfaces will most likely need to be recovered. Most have been flipped on their back and the wing tips have been bent slightly. The foam ribs are a bit of hassle and should be replaced. The plastic wheel hubs deteriorate and will break over time. They were custom formed and are no longer available. The axle will have to be rebuilt and new wheel hubs installed," but the commenter goes on to say that "Azusa three-quarter-inch axle bearings work well and Azusa brand brakes will also do a good job."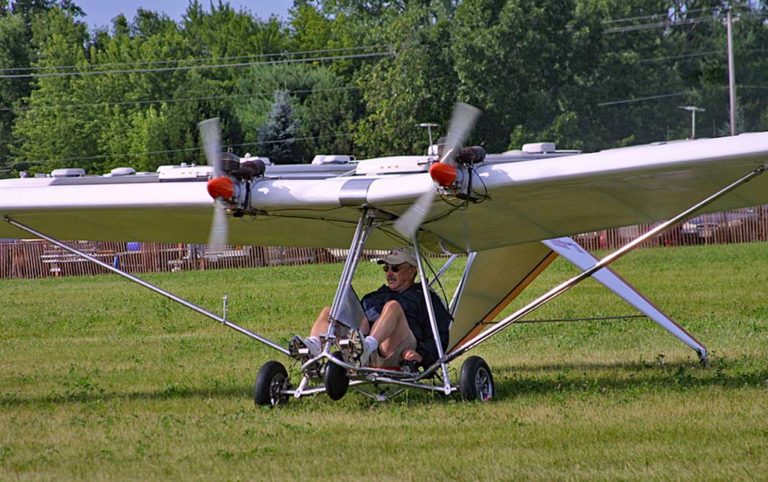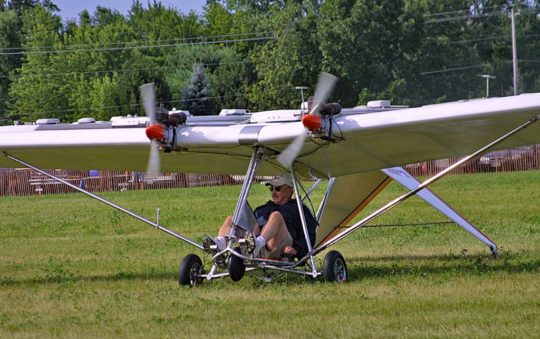 "Pioneer engines are under powered," galactica one noted. "The Rotax 185s are good engines, parts are available, and performance is adequate. They should be upgraded to around 30 horsepower total," the commenter added, as "two engines in the 15-horsepower range would give Lazair proper performance."
The commenter's summary: "Total cost would be around $10,000 to fix it properly." With such an investment, you could claim one of the most intriguing aircraft anyone will see. It will definitely draw looks everywhere you fly Lazair.
For something completely different, you might try electric motors on Lazair. Original developer Dale Kramer adapted off-the-shelf electric components and tells us more in this video.
---