For many of us, the principal reason we fly is for fun. Not to go anywhere but up, or for no other reason than that the sky is always waiting, but never impatient. Unfortunately this very pure idea became subverted along the way, as the Cubs and Champs of our forefathers were replaced by the efficient but banal 150 and PA28.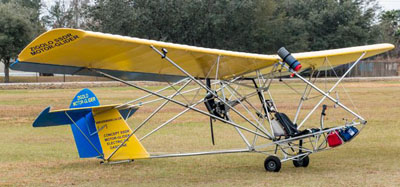 As the fun diminished the costs rose in proportion. One of the original ideas behind the whole LSA concept was affordability, but with some aircraft now priced up to $200,000 that particular principle seems to have been forgotten [though more modestly priced LSA do remain available]. Consequently, when Chip Erwin of Aeromarine LSA told me at the 2014 Sebring LSA Expo that he was bringing a new aircraft to market that required minimal assembly yet cost only $16,000 including the motor and a parachute rescue system you can bet I was interested.
Called Zigolo and made in Italy, it is a super-lightweight motorglider designed to meet Single Seat De-Regulated (SSDR) rules. [See more SSDR examples.]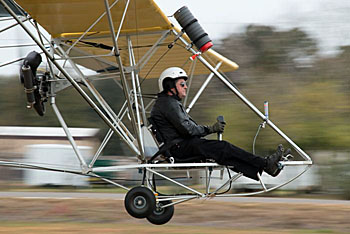 It was the great Leonardo (da Vinci, not di Caprio) who observed that, "simplicity is the ultimate sophistication" — and this seemingly simple machine is indeed quite sophisticated. Looking rather like a 1950's Slingsby T.38 'Grasshopper' primary glider, it features a traditional tubular structure with the wings and tail surfaces covered with fabric. It is currently powered by a two-stroke single cylinder Vittorazi Moster 185 engine that produces 25 horsepower yet only weighs a very impressive 25 pounds, although Chip also told me that plans to produce an electric-powered version are well advanced.
Lightweight and fun, the Zigolo is also extremely competitively priced. As previously mentioned, the Almost-Ready-To-Fly version (which — it is claimed — can be assembled in an afternoon) is $16,000. The classic kit is only $14,500, with a claimed build time of about 100 hours. I flew it the week following the show, becoming only the second Zigolo pilot in the US of A in the process. While having a quick poke round it at Aeromarine LSA's South Lakeland base before taking it up for a quick flip, I couldn't help but notice that some of the engineering and materials were perhaps not quite of the high standard I've come to expect from Chip, but in his defense his primary agenda had been to fly an aircraft into the show — and he did. Production kits will use AN bolts, and the other minor snags I noticed will be addressed.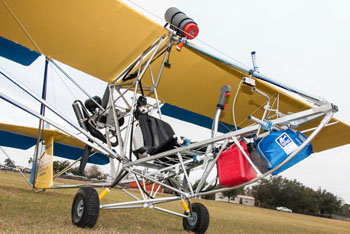 As you'd expect the instruments are an object display in minimalism, being a single LCD unit for rpm, CHT etc., plus a very simple ASI. Intriguingly the Zigolo is offered with a choice of whole aircraft recovery systems as standard — either a rocket-propelled BRS or the pneumatic Comelli system. The empty weight is 210 pounds and it's 18 feet long, with a wingspan of 36 feet 4 inches and a wing loading of 2.8 pounds per square foot. Zigolo stalls at 19 knots, cruises at 36 knots while burning 1.6 gallons per hour and has a Vne of 52 knots, while the minimum sink rate is 276 fpm and the best glide a claimed 11:1 Anyway, that's enough facts and figures — is this thing as much fun to fly as it looks? Absolutely! Having strapped it onto me (well, that's what it feels like) Chip gave the pull-start an energetic tug and the little motor burst into life. With Chip's parting words ringing in my ears — "no stalls, spins or high-speed stuff — we haven't had a chance to expand the envelope yet" — I resolved to keep everything right in the middle and just buzz around while getting a feel for the thing.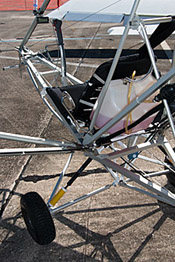 As I'd expected, as you have three wheels, no brakes and a fixed tailwheel (a castoring unit is in design) the trickiest part is taxiing. It requires a certain boldness, as the only way to do a 180 is stick full forward, squeeze the trigger (to blip the engine), full rudder and deftly pirouette while blipping the engine to keep the tail up! Oh, did I mention the throttle? It's a trigger on the stick. [As Dave mentioned above, instrumentation is similarly basic, for one, using the elegantly simple Hall Windspeed Meter that never needs a battery or any maintenance. Very simple aircraft like Zigolo do not need fancy glass cockpits to operate as a motorglider — ideally going aloft for engine shut down to exploring soaring flight, an act that will be even easier with an electric motor in the works. However, adding Garmin's Aera touchscreen GPS might be useful as would be a variometer, another compact and efficient device to measure lift. Both are light, small, and battery-powered. —DJ]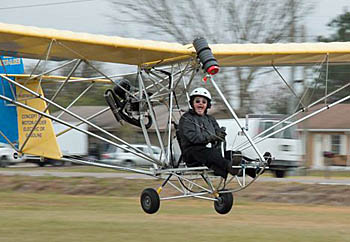 Once lined up I realized that there really isn't anything to either check, set or adjust, so simply squeeze the trigger and off I jolly well went. The acceleration is reasonably good, and got better once I lifted the tiny tailwheel off the ground. As it slid into the sky I immediately saw the attraction of this curious contraption. The forward field of view is exceptional, the aircraft feels surprisingly stable and it's just — well — fun! As I know this is the sole Zigolo in the country and it has only a few hours on it I content myself with buzzing up and down the runway for Jim Lawrence's camera and making lots of take offs and landings. It's a real hoot, and I'd love to fly the electric version on a gentle summer's evening and spend a lazy hour simply floating about as the last of the day's thermals waft out of a warm wood. One of my favorite maxims is "never fly over anything you can't glide clear of" — and having an electric motor would definitely be nice, as with a best L/D of only 11:1 Zigolo won't glide too far.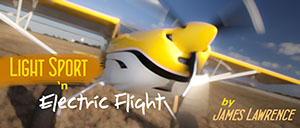 Of course, all SSDRs have their limitations. Quite obviously, any wind much more than a gentle zephyr would make flying it most disagreeable. However, if you want a simple, affordable machine whose primary purpose is to simply allow people to experience the joy of flight then this could be just the thing. So can the Zigolo make sport flying truly affordable? I hope so. As the late but not overly lamented Spice Girls might have put it, I really, really, really want to zig-a-zig Zigolo!