This website focuses on the affordable end of aviation. However, "affordable" is a relative term. I've written about Icon's A5, which may set the bar highest among Light-Sport Aircraft at around $247,000 for a well-equipped LSA seaplane. (See our Video Pilot Report.) If you had the money would you buy an A5 or a Cessna 172 Skyhawk for around $400,000. You probably have a response but then, the question is rhetorical because most readers likely don't have a quarter-million to do drop on a LSA, no matter how magnificent it may be.

I've also written about the $16,000 (or so) fully-built Aerolite 103. Some think that's a wonderful deal on a very nice single seat airplane. Yet at least one person wrote on my Dan Johnson Media / Affordable Aviation Facebook page that even Aerolite is too expensive. Fair enough. We all have different budgets. Some people can buy an $800,000 single engine Cirrus. For others five grand is closer to what they want to spend. Aviation enthusiasts are all kinds of people.
However, with the average price of a new car around $33,000 these days (according to Kelly Bluebook), $15,000 for an airworthy motorglider seems to represent a mighty fine value. Recently Aeromarine LSA's Chip Erwin told me about such an aircraft delivered to South American to customer, Marco Peter.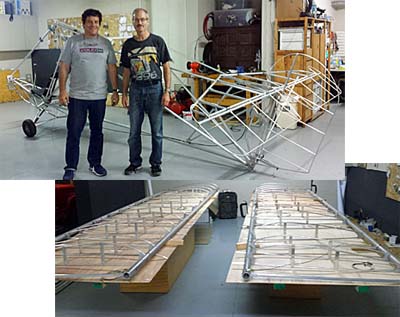 Let's jet down to Lima Peru and visit the project. Nearby images show the Zigolo going together and taking flight over Peru.
"Zigolo was built from a kit in only 15 days in the basement garage of the owner Marco Peter," said Chip. The finished aircraft was then transported to a small desert airstrip just south of Lima for the test flight.
"The mission was to finish the Zigolo build, test fly, and show Marco how to fly all in the short term of Nov 3 to 23, 2015. That's just 20 days less two Sunday afternoons off to watch the Packers," said Chip. He hails from Florida these days, but grew up in Wisconsin and those Packer loyalties run deep and last long. Even with time out for football, Chip reported, "This mission was accomplished with a day to spare."
First test flights were made by Chip with Marco making several flights in his new ultralight motorglider afterward but all in the short window of time. For another perspective on how Zigolo flies, read this evaluation by famous British journalist text pilot, Dave Unwin.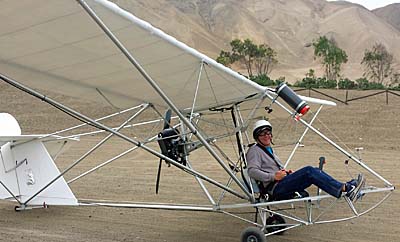 The mission proved the Part 103-capable Zigolo can be built as quickly as advertised. What Chip didn't mention was the bargain price of the machine.
As we told you at its first U.S. appearance — see the second half of this article — Zigolo is another three axis bargain. Sold as "almost ready to fly" for less than $16,000, you can save even more by assembling the lightweight airplane in less than 100 hours for a mere $14,500 (though prices change over time so check with Aeromarine LSA for the newest pricing but read on …). Through Chip's tireless efforts Zigolo also introduced versatility.
Zigolo can also be purchased to fly with pure electric power and even that package will be available ready-to-fly for less than $20,000. Hear more about the eZigolo in this video "The electric Zigolo is now in flight testing," said Chip. "Clean, smooth, reliable, and quiet electric flight is coming soon!" Visit Aeromarine LSA to follow developments and read the latest news on their electric-powered aircraft.
Marco's Zigolo was a gas-powered edition. "Zigolo is a Part 103 ultralight that doubles as an inexpensive motorglider," explained Chip. "Marco's friend Alex flew Zigolo on the nearby ridge and saw 600 FPM climb with the engine at idle. Prices for the Zigolo start at only $12,000 engine & propeller included! Total cost of the paint was $20! We used a high-quality exterior latex paint with UV protection."
So, 15 days and $15,000 can put you in the sky. Is it for you? Check out this video: