After impressing European pilots at the big German show called Aero Friedrichshafen, producer InnovAviation brought their sleek and sexy FX1 for Americans to see at Oshkosh 2019. For American representation, the Italian producer will be teaming up with Deon Lombard, who also represents the AeroPilot L600 from a Czech manufacturer.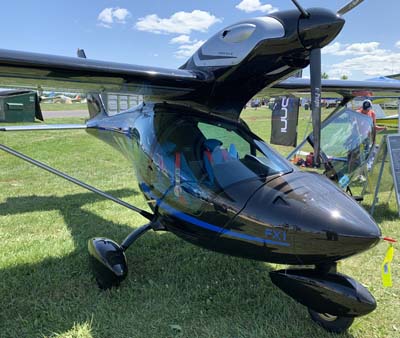 I can't imagine how anyone can look at Alfredo Di Cesare's creation and not react with admiration. Italian companies are known for dashing and innovative lines (think: Ferrari or any number of auto companies or LSA giant, Tecnam). Design talent is definitely not lacking from Italian products; FX1 should be an object of national pride.
The FX1 is an evolved fourth-generation aircraft following the JetFox 97 from the 1990s. Designed by Alfredo Di Cesare, a noted aircraft designer with over 35 years of experience in the sport-plane industry, FX1 is clearly related to the earlier model but it is so different in many ways that it is unfair to compare them directly.
InnovAviation was founded in 2001 by Alfredo after he operating in the early 1980s as an importer and kit builder of the American Striplin Aircaft. A few years later in 1988 he became the importer for the Comco Ikarus C22, one of Germany's most popular light sport planes.
In 1991 Di Cesare designed, built JetFox 91, with close to 160 units sold. Most are still flying, the company indicated. Six years later in 1997, Di Cesare introduced a redesigned JetFox 97 and close to 180 units were produced by Alfredo's company, Euroala. In 2005, an upgraded version JetFox GT was introduced. An amphibian prototype was exhibited in 2006.
Then Arrived FX1
FX1 is Alfredo's latest and best design. "It features a totally new airframe that incorporates numerous improvements and refinements using state-of-the-art methods and materials," said InnovAviation. "FX1 is a high-performance sport plane that reflects Alfredo's great sense of style, his attention to detail, and his high standards for airworthiness and safety."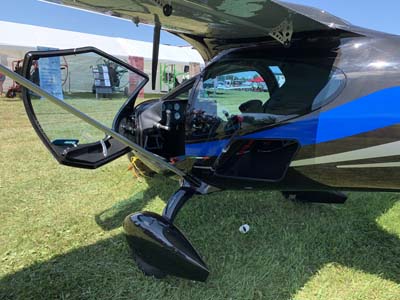 Sitting in FX1 at Oshkosh, it is immediately clear this is not the JetFox97. The older model was much more challenging to enter as you had to contort your body to wriggle around structure. Once in it was comfortable but the all-new FX1 is far easier partly thanks to those shapely curved doors.
FX1 is a welded steel structure with a carbon fiber skin. During an Oshkosh video interview we learned the carbon fiber skin can be completely removed in about one and half hours when, for example, you may need to do a very thorough inspection.
Some aircraft that evolved from similar design can have rather awkward engine mounts, commonly with exposed engines. While I see nothing wrong with that — and they are certainly easy to inspect and maintain — Alfredo's has smoothly encased the fuel injected Rotax 912iS in… you guessed it, more carbon fiber.
Wings and control surfaces are riveted aluminum, which can be repaired as needed by airplane mechanics almost anywhere in the world.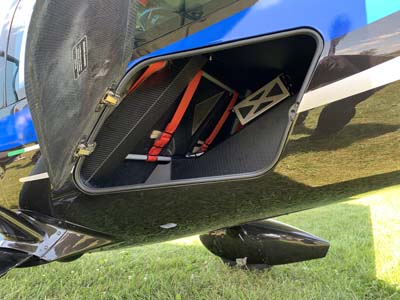 A luggage compartment aft of the cockpit has access doors on each side and the space is open side to side giving ample area for items you wish to transport to your destination. For things you might want in flight, a space behind the occupant's heads is available. Seats are comfortable and the cockpit measures a broad 49 inches wide (almost 10 inches more than a Cessna 172).
In the side-by-side seats, FX1 features handsome side sticks on the outside of each seat. A single throttle is center mounted. All controls are within an easy reach.
Visibility is enormous, with occupants surrounded by perhaps 300 degrees of clear acrylic. The Rotax engine above and in front of the cockpit is almost out of sight and only very marginally impedes your vision, less so than most engines on the nose of an aircraft.
"FX1 delivers ease of flying, comfort, safety, ruggedness, durability, attractive styling and exceptional performance across the board," boasted the company. For more, check our report after Aero 2018 last year, which also has our video interview from that show.
In the USA, FX1 is represented by Fly Light Sport CA, with operations in Fullerton California and Fort Pierce, Florida.
InnovAviation FX1 Specifications
Cabin width — 49 inches
Wing Span 27 feet 7 inches
Wing Area — 122.7 square feet
Empty Weight — 728 pounds
Max Takeoff Weight — 1,320 pounds
Useful Load — 592 pounds
Payload (full fuel) — 407 pounds
Baggage Allowance — 77 pounds
Fuel Capacity — 30.9 gallons
Maximum Continuous Speed — 136 mph / 120 knots
Cruise Speed (75% power) — 124 mph / 108 knots
Stall Speed (flaps down — 40 mph / 35 knots
Never Exceed Speed — 150 mph / 130 knots
Range — 645 nautical miles
Endurance at Cruise — 5.5 hours