We reported on FX1 shortly after it began flight trials in the hands of American light aviation expert John Hunter. This article offers John's perspective on flight characteristics along with specifications; you should definitely read this if FX1 stirs your imagination.
InnovAviation is an Italian company founded in 2001 by Alfredo Di Cesare, who began his aviation career in the early 1980s as an importer and kit builder of Striplin Aircraft from the USA. Later that decade, Alfredo started importing Germany's Comco Ikarus C22, which lead to C42 that became that country's most popular light aircraft.
Alfredo saw room for improvement.
He probably also saw the success of America's Flightstar, which was significantly based on work by Hans Gygax, the brain behind Comco's C42. While resembling Flightstar, you can also see FX1 is much more developed.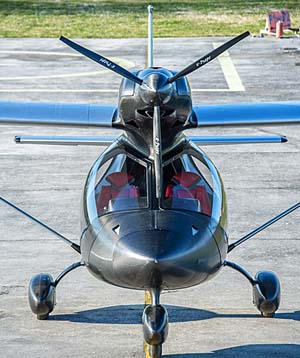 FX1's cabin is fully enclosed and sports large, curved doors. The tail is joined by a more conventional looking fuselage rather than a simple tailboom. The engine is now fully enclosed. Flightstar built it the way they did for some 1,000 aircraft to keep the weight down to a minimum because of the ultralight regulations of the day. That was also a simpler time and today's FX1 may have appeared bulky and expensive back in the early 2000s.
After bringing in the aircraft of other producers Alfredo began work on his own design resulting in the JetFox 91 (in 1991), followed by an upgraded model called JetFox 97, and finally the JetFox GT in 2005. That was about the time Light-Sport Aircraft burst on the scene and caused pilots to look in new directions bringing doubt about the future of JetFox.
A dozen years later, Alfredo is back with his best looking project yet, called FX1, a fourth-generation sport plane evolved from multiple European sport planes over the last three decades. "This modern computer-aided design has been carefully engineered to optimize all aspects of a proven configuration," said Di Cesare (see sidebar). "It incorporates countless improvements and refinements that came from the knowledge and experience of working with similar designs."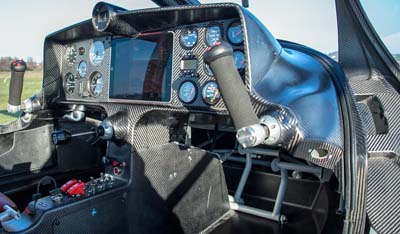 Given a fresh design with Italian styling and the promise of future sales, InnovAviation announced several developments.
"We've got financial support to ramp up our serial production," said the company. They plan to demonstrate Special LSA compliance and will seek FAA acceptance "within 2017."
Their first sale went to their dealer in Israel and they noted, "We are in negotiations for dealerships in France, Scandinavia, Australia, and Iran."
For U.S. consumption, "We are in negotiations with a group of investors from Florida in order to establish a US sales and assembly point."
"We've people coming to our factory for demo flights every month," added Alfredo.
Looking for more? Contact Alfredo via email.
What's Good about FX1?
Improved forward visibility — to enhance flying enjoyment and safety.
Comfortable cabin with less noise and vibration — positioning the exhaust pipe above the wing helps FX1 reduce noise for neighbors and other people on the ground.
Accelerated Lift & Control Response — with the engine mounted close to the wing, the propeller directs accelerated airflow over the wing enhancing take-off performance, said Alfredo. "This is called 'accelerated lift,' a phenomenon common to twin engine designs," he added. "This effect also tames departure stall characteristics, contributing to the FX1's forgiving flight qualities. In a similar way, the propeller is also closer to the vertical and horizontal stabilizers and associated control surfaces (rudder & elevators) for enhanced control response."
CG & Balance — "mid-ship" engine placement, common for exotic sports cars, places FX1's engine mass closer to the aircraft's center of gravity. This is said to decrease the aircraft's moment of inertia for faster response in the pitch & yaw axes, and for the roll axis, raising the engine to the level of the wings on a high-wing design increases roll response.
Safety — experience with the FX1's predecessor, the JetFox 97, proved that a "front & center" engine placement can help in the event of an impact. "Rather than having the engine transmit force directly to the cabin, a forward impact is transmitted to the airframe, independent of the cabin, for greater survivability," noted Alfredo. FX1's cabin employs a cage of built-up welded steel-alloy tubing (chromoly), wrapped in a carbon-fiber composite structure.
The following video from InnovAviation provides more detail and shows the flying aircraft.