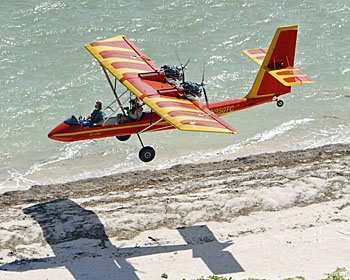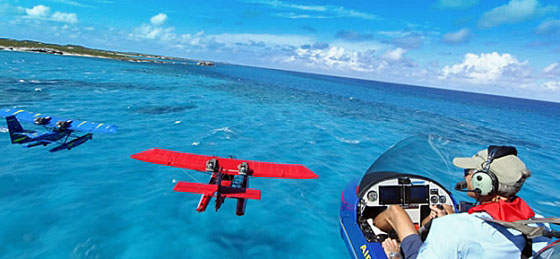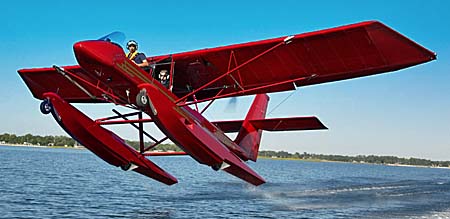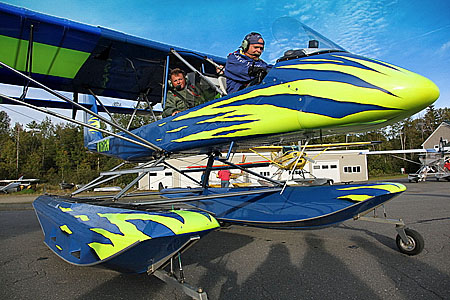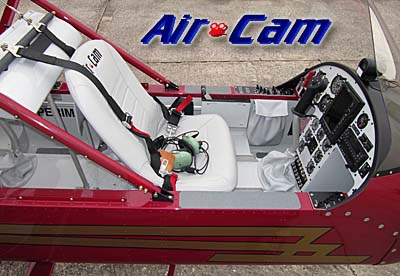 I've been on a couple AirCam outings and I have two points about them: (1) Owners of this unusual airplane are often fairly well-off people and see a golden opportunity when invited by the good planners at Lockwood Aircraft; and, (2) These pilots know how to have fun with their airplanes, flying to some delicious locations. Previous fly-outs included Jekyll Island, Heaven's Landing, Cedar Key off Florida's west coast, and the Bahamas. If you don't know AirCam here's a video that gives a bit of the flavor of this amazing aircraft. (I readily admit to a positive bias for the machine as I have had the chance to fly a good number of hours in it and earned my multi-engine rating in one … but that's another story.)
On the two occasions when I've joined the AirCam'ers on their fly-outs (or is that "fly-ins?"), I've discovered that these folks have uncovered some wonderful places. The Lockwood Aircraft folks, led by namesake designer Phil Lockwood, don't just hang out at the airport all day. They aerial tour the location and then visit local restaurants and homes of AirCam friends. Everyone seems to enjoy themselves immensely and the people that buy, build, and fly AirCams tend to be some very interesting folks, in my opinion. With its two Rotax engines of one model or another, these airplanes are not the cheapest kits you can build, however, twin-engine flexibility and security offer enormous appeal. Owning one isn't in my budget nor possibly yours but a partnership could be a swell way to own one if you could make it work. No question, though, AirCam allows flying as you'll probably not do in any other aircraft I can envision. If you have any chance to fly in one, by all means, take it. I predict a long-lived smile following the experience.
Next up for Team AirCam's fly-out itinerary is Marathon in the Florida Keys from Thursday to Sunday November 13-16, 2014. If you're an AirCam owner or are considering purchase of one, or just want to go hang out in a great, warm, beachside locale, contact the company and inquire (info at bottom). Demo flights are possible but limited.• Those wishing to fly as a group can follow the company team as they leave Lockwood's base at Sebring airport and fly over Everglades National Park shoreline with ocean crossing at Point Sable. If you do this in most aircraft you'll want altitude for safety; the AirCam'ers will see it much better down low. Once at Marathon, the resort atmosphere offers plenty of fun activities. You can also fly from Marathon around Key West as I did on a Fly/Drive vacation with some friends. You don't have to go by AirCam; other airplanes are invited but contact Lockwood Aircraft. Or you can drive, which I'm told is also a good experience. If my history of joining the AirCam'ers is any indication, the hotel and restaurants they choose will be excellent.
While we focus most coverage on Light-Sport Aircraft, light kits, and ultralights, we also have begun to expand our envelope by keeping up with LSA-like aircraft including four seaters from LSA providers. In this spirit, the twin engine AirCam is another good candidate. I have described the flying machine as "ultralight on steroids" because it has clear roots in ultralights such as the Drifter that Lockwood also produces even while it has become very sophisticated and very capable. The latter explains its existence. AirCam was originally commissioned for some very challenging flying in a National Geographic story about Africa where few good runways exist and near-endless jungle seems to reach out to snag an airplane in trouble. After the NatGeo effort, interest developed and has never stopped. Today, close to 200 AirCam kits have been delivered and Lockwood reports a thriving business. Following are AirCam Specifications:
Gross Weight — 1,680 pounds (roughly that of a Cessna 150)
Wing Span — 36 feet
Overall Length — 27 feet
Empty Weight — 1,040 pounds
Stall Speed — 39 mph (it only looks too big for such a slow speed)
Top Speed (Vne) — 110 mph
Normal Cruise Speed Range — 50-100 mph
Rate of Climb — 1,500 fpm (solo can see beyond 2,000 fpm)
Single Engine Climb — 300 fpm (many twins cannot climb on one engine)
Fuel & Range — 28 gallons and 340 miles at 70 mph
Takeoff Roll — less than 200 feet
Landing Roll — 300 feet
Exhilaration Factor — off the charts
• AirCam demo flight reservations must be made with Robert Meyer by November 6th. He advised, "These will be on a strict schedule and limited to those willing to sign a contract and give a deposit afterwards." If interested, email Robert or call 863-655-4242.