This year, 2022, saw a return to all the great airshows we have come to know and love. One of my all-time favorites and my #1 pick in Europe is Aero Friedrichshafen.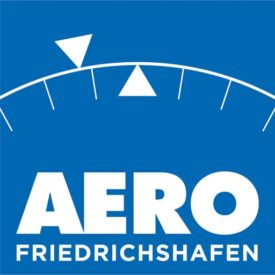 I already provided three articles — (1) turbines, (2) six innovations, and (3) Aero success — covering what I found to be highlights of Aero 2022 that I thought you would like best.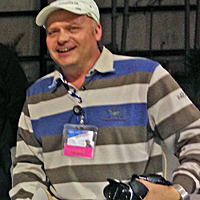 Now, thanks to encouragement from Marino Boric — a Europe-based, highly-knowledgeable professional journalist — I want to provide what longtime radio broadcaster Paul Harvey used to call "…the rest of the story."
What follows is Marino's few-paragraphs-each review of no less than 21 airplanes, 4 electric projects, and 6 combustion engines. You will not find this depth of reporting anywhere else in the USA.
Folks, this article is much longer than our usual articles (by 6X). Nonetheless, all these individually-short pieces reflect developments than Marino found intriguing. Read the ones you like! Some may be just what you're looking for but I hope you'll find them all interesting. Happy reading and THANKS, Marino! —DJ
---
CFM Air, Dardo
Kit and RTF (Ready-to-Fly)
CFM AIR is an Italian aerospace company specialized in the design, production, and testing of aero-mechanical structures in aluminum alloy and carbon fiber. Their current aircraft called Dardo is an advanced European ultralight with retractable gear and is at the top of its category.
Dardo's MTOW is 600 kg; load factor +4.4g / -2.2g; maximum design speed 370 km / h (200 knots); cruising speed 250 km / h (135 knots); stall speed 64 km / h (35 knots). This Italian aircraft resembles the fastest European tandem ultraalights but it features side-by-side seat arrangement offering possibly the largest cabin in its class. At first sight Dardo has some structural similarities with some Italian tandem aircraft. The Dardo is offered with a 115hp Rotax 914 turbo engine and a variable pitch propeller. On a display was an interesting e-motor, hybrid solution for stock Rotax engines (photo at Rotax news).
Thanks to the retractable gear Dardo`s cruising speed is 135 knots. The aircraft is equipped with two explosion-proof tanks of 50 liters (13 gallons) each allowing endurance of 4 hours of flight and a range of 1000 km (625 miles). The comfort of the pilot and the passenger was taken into account, in fact, the whole project started from a very spacious and ergonomic cabin with electrically adjustable seats. One luggage compartment behind the seats is accessible trough an external door.
The list price is: advanced kit €110,000.00*, and RTF base aircraft 100hp and analog instrumentation €140,000.00, full optional €195,000.00.
* A note about prices quoted in this article — At the time of posting (June 2022), it takes $1.06 to buy one euro. So if you add a small amount to each price it will roughly equate to U.S. dollars. Ocean shipping costs are presently very high (3X and beyond what they were in 2019) but hopefully those will return to Earth. U.S. importers may add other fees. Please consider all prices as estimates. —DJ
Scandinavian Seaplanes (was Atol)
RTF, later Kit
To some UL/LSA friend this name may not be common. The new manufacturer Scandinavian Seaplanes Ltd has bought all rights and assets of Atol Avion Ltd, in February 2021.The new company went to Aero 2022 presenting its new team but was not able to bring the new version of its amphibian airplane as the components for the all new cabin were delivered too late for proper installation.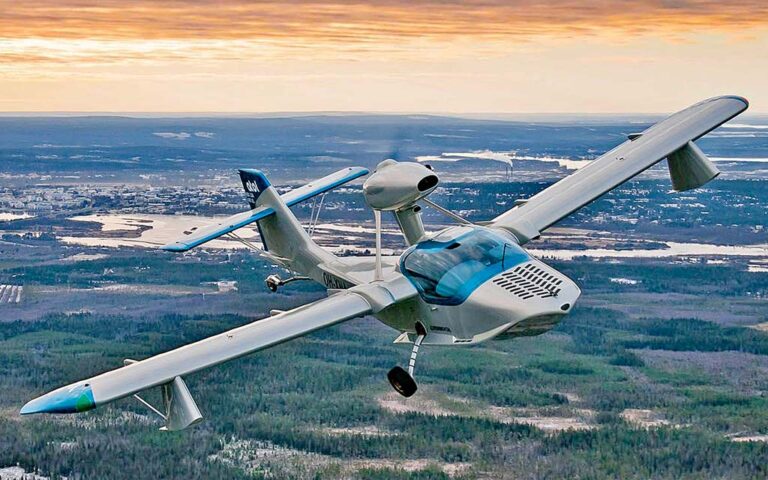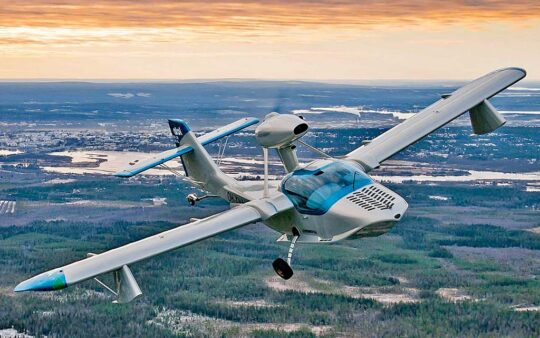 The Atol Aurora amphibian LSA aircraft has been under development now for 10 years and is planned to be ready for serial production by the end of 2022. This is an interesting aircraft because it implements few new design elements but is built with an old and proven material: wood. Parts in direct contact with water are composite.
The core team from Atol Avion was hired to continue working for new company and this enabled the official transfer of the nearly finished type certification project with EASA, a valuable asset.
Scandinavian Seaplanes or Atol Aircraft — name they use for marketing — benefited from the vast experience of its team in building modern production facilities at Halli airport in Jämsä, Finland (where the Finnish Air Force Tech School was based) and aims to be the leading manufacturer of amphibian aircraft in Europe. The company focuses on the Scandinavian and European market but will extend its activities to USA and rest of the world pretty soon. (See earlier articles about Atol.)
Atol Aurora is a real adventure amphibian with 273 kg (600 pound) useful load without compromising strength and durability. Aircraft designers have teamed up with a group of students of LAB (University of Applied Sciences, Lahti) and together they will come out with a cockpit which is not only great in looks, but also ergonomic and functional for all different environments where the plane can operate.
Scandinavian Seaplanes Website
Promecc Aerospace
Kit and RTF
The Italian UL manufacturer with deep roots in manufacturing of commercial aviation sub-assemblies brought several new UL products to Aero 2022. One of them is the Pegaso 2022, an all composite, sleek, high-wing aircraft, which derives from the low wing UL called Freccia (Arrow). Pegaso offers now a new, more ergonomic interior and is ready for series production. Its access doors are now front-hinged, making cabin entry much easier.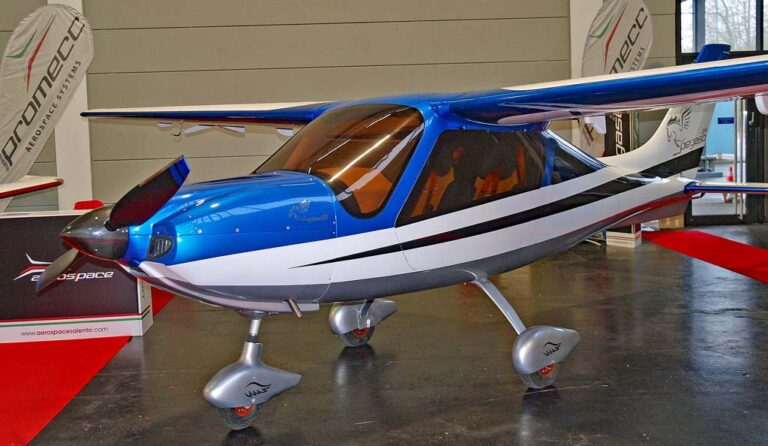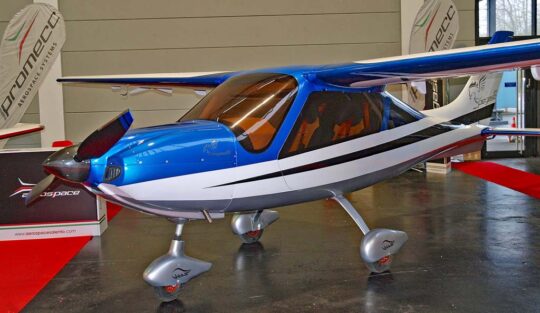 The well-established, fast RG, low-wing aircraft Freccia, which successfully passed the static load tests for the 600-kilo certification is in Germany UL certified, was also showcased togeter with the fixed gear, base low wing version called Sparviero.
In addition to the Rotax 912 and the Rotax 914, the new Freccia RG has under the cowling the most powerful Rotax, the Rotax 915iS is. As we could hear from the company owner, Mr. Mauro Dono at Aero 2022, it was "terrific good" with several sold aircraft.
The manufacturer informed us that he intends to showcase their aircraft on AirVenture 2022 and intends to offer to the U.S. public his full range of aircraft as factory built but also as really price competitive kits. Kits prices: Sparviero €40.000*, Pegaso €65.000 and Freccia €69.000
Promecc Aerospace Company Website
I.C.P.
Kit and +RTF
I.C.P. is one of the few Italian companies which exhibits continuously at Aero; many companies follow the sailplane lead and go alternate years only —DJ.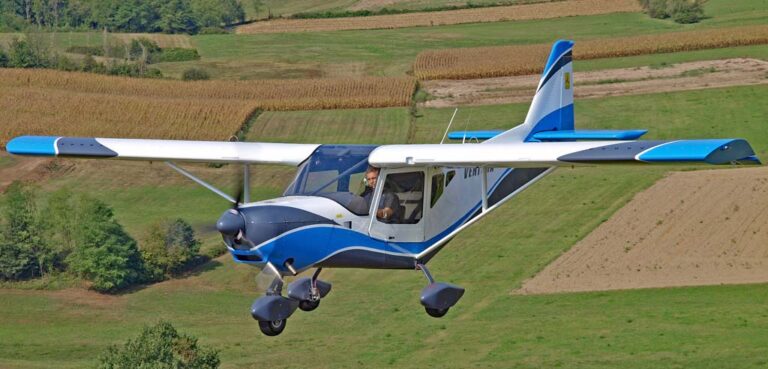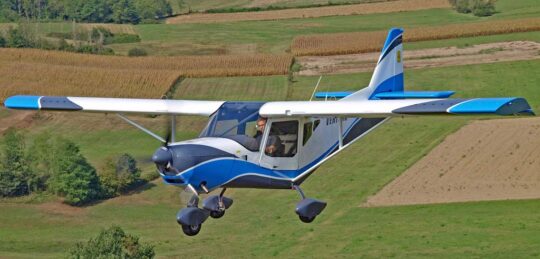 I.C.P. is pushing the Ventura more and more to the foreground; it is now powered by the Rotax 915 iS, but Lycoming version is available, too. Ventura is an experimental aircraft version with 4 seats and was shown in a special finish.
For those who wish to build their own Ventura ICP demonstrated — hands-on — how easy the building process is. By the way, the company offers even a factory-assist building. The second phase of European Very Light Aircraft (VLA) certification for this aircraft has begun and German certification is expected in '22 or '23.
Another aircraft on display was Savannah S, powered by the Rotax 912ULS in a special version for flight schools. The French approval for 525 kilo MTOW is already available. For their main products, I.C.P. is now also offering a new exhaust system from Termignoni, which will soon also be used as standard equipment on the Ventura and Savannah.
Ventura 4 seater kit starts depending of the extent and version from $29,000 or €25.500* in Europe.
Flight Design
RTF
For the German light aircraft manufacturer, past times were very difficult. FD is manufacturing their composite parts in the Ukraine and this was, of course, affected by the war. According to Matthias Betsch (FD Business Development) we could hear that all workers are OK, none was until now injured, and that the production in the Ukraine is still on course. FD is considerably enlarging their existing production facility in the Czech Republic where most production is now happening.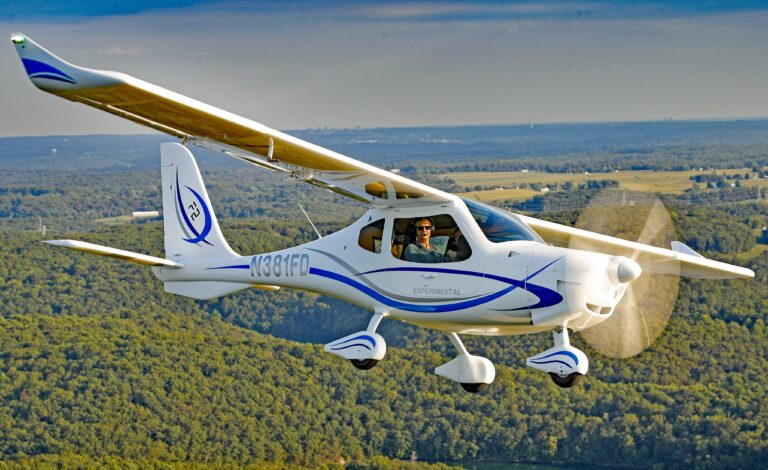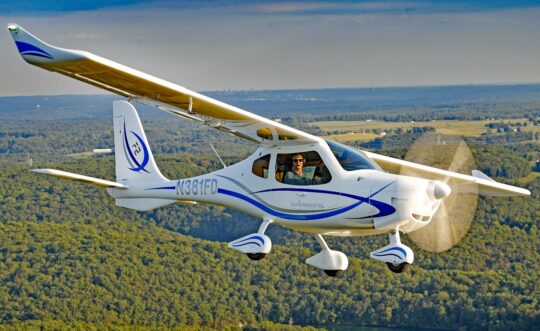 According to Mr. Betsch, the company is in a excellent condition and "healthy," and the production increase in Czech Republic was anyway needed as the company is blessed by aircraft orders. The current order boost was mainly driven by the by the F-Series but the CT-series is still selling well. oth aircraft were showcased on their exhibit at AERO where the F2 H2 was highlighted and the personnel gave an update about their Ukrainian production facility during the event.
The F2eH (Hydrogen) concept which was on display at Aero Friedrichshafen 2022 was developed with Siemens/Rolls Royce and successfully flight tested in 2019. The Project HyFly, which is a technology development program co-initiated by Flight Design's major shareholder Lift Air, was shown at Aero and will be on display at AirVenture 2022 in Oshkosh. It is a proof-of-concept of what can be done to bring the new Green Hydrogen benefits to light aviation. The Project HyFly is a joint venture of KasAero, PS-HyTech, and Flight Design.
"We are very excited to bring this technological proof-of-concept to Oshkosh to show what can be done to bring the promise of Green Hydrogen to Light-Sport Aircraft airplanes," said Daniel Guenther, CEO of Flight Design general aviation. We believe in the future of this technology and are proud to be a part of this project".
The F2e (Electric) and F2eH (Hydrogen) are just variants of the Flight Design F-series aircraft. The F2-CS23 (Europe's equivalent to FAA's Part 23 certification —DJ) was awarded an EASA Type Certificate in December 2021. F2 was accepted by the FAA as an Special LSA in July 2021.
Flight Design Company Website
Flight Design USA Company Website
Flight Design Partner, Airtime Aviation's Company Website
Elixir Aircraft
RTF
Since 2019 and the last exhibition at Aero Friedrichshafen, Elixir Aircraft has evolved, grown and structured itself: it obtained EASA CS-23 certification, opened two new production sites in La Rochelle and it delivered its first aircraft. This year, a new Elixir was unveiled at the AERO: the 141hp Elixir powered by a Rotax 915is turbocharged engine.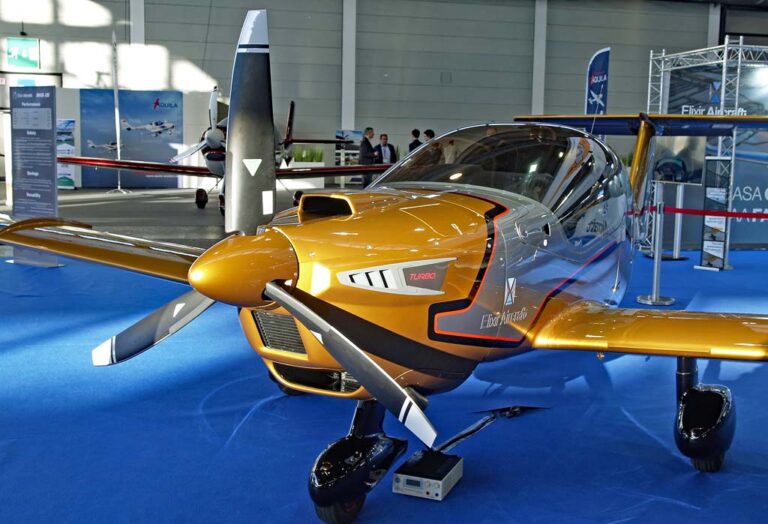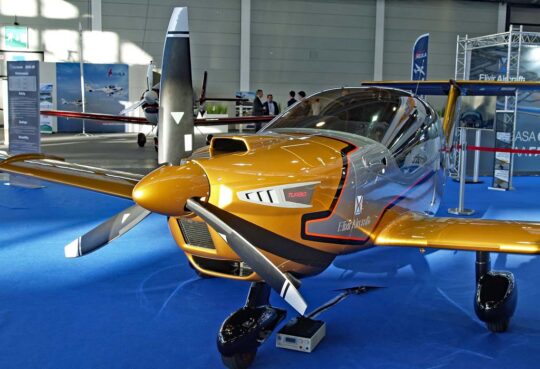 Since September 2021 Elixir Aircraft has internalized the production of OneShot parts, namely the fuselage and wings, an element of the major innovation of Elixir. The French company adopted for aircraft production the technology used for building composite boats.
Elixir manufactures the Fuselage and the wings as one part. To support this, a second production site opened in early 2022. Equipped with two autoclaves, one which measures over 12 meters (almost 1,300 square feet). Elixir Aircraft now controls the entire production process for its aircraft.
To date, a full order book allows Elixir Aircraft to continue recruiting. To date, 40 Elixir aircraft have been ordered and a further 100 pre-ordered.
JMB Aircraft
Kit and RTF
"A new star on the Light-Sport Aircraft space is born," glowed one journalist.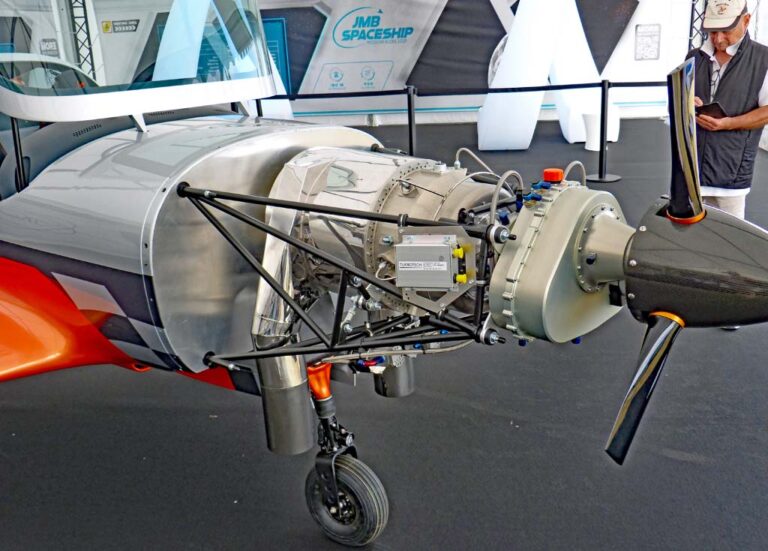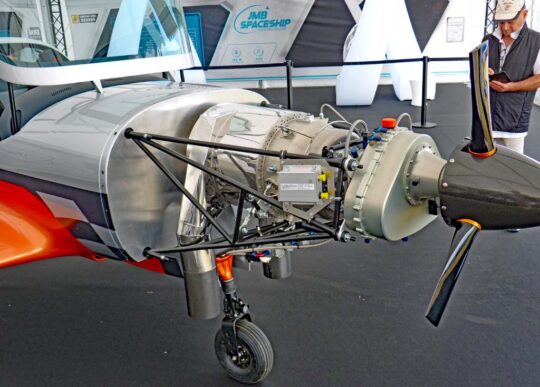 After two years without the event, the JMB Aircraft crew has brought the VL3 Evolution to Aero Friedrichshafen and has — as usual — created big, better, perhaps the biggest stir ever. The booth was again in a prime location where JMB attracted most visitors on the AERO showcasing as a world premiere their, sleek, low wing composite rocket, which this time was powered by a French Turbotech TP-R90 130hp turboprop powerplant. See our earlier report on JMB's Turbine.
This turbine powered VL3 was a show in a show and had its maiden flight only three weeks prior AERO. It was flown by Jean-Baptiste Guisset, CEO of JMB Aviation, who told us that after two Aero days the VL3 Turbine had six firm orders! The European UL aircraft which is powered by the regenerative turbine goes for 350.000 ($370,000). The biggest advantage of the turbine — as weight and performance figures are similar to the Rotax 915iS piston engine — is its 3,000-hour TBO and its potentially low maintenance. All this still to be prudently proved how this turbine functions in real life.
As of now the company is aiming, with an Experimental version of the aircraft even the U.S. American marke.
JMB also showcased a VL3 in an IFR version but this was in the turbine's shadow.
JMB Aircraft Company Website
U.S. Representative, Alion Aviation Company Website
Breezer Aircraft
The German manufacturer from the Northsea-coast has always been good for a surprise in recent years. The Breezer Sport, the all metal, low wing, 600kg UL aircraft was a star at the Aero 2022, as it is now in serial production and is 600kg category certified in Germany since May 2021.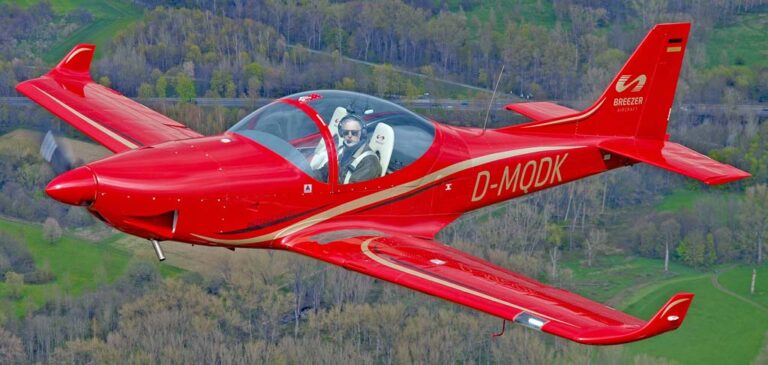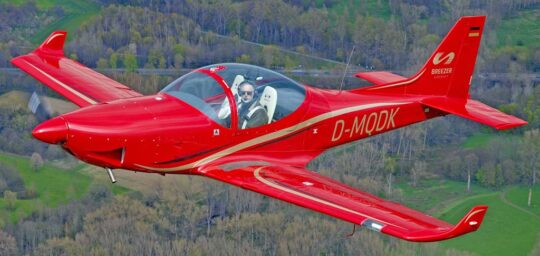 The Breezer Sport on display was powered by the Rotax 915 iS and featured new wiglets and an aerodynamically optimized cowling. A Breezer B400-6 towing version was on on display too. Under the modified cowling a Rotax 915 iS was installed allowing towing of larger gliders, loads of up to 830-840 kilos.
(See our earlier reporting on Breezer. The brand present has no U.S. representation at present.)
Breezer Aircraft Company Website
BRM Aero
Kit and RTF
We expected that Bristell would highlight at this Aero a genuine innovation called B8, an all-metal, cantilevered high wing with a steerable nose wheel and an 125 centimeters (49.2 inches) wide cabin. The B8 should be certified in a 600-kilo UL and will be LSA compliant when ready. The standard engine is a Rotax 912 ULS, but the Rotax 914 and 915 iS are likely to be offered.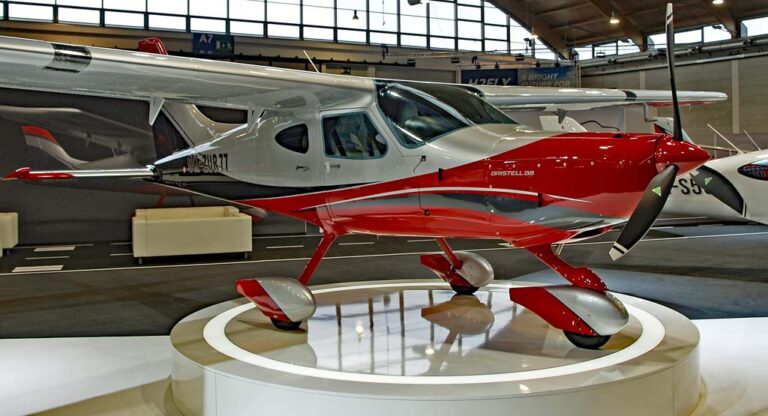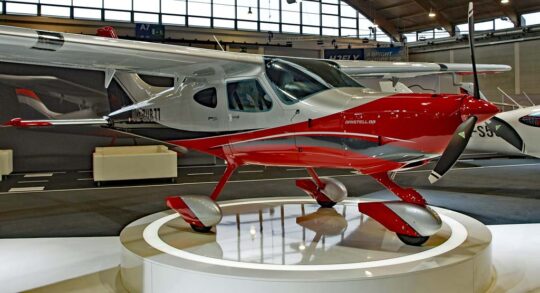 BRM surprised us all debuting on this Aero another aircraft which nobody had on the radar… stealing the show from the B8. BRM showcased the all metal, low wing aircraft, similar to the B23 (their familiar model known in America as Bristell), with fixed gear but powered by a Turbotech turbine with 130hp, which according to the manufacturer burns 25 l/h (6,5 U.S. Gal)  of Jet A1 or diesel when cruising at 75% power. With a cruising speed of 127 KTAS — what is for European UL class AC pretty slow — BRM intends to bring a robust, comfortable and, above all, low-maintenance aircraft onto the market in the coming years.
Bristell also had on display the B23 Turbo/915iSc, a further development of their well-known low-wing aircraft, which is to be certified according to CS-23 as an E-class aircraft with 750 kilo MTOW and will have a useful load of 300kg (838 pounds). Compared to the airplane from which it descends, the control surfaces have been enlarged and the landing gear is beefed-up. The B23 Turbo is to be used for flight-training operations. An empty weight of the 141hp Turbo Rotax version should be at 450 kilo (992 pounds). The base price should be around €200.000 or north of $210,000. It was equipped with advanced avionics, dual Garmin G3X and autopilot, hydraulic constant speed propeller, two wing luggage compartments of each 20kg (44 pounds) and 120l (32 gallon) fuel tanks. The aircraft should be able to cruise at 18,000 feet at 160 knots TAS and it can offer the glider tow option.
BRM Aero Company Website
Bristell USA Company Website
Blackwing
As in last years, the Swedish manufacturer Blackwing exhibited at Aero 2022.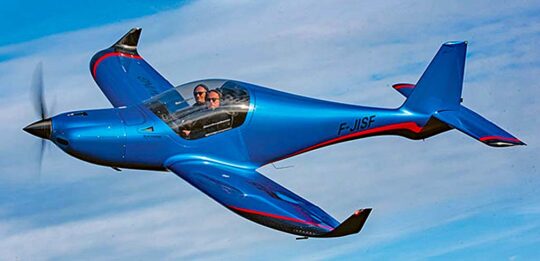 This year the most advanced model Blackwing 635RG was on display, in a visible carbon finish with orange stripes called Nardo Grey, powered by the Rotax 915iS engine. The 635RG aircraft has completed the German UL-DULV certification process (similar to FAA's SLSA) and the delivery will start in May.
The lightweight UL model called BW600RG for the French market (MTOW 525kg) is in serial production powered by the Rotax 912iS engine and fitted with the Glorieuse propeller from E-prop. According to the manufacturer, 10 aircraft are on the backorder.
See our earlier reporting on Blackwing and its record attempts.
Blackwing Aircraft Company Website
Novotech Seagull
World Premiere!
Professore Leonardo Lecce from Italy designed the new Seagull flying boat, an amphibian manufactured by Novotech. The company was created in 1992 as a spin-off from the Aeronautical Engineering Department of the University of Naples, and Lecce is its managing director. The Italian designer wanted a plane that could take off and land on both land and water, which is nothing new, but it also needed to be able to dock like a boat in a harbor without the wing getting in the way.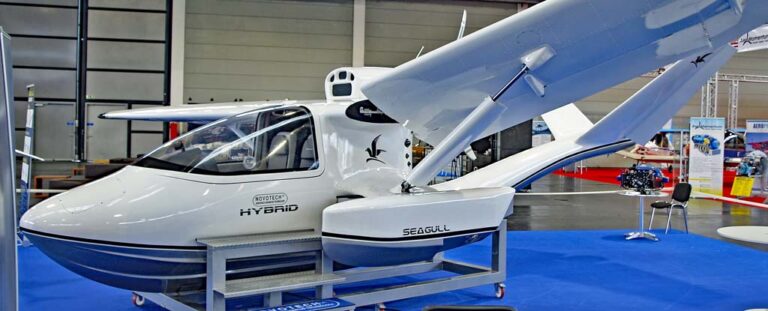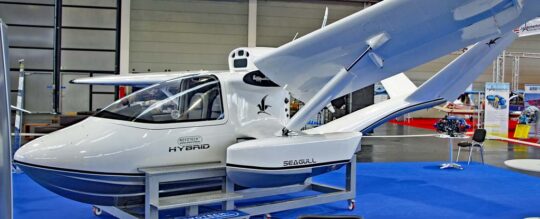 That's why the Seagull has electrically-folding wings in the tradition of the Icon in its early days. From the flight configuration, an electrical system moves the strutted wings aft while pitching them up. In boat configuration they are parallel to the fuselage with the wingtips resting within the V-tail. The whole aircraft is then only 3m (less than 10 feet) wide, narrow enough for a common boat berth. The design is a trimaran as the amphibious hull has two lateral floats that gives to the two-seater a high level of stability on the water.
The Italian company Novotech relies on three types of engines. The example shown at Aero 2022 has completed water operation tests but has not yet flown. Another prototype flies, but so far only in land operations. The new Seagull flying boat weighs 450 kilograms empty, and as a seaplane it can have a maximum take-off weight of 650 kilograms in the UL class. Novotech also plans to become a U.S. LSA. The flying prototype is powered by a Rotax 912 S with 100 horsepower while another aircraft has a hybrid drive in which the combustion engine (Rotax) is coupled with an Emrax electric motor. In the long term, a fully electric version is also planned. The southern Italian manufacturer opted for a mix of materials for the construction: the wings are metal, the rest of the cell is made of composite materials. Planned performance: 120 knots cruising speed, 250 nautical miles range, 200 meters (yards) take-off and landing distance on land.
Pipistrel / Textron
RTF
Thise pioneer in UL and aviation technological developments was very satisfied with the 2020/21 financial year, which according to CEO Ivo Boscarol was "the most successful in Pipistrel's history." Despite no Aero in 2020, Pipistrel registered 200 orders in that year. For the first time, more orders were received for electric than for combustion engine aircraft. Pipistrel would have brought several new products to the Aero last year; the Virus SW 100iS with the German 600 kilo UL approval, the large cargo VTOL Nuuva and the presentation of the Miniliner Project were planned.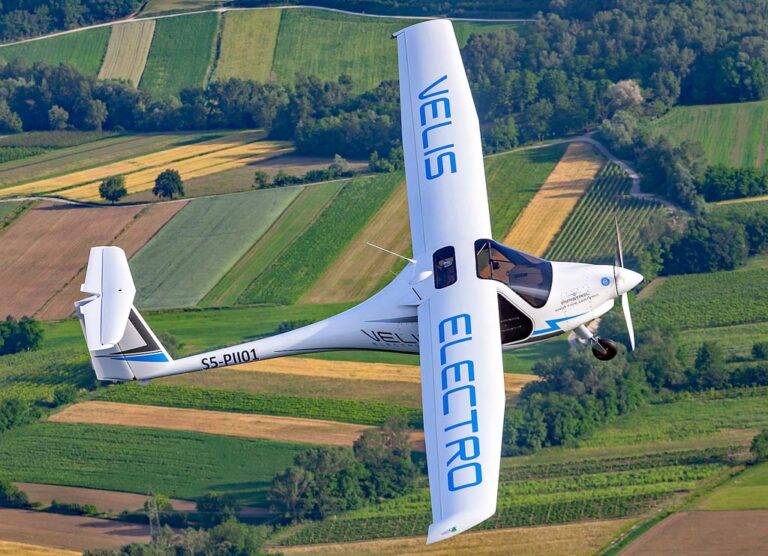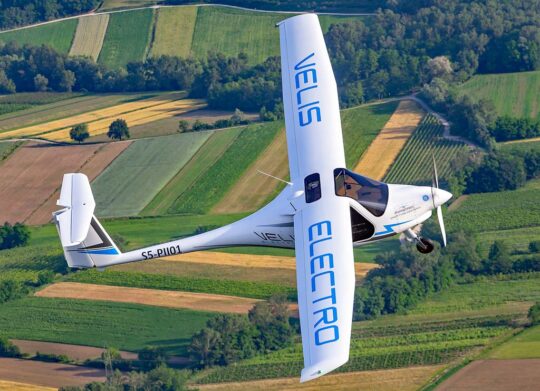 In this year the biggest surprise was the announcement by mid-March that Textron acquired Pipistrel. Textron Inc., home to the Cessna, Beechcraft, and Bell aviation brands, announced it has entered into an agreement to purchase Pipistrel based in Slovenia and Italy. The transaction is expected to close during the second quarter of 2022.
With Textron, Pipistrel will have access to greater resources, technical and regulatory expertise, and a global aircraft sales and support network, being able to accelerate its development and certification of electric and hybrid electric aircraft. Upon closing of the transaction, Textron says that it plans to form a new business segment, Textron eAviation, focused on the development of sustainable aircraft, which will include Pipistrel. Pipistrel founder and CEO Ivo Boscarol will remain a minority shareholder as well as Chairman Emeritus, consulting on future product plans and strategies for a two-year period.
At the Aero 2022 we could see the full range of Pipistrel products but the mood of the employees was pretty glum. I wanted to talk to Mr. Boscarol but he was not be spotted at this Aero.
The Explorer is EASA Type-certified in "Normal" category; using a Type-certified engine, capable of running on automotive fuel; and approved for night-VFR operations, intentional spins and glider-towing. It is equipped with an advanced autopilot, dual touch-screen glass cockpit, dual radios, ADS-B In & Out, haptic stall-warning, full-airframe ballistic parachute rescue system, type-certified hydraulic constant-speed propeller, and airbrakes. The Explorer can be used for commercial operations and is the ideal solution for pilot training, while at the same time excels at being an advanced private airplane for long trips.
Alpi Aviation Twin
RTF/Kit
This established Italian manufacturer of single engine aircraft surprised the audience with an twin-engine.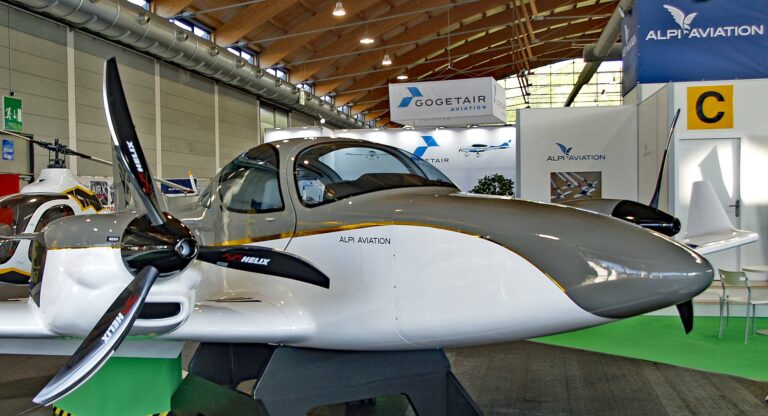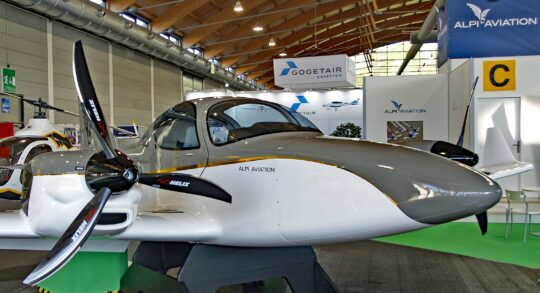 Corrado Rusalen, founder of Alpi Aviation, wants to remain in the Experimental class with his new Twin as with previous Pioneer aircraft. While the two-seater Pioneers 200 and 300 are approved in Europe in the UL class, the four-seater Pioneer 400 — and, in the future, the newcomer Pioneer Twin — will be available with an Experimental approval.
Alpi Aviation listened to his mainly private aircraft owners & customers who wanted an inexpensive twin-engine aircraft. The new Twin with the basic engines and fully equipped cockpit with two glass panels will be offered for only around €350,000 before taxes. Two years from now, Alpi hopes to be able to deliver the first Pioneer Twin.
Junkers A50, A60, JU-52 NEO
RTF
"You have the flair of the 1930s with the latest technology," said Dieter Morszeck at the presentation of the aircraft to representatives of the press and this was a condensed form of the main description of the Junkers booth.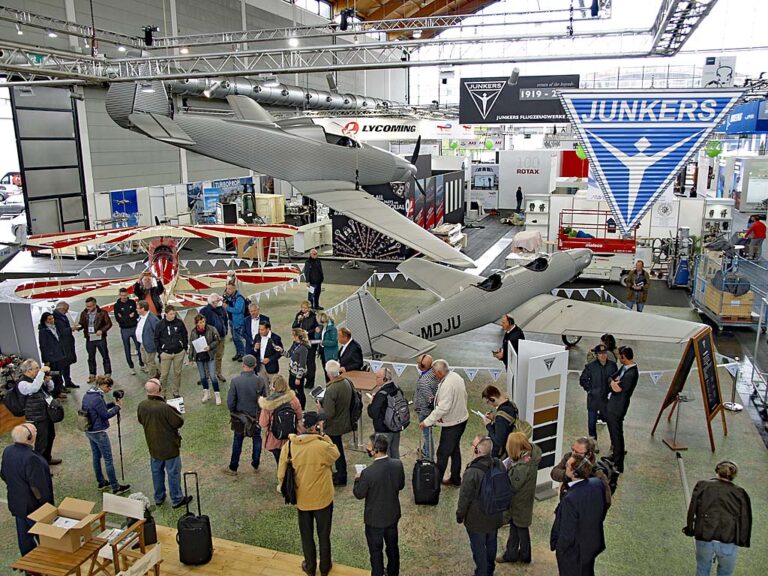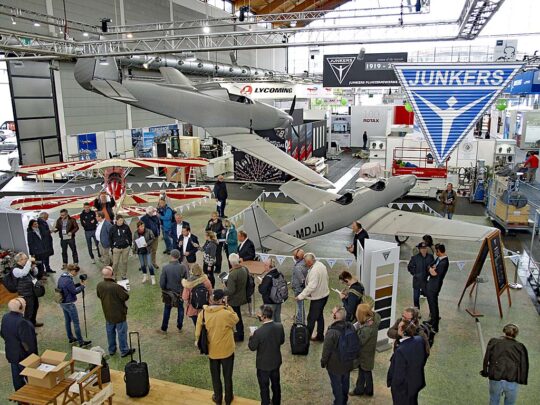 The Swiss company Junkers Flugzeugwerke AG from St. Gallen-Altenrhein announced a first, sensational piece of news at Aero 2022. The team led by entrepreneur Dieter Morszeck wants to build the modernized version of the venerable JU-50. The JU-52 NG — where NG stands for New Generation — should be a modern version of the legendary vintage airplane. All systems are planned according to the latest standards, while the construction should largely correspond to the original model.
The new JU-52 NG is expected to be powered by three Diesel cycle, German, RED A03 engines. They should deliver 550 hp each and be very fuel efficient. According to the design team, a significantly lower consumption of the JU-52 NG compared to the original should also be achieved by reducing the empty weight from 10.5 to 8.6 tons. The modern version of the Tri-engine could take off as early as 2026. The concept also envisages that the JU-52 NG is very easy to fly and maintain. A model of the planned aircraft was shown at Aero 2022.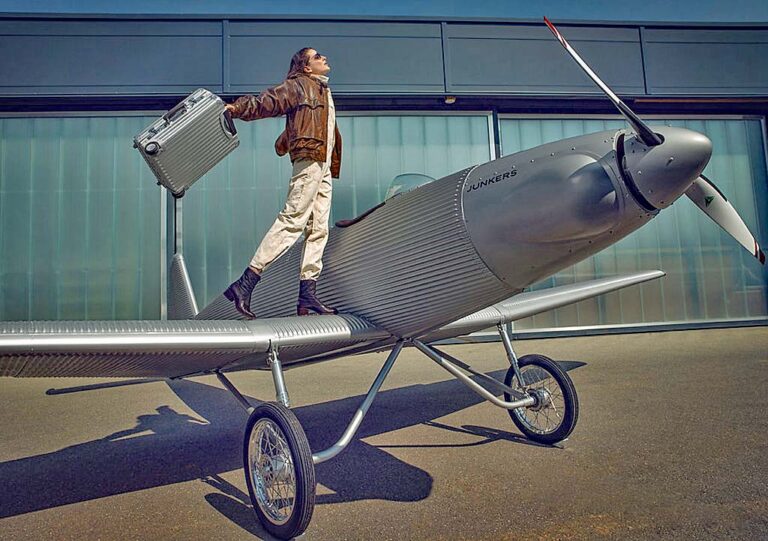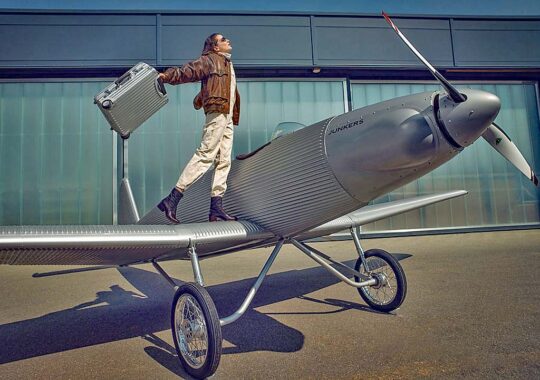 Junkers also showcased the A50 — that was introduced in 2021 — and a similar version called A60. The A50, the corrugated aluminum, open two seater was for the first time presented in public. The new edition of the A50 Junior, whose historical counterpart first flew in 1929, is now powered by a 100hp (74 kW) Rotax 912iS with electronic fuel injection. The A50 has a modern version of the ancient fixed main gear. Garmin contributes the avionics. A complete rescue system, which is mandatory for ultralight aircraft, is also installed. When cruising, the open low-wing aircraft should reach around 190 km/h (103 knots) and consume 15 liters per hour (4 kph). The stall speed is less than 80 km/h (43 knots). The first 29 copies will be sold at the introductory price of €179.000*.
The A60 resembles the A50, looks like a further variant of the low-wing aircraft but with side-by-side seating instead the tandem seating and a closed cabin as in A50. It was attractively staged above the visitors' heads. The A60 is to be equipped with retractable landing gear, it will thus for sure offer higher performance than the Junior A50. Rotax 912iS is under the cowling. The first flight of the A60 is planned for 2023.
Junkers Aircraft Company Website
TECNAM P-Mentor
RTF
Last news first: Tecnam closed AERO 2022 with 85 sales in its order-book signed during the German Airshow. More orders, generated during the show, will be closed soon.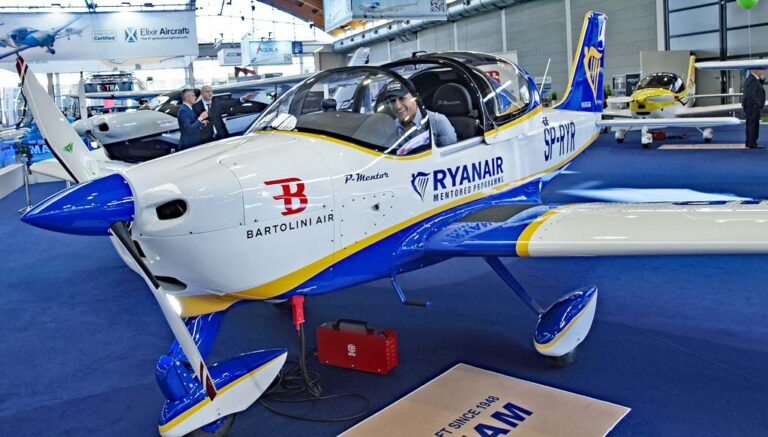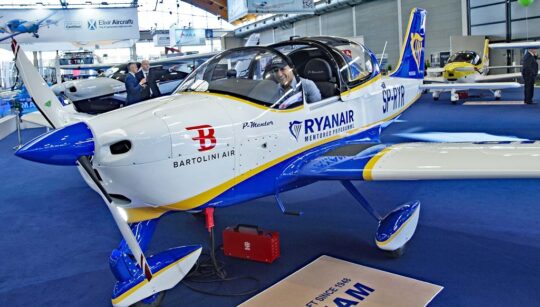 The P-MENTOR, the IFR two-seater which made its first appearance this year, was one of the best sellers in terms of numbers, followed by the P2010 Tdi, also in the super luxury "Gran Lusso" version, fitted with the Diesel cycle engine from Continental, which was another premiere of this show.
Tecnam's P-Mentor is specially designed for training beginners pilots as well as for instrument flight. The type certificate was issued on April 7th.
The P-Mentor is the first IFR-capable aircraft in which the certified Rotax 912 iSc is used. The Mogas engine, which does not use leaded fuel, saves a lot of fuel, which benefits the CO2 balance. The P-Mentor has a variable pitch propeller, Garmin G3X Touch avionics with autopilot, a rescue system and a retractable landing gear simulation lever.
Although the low-wing aircraft with two seats has similarities with earlier designs such as the P2002, the wing is a completely new development. Tecnam states the high efficiency and environmental friendliness of the Rotax engine as arguments in favor of the P-Mentor, as well as the possibility of using the aircraft from entry-level training to CPL and instrument flight training.
SE-Aviation, MCR Evolution
RTF/Kit
Do you remember the French DynAero aircraft that ceased operation in 2015? Those aircraft, some designed by the legendary Michal Colomban, were well ahead of time on the market and are today, refined and updated manufactured by the SE-Avaiation as MCR products. The MCR range of aircraft consist of two and four seat aircraft.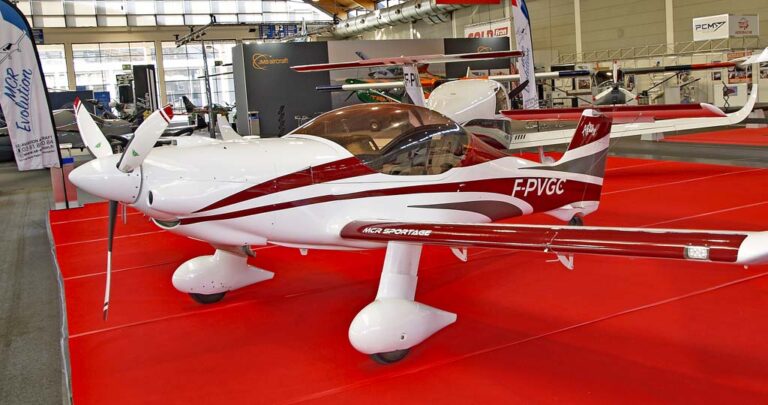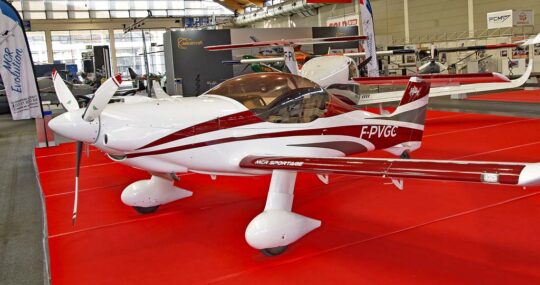 SE-Aviation offers its MCR range of aircraft as home builder kits or they can build the kit and provide a ready-to-fly aircraft to the customer.
MCR 4S Evolution is a 4 seater; the Pick Up Evolution is the 2-seater version with huge luggage compartment and can be UL/LSA compliant. These are the most interesting aircraft with almost no competitor on the market and of great interest even for the Experimental builder.
The MCR 4S Evolution is available with three levels of Rotax power unit offering 100, 115 or 141hp. The cabin is remarkably spacious for a relatively small aircraft The top of the range 915iS powered model has a MTOW of 820kg giving a payload of 420-450kg depending on equipment fit and empty weight. Cruise speed is 132kt and fuel burn averages 26.5 litres/hour. (Years ago, I reported on this surprisingly-capable aircraft. —DJ)
Other MCR 2-seater are: ULC Evolution, Sportsteer Evolution (derives from M. Colomban MC100), Mini Cruiser, Club/Sportage, MCR M and the motorglider MCR R100.
The Sportage can be operated with 80, 100 or 115hp Rotax engines, with a max weight of 490kg and a payload of 195-225kg. Cruise speed is 135 knots with a max speed of a claimed 156 knots.
Rember the Dyn'Aero Banbi? It's now the MCR Sportage and available with a tailwheel.
MCR's four-seater, the 4S Evolution, now available with a Rotax 915iS.
Based in Pontarlier, France, near the border with Switzerland, MCR was founded by Eric Fumey to make airframe parts of the Dyn'Aero range of MCR aircraft. But as the company grew the manufacturing of aircraft started in 2017 with the MCR ULC Evolution.
S-E Aviation MCR Company Website
Aquila A414
One of the stars of this edition of Aero was the German manufacturer Aquila with its mock-up of the so-called A414 aircraft. The fuselage was shown in 2019, but now the aircraft looked almost flight worthy on its fixed gear, but missing the engine, avionics and controls.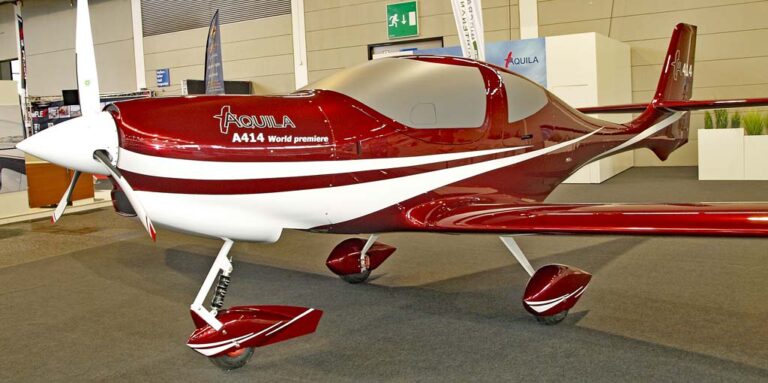 The A414 is a relatively big, actually huge, bird and remembers to the Cirrus piston aircraft range.
The manufacturer specifies the wingspan as 11 meters (36 feet), the length is 8.76 meters and the aircraft is almost 3 meters (10 ft) high, the engine of choice will likely be the 141 hp Rotax 915 iS but a Continental Diesel is also being considered. Programmed MTOW is 1,100 kilograms (2,425 pounds) with at least 400 kilograms payload. Marco Intelisano from Aquila Sales hopes that the certification process will be completed by the end of 2025.
The people from Schönhagen also brought an Aquila A212 GX Turbo to Hall A4-407 this year. Powered by a Rotax 914 F3, the take-off weight has been increased to 800 kilograms, which brings the payload to 270 kilograms. This aircraft had already received European certification in January. According to the manufacturer, with the turbocharged Rotax, the machine should achieve a constant climb rate of 700 to 800 feet per minute and fly at 9,500 feet at up to 140 knots true airspeed.
Squadron Leader Aircraft
RTF, Kit
The T6 Texan II R is a 3/4 scale, UL replica from Italy of the well-known military trainer modified by Beechcraft based on the pre-existing Pilatus PC9.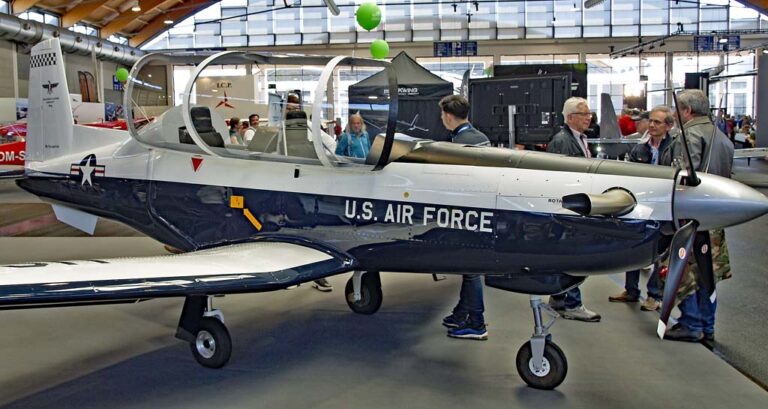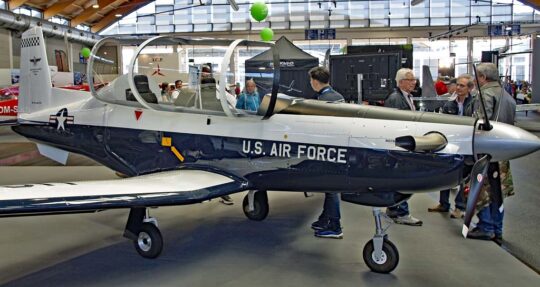 This was international presentation of the all-metal aircraft, which will be available as ready-to-fly and Experimental category aircraft in the U.S.
The manufacturer put maximal attention to details compared with the original, even in the finish work. It is powered by the Rotax 912 UL equipped with a mechanical Flygas compressor and four-blade constant-speed propeller, delivering 120-140 horsepower at take-off. Stronger Rotax engines are in the pipeline together with an no-disclosed turoprop powerplant that is being installed at this time.
The gear is retractable and is equipped with an emergency manual pump. The fuel tanks are of the bladder safety type and have a total capacity of approximately 90 liters (24 gallons).
Squadron Leader Aircraft Company Website
---
eFlight
Tecnam P2010 H3PS Hybrid
The Tecnam P2010 H3PS — a feasibility study — was showcased at Aero 2022 with the alternative and electric aircraft on the Rolls Royce exhibit.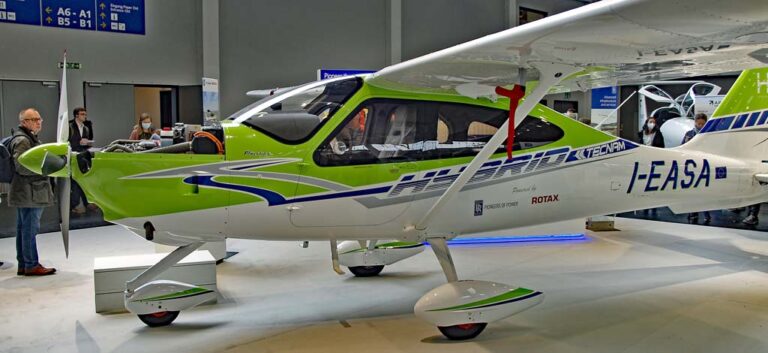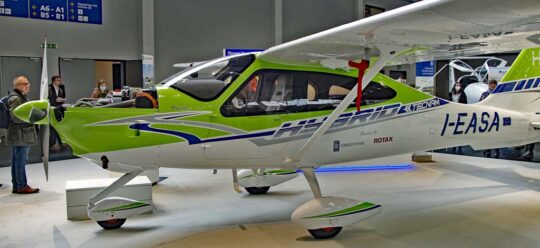 H3PS stands for "High Power High Scalability Aircraft Hybrid Powertrain." It is powered by a 141 hp Rotax 915iS engine that is coupled to a 30 kW electric motor from Rolls-Royce, so the entire drive train has a power output of 134 kW (180 hp). According to the manufacturer, it is the first four-seat aircraft with a fully integrated parallel hybrid configuration to be successful in the air.
The H3PS project was funded with €4 million by the European Union's Horizon 2020 research and innovation program. It was launched in 2018 with the goal of developing a parallel hybrid powertrain suitable for the Tecnam P2010 and similar aircraft.
The maiden flight took place on December 21, 2021. "Though H3PS is not intended for market purposes, our successful flight tests demonstrate that hybrid powertrain, with combustion engine coupled with an electric motor, can bear the same useful load of the traditional 180hp combustion engine," said Fabio Russo, head of the Tecnam Research and Development department.
For H3PS, Tecnam coordinated the airframe and systems integration, Rotax designed and integrated the internal combustion engine and electric motor, and Rolls-Royce was responsible for the electric motor and energy storage.
Deep Blue, MX18
At Aero 2022, Deep Blue Aviation from Austria exhibited an airworthy model of the eVTOL MX18 silhouette.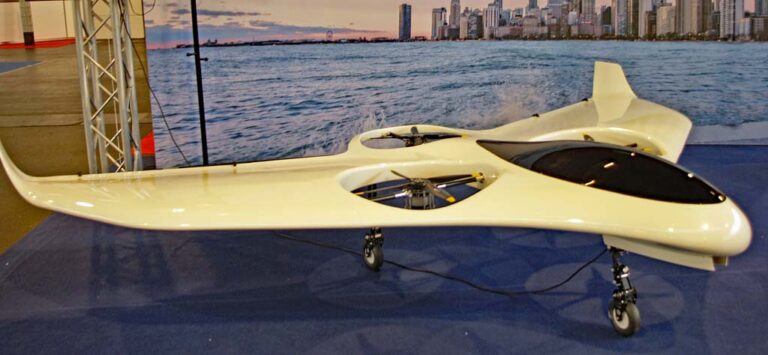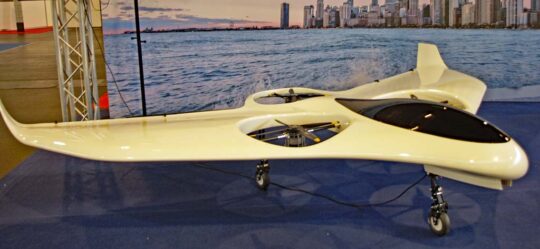 Three versions are currently planned for the transport of passengers and goods.
For vertical lift-off of the "Horten-design" aircraft, power is generated by the three horizontal and canalized propellers located in the fuselage; for horizontal flight two forward propeller tilt in a vertical position and the wings are designed to save energy in horizontal flight.
The passenger variant is to be powered by six e-motors and 12 propellers.
eMagic Aircraft
eMagic One
This is an interesting story from eFlight world and the title could be: An amateur showed them all!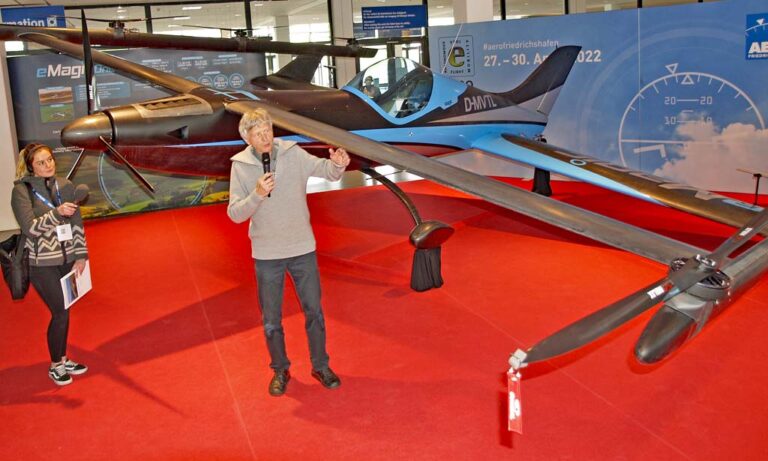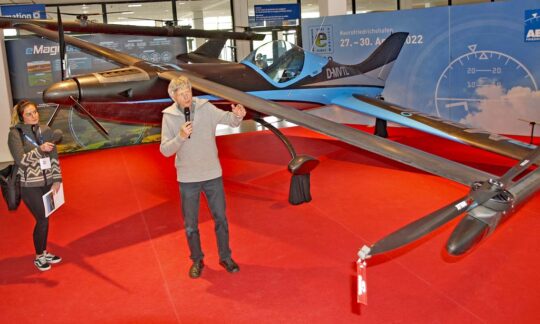 Vertical take-off and landing is a hot topic as it is the all-electric propulsion. The unique eMagic One eVTOL was designed, built and flown by the avid machine builder entrepeneur Michael Kugelgen from Cologne with help of Thomas Senkel. He and his team have created an eVTOL with superior properties. The tandem wing aircraft is designed from scratch and has excellent flight characteristics.
The eMagic One eVTOL demonstrator aircraft holds one passenger, has one front propeller for forward flight, eight fixed propellers dedicated for VTOL operations, has tandem wings, a vertical rear stabilizer and taildragger landing gear arrangement. The aircraft can be completely disassembled for ease of transport by truck or dedicated trailer.
The aircraft has been designed from scratch and has excellent flight characteristics. All components including the electric drives, batteries and control systems are designed to be fully optimized. The airframe is extremely light at 255 kg (562 pounds) maximizing the flight range of the aircraft.
All components, as electric drives, batteries and control systems, are exclusively designed and optimized for eMagic One. The combination of an traditonal fixed-wing aircraft with a multicopter deliveres five times the range compared with a pure multicopter.
Here are some aircraft details: carbon honeycomb structure, integrated kevlar safety monocoque, shock absorbing carbon landing gear, autopilot for hoverflight, two independent battery systems (4 + 8 packs), elevons & high efficiency spades, ballistic parachute rescue system. By the way the builder says that he is not an aircraft designer and he does not intend (as now) to start production of this eVTOL.
eMagic One was unveiled at European Rotors exibition in Cologne, Germany, Nov. 16-18, 2021.
H55 and BRM Aero
The Swiss pilot and engineer André Borschberg, known for his circumnavigation of the world in the Solar Impulse 2 electric aircraft, presented an interesting electric aircraft, the Bristell B23 Energetic developed jointly with BRM Aero. André Borschberg, H55's Co-Founder and Executive Chairman, and Milan Bristela, BRM's CEO and Founder held a joint press conference on Thursday morning.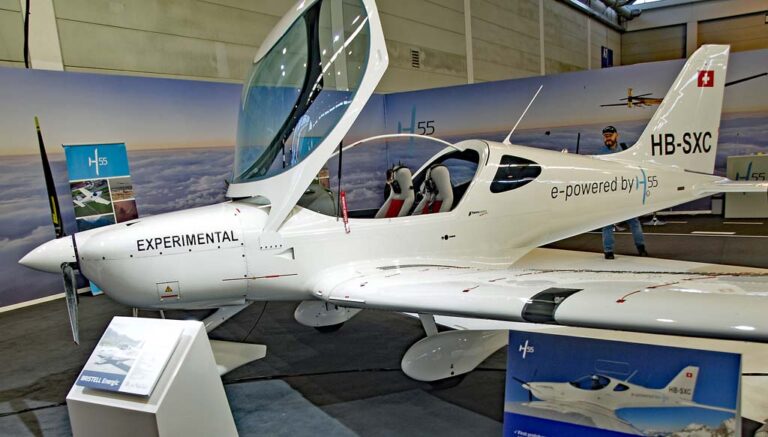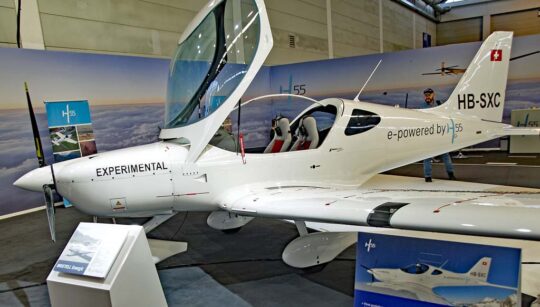 The H55 is optimized as a two-seater for training, the 850 kg (1,874 pound) aircraft is to be certified according to CS-23. According to Mr. Borschenberg electric energy will be stored in the wings where two 125 kg (275 pound) battery compartments are planned to allow some 1.5 hours (and aiming for 2 hours) flight time. Borchenberg added that two hours flight time are likely and the reto of flight to charging time should be arround 1:1.
The B23 Energic includes the latest generation of H55's 100kW electric propulsion and battery management system. Both the EPS and the aircraft are in the process of being certified, the EPS under an EASA TC by the end of 2023 and the B23 Energic will be commercially available starting in 2024.
BRM is a Czech aircraft manufacturer created in 2009. With 5 models available, BRM produces more than 100 aircrafts yearly. BRM AERO's priority is its emphasis on innovation, continuously introducing new developments to its product line. With the B23 Energic, BRM is increasingly being recognized as a pioneer of the next aviation revolution.
Borschberg and Bristela are learning how to overcome these challenges. We had the opportunity to have a first-hand look at H55's innovative technology which, features smart and modular architecture, and to appreciate how the company is accelerating electric aviation with solutions that customized, certifiable and scalable.
---
Engines & Propulsion
Heron Engines
A small Greek turbine manufacturer — unknown even to specialists — debuted at Aero 2022 a small turbine for UL/LSA aircraft attracting huge crowds and interest.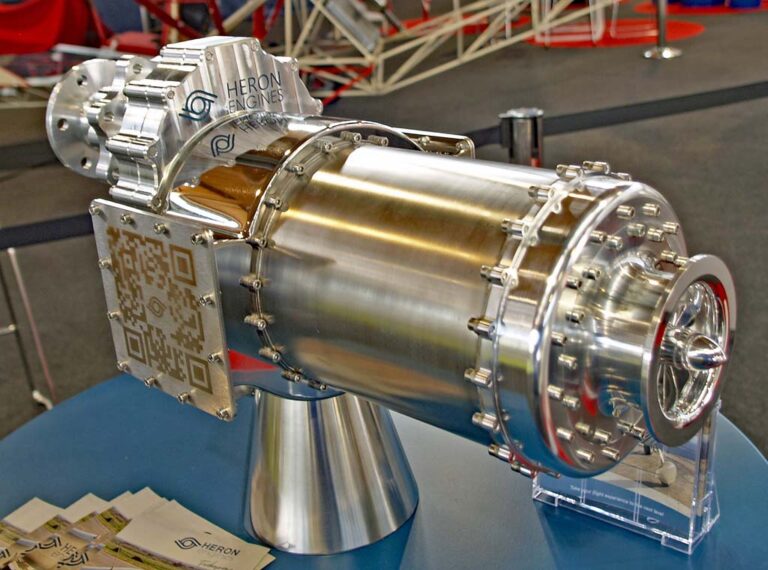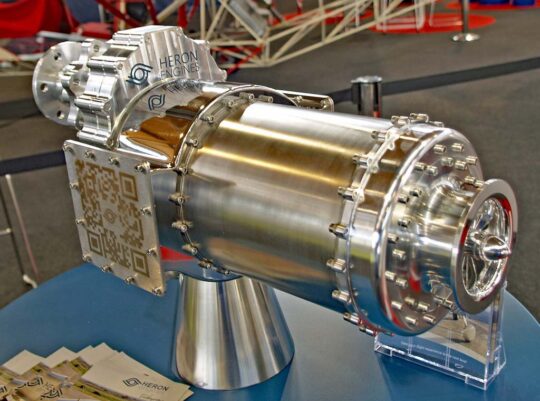 Heron has some military roots; founders have over 40 years of experience in the aviation and defense industry, as well as a long history of producing small (up to 300 kg of thrust) jet engines, according to Mr. Alex Fatseas of Heron.
Some 10 years ago the company started developing the turbine. The turbine is extremely compact, it is an axial flow free turbine which weighs 40 kg dry and 48 kg installed (just over 100 pounds), The compoanyd has already flown its prototype of a 130-shaft horsepower engine on a Bristell Light-Sport category aircraft in March 2021.
Heron Engines' Fastseas told us that the turbine, when ready for production, should cost only €35.000 for early buyers, an extremely competitive price compared with the competitors.
Xaeros
Hybrid drive Xaeros powerplant
Rotax parts & electric motor combination
The company Xaeros AvioPower GmbH from Austria debuted a highly interesting 200 kW hybrid drive powerplant for single engined aircraft. The unusual project, the hybrid powerplant consists of two V2 engines, an electric motor and the battery all in one amazingly compact package. This powerplant is planned to become an bolt-on self sufficient unit needing only few connections.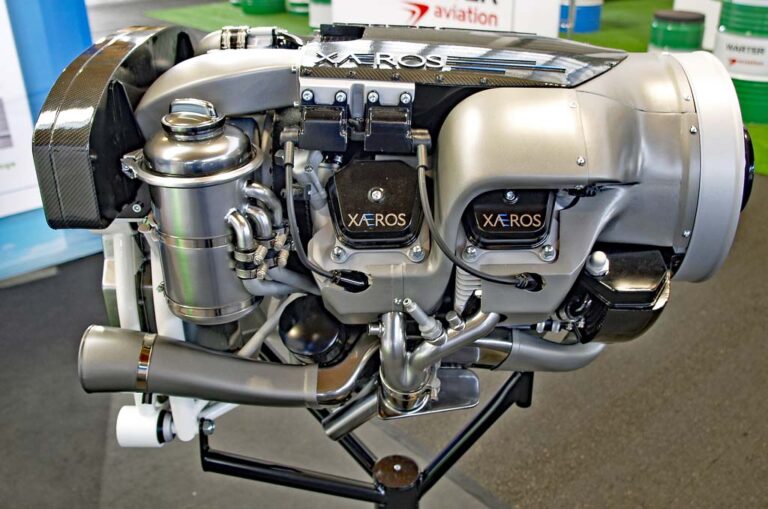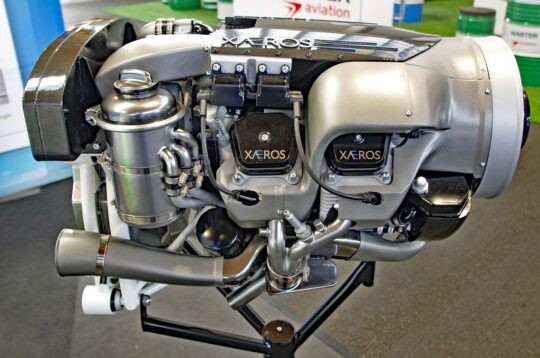 The two independent, V2 twin engines, 4-stroke engines are supercharged by two electrically driven blowers and are are made using Rotax engines parts. The combustion units are combined with an electric motor and a battery. All drive units act on the propeller shaft and work either in combustion or electric or combined mode depending on the flight phase. They are controlled by a sophisticated FADEC system (Full Authority Digital Engine Control).
According to Xaeros and Mr. Hans Schwöller, the compact powerplant which measures only 50 x 50 x 79 centimeters (20 x 20 x 31 inch) includes the gasoline engines, generator/electric motor, battery, exaust system, and has a maximum output of 270hp/200 kW and a continuous output of 160hp/118 kW. Total weight as now is 120 kg (250 pounds) including all parts needed for function and cowling. When taking off and landing, only the electric motor with some 100hp should be used for a few minutes, which means quiet operation near the airport. When cruising, the two piston engines then take over, recharging the battery via the electric motor, which acts as a generator during this phase.
According to Hans Schwöller of Xaeros AvioPower, the new engine could be retrofitted to many existing aircraft such as Cessna and Diamond. At the moment, however, it is still a matter of finding partners for the final development.
Rotax
For the first time Rotax showcased their complete product range of 4-stroke aircraft engines. Highlights at AERO 2022:
The new 915 iS/c C24 — "Join the ReVOLTution" — is the proven Rotax 915 iS/c engine now with the optional 24 Volt/800W power supply not adding weight. This opens up a wide range of opportunities for cockpit upgrades. It is available for new Rotax 915 iS/c engines (certified and ASTM-compliant)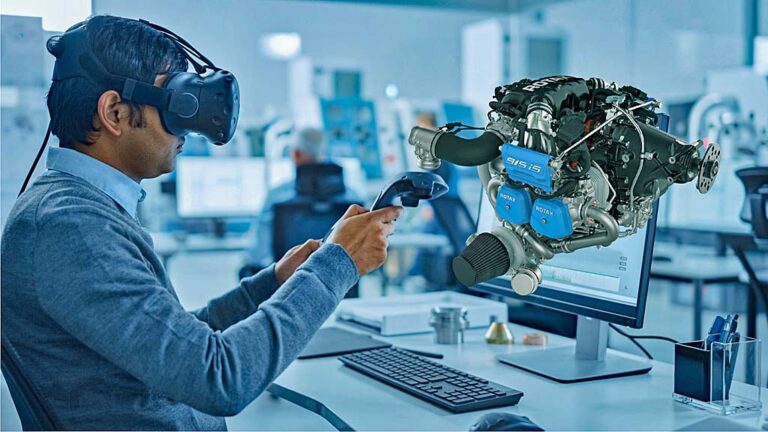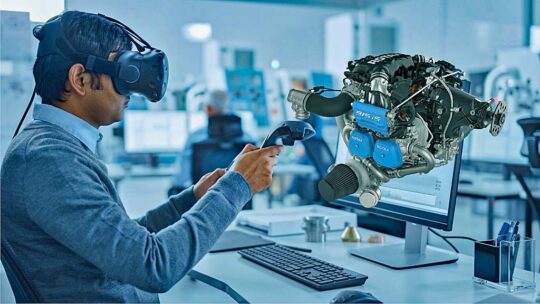 Rotax had a VR Technology Presentation — In cooperation with LLS Ltd., Rotax developed a VR-Technology software tool for maintenance, training and sales activities.
New Warranty program — Rotax has developed a complete new extended warranty program with several packages. The new program will be presented at the Aero 2022 for the first time and includes also a R.E.S.T. extended warranty up to 5 years for all engine components. In cooperation with Bose Aviation, Rotax had an attractive Aero offering.
Step ahead to a greener future — Rotax presented its contribution for the Tecnam P2010 H3PS project in their exhibit, the first general aviation aircraft with a parallel hybrid configuration.
Rotax Aircraft Engines Company Website
UL Power
The Belgian manufacturer has been producing aircraft engines with growing success since 2006 and is expanding internationally. The range of engines now delivers from 97 to 220 horsepower. At Aero 2022 the crowning glory of the series was shown: a 225 turbo hp revealed for the first time.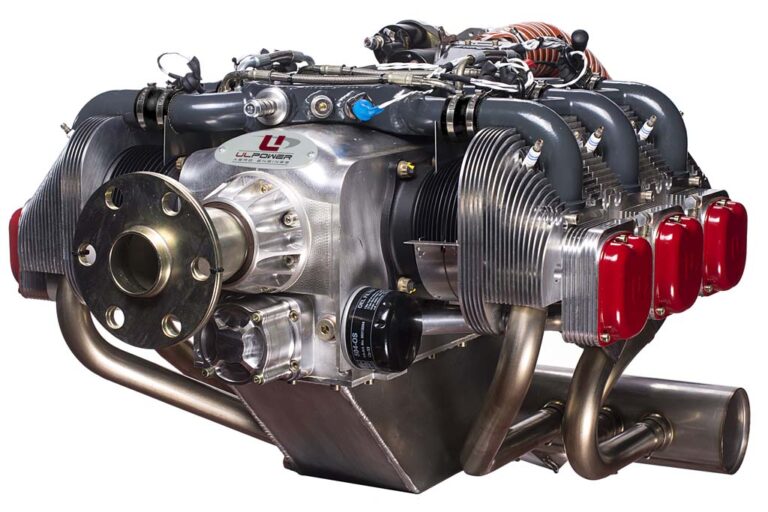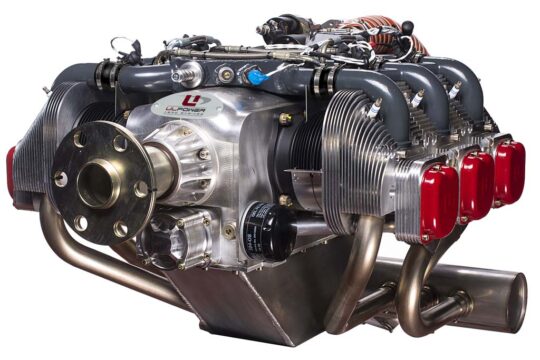 The engine called UL520T is based on the 200 hp UL520 engine, which received an exhaust gas turbocharger. This turbo does not primarily have the function of significantly increasing engine performance, but serves as a turbo normalizer, which is intended to maintain performance with altitude. This engine, rated at 220 horsepower at sea level, is said to deliver all the power up to 15,000 feet, according to the manufacturer.
Serial production & delivery was planned for 2021. The turbo added only 15 kg of additional weight. In addition, UL-Power developed a new engine mounting solution, which allows their drives to be mounted directly on the Type 1 engine mount without an adapter. UL power has opened a new manufacturing facility in Belgium and has developed installation and maintenance courses for their engines.
Turbotech
The French turbine manufacturer from Paris is certainly already known to attentive Aero visitors from the last few years. It is one of rare turboprop powerplant offerings in the UL/LSA/Experimental market.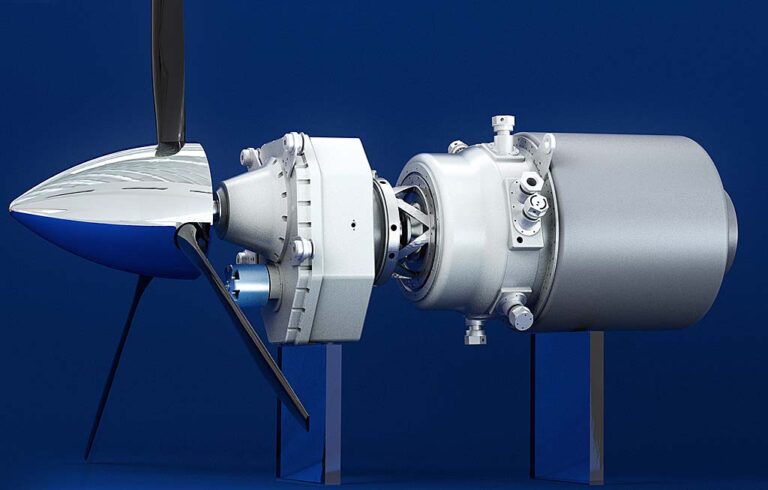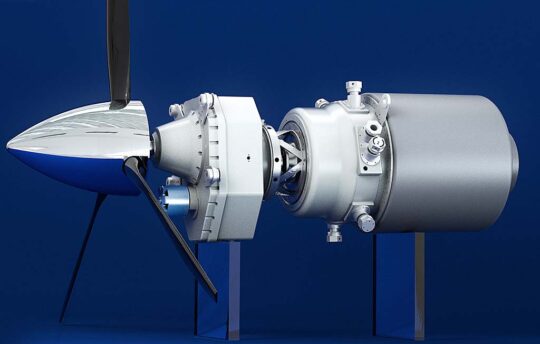 This year, the newly developed turbine is approaching serial production. First deliveries are scheduled for mid-2022. The first two installations in an UL were an unbelievable success (see JMB & Bristel/BRM contribution) which caused a big stir at Aero 2022.
The company broke new ground in the development of its turbine and, for the first time in the world, it is equipping a small and newly developed turbine with a heat recovery system. This allows the thermal energy of the exhaust gases to be used in such a way that the consumption of the otherwise light but very fuel-thirsty engines is reduced to an unprecedented level. This consumption should be very similar to that of current piston engines with the same performance.
Turbotech brought the TP-R90 turboprop engine with 95kW/120hp to Aero, the power of which will soon be increased to 100kW 130hp. The price of this turbine is set to €84.000* plus taxes. The offer also includes an 85 kW turbo generator with the designation TG-R90.
Hirth
The Hirth Engines team is proud to have overcome the corona pandemic successfully. The 90-year-old producer has endured many challenges in that long time. When times got tough, Hirth focused on their products and optimized them to be able to meet the market demands.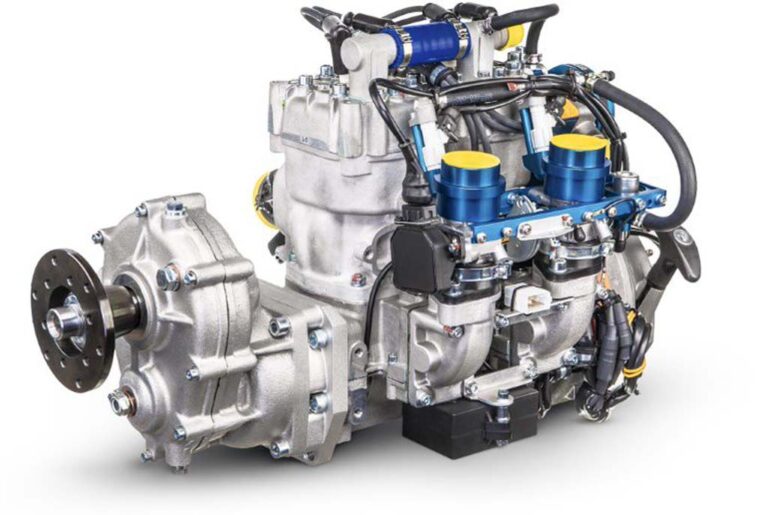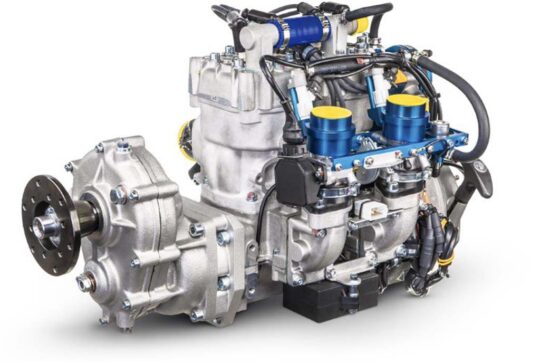 Hirth has updated its two-stroke 35 Engine Series with new options and is offering this 70hp two-cylinder, liquid cooled power horse for manned and unmanned applications. The 3507HF version is successfully used in different UAVs and currently one system is in test-phase stage with the German Navy.
For manned aviation, Hirth continues to offer the two-stroke 35, 23 (50hp), 32 (60hp) and 33 (30hp) engine series with single and dual ignition, as well as carburetor and injection versions, with a choice of suitable gearboxes.
---
---
This concludes our reporting from Aero Friedrichshafen 2022. Next up is EAA AirVenture Oshkosh 2022… starting (can you believe it?) in barely more than one month!

To give you more flavor for Aero Friedrichshafen, here is one of our "race-around" videos from the 2018 show.