Over many years as an affordable aviation journalist I have learned two things. First, stick to airplanes. That's what moves the needle for most pilots; nearly always such articles are the best-read on this website. Second, pilots love more powerful engines, especially when they display new technologies.
Speedy LSA maker, JMB Aircraft has tapped into this rich vein of interest. For some years, they have worked to make their elegant and shapely VL3 go faster than before (earlier evaluation article). A year ago at Sun 'n Fun, the Belgium-headquartered company showed Americans their 141-horsepower Rotax 915iS model. The machine looked quick merely sitting in their display.
That wasn't enough. Even though JMB can max out at 230 mph now, leaders and engineers at JMB thought, "Why not try a turboprop?"
JMB Turbine
Not even a month ago, this leading builder of LSA speedsters took their turbine-powered VL3 into the air for the first time, in France on Monday April 4th, 2022. Later that month, the company debuted the development to crowds at Aero Friedrichshafen 2022.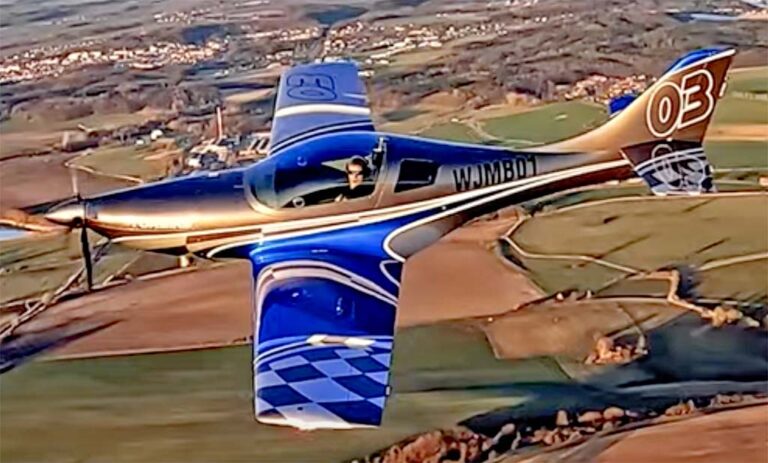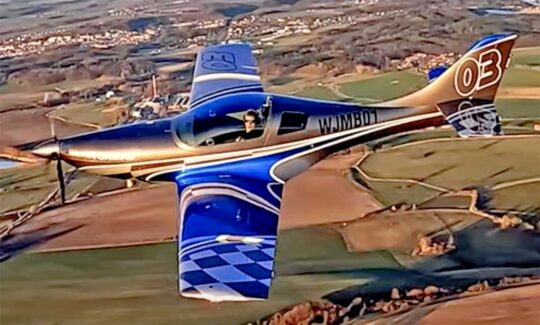 In the USA, JMB is represented by Alion Aviation.
JMB has installed a French-designed engine from TurboTech (the same powerplant used on Bristell's new entry). According to the French engine developer, the TP-R90 outputs 130 horsepower, burns five gallons per hour in "eco-cruise," and weighs 176 pounds for the "full package" (though final installed weight may vary by airframe). TurboTech clarified, "A regenerative turbine is a turbine engine equipped with a heat exchanger (nearby diagram) capable of recovering the heat normally wasted in exhaust gases and reinjecting it into the combustion chamber, leading to a dramatic fuel burn reduction."
Piloting the first flight of their VL3 Turbine Jean-Baptiste Guisset, CEO of JMB, flew at France's Valenciennes airfield under the supervision of the designers of the French turbine.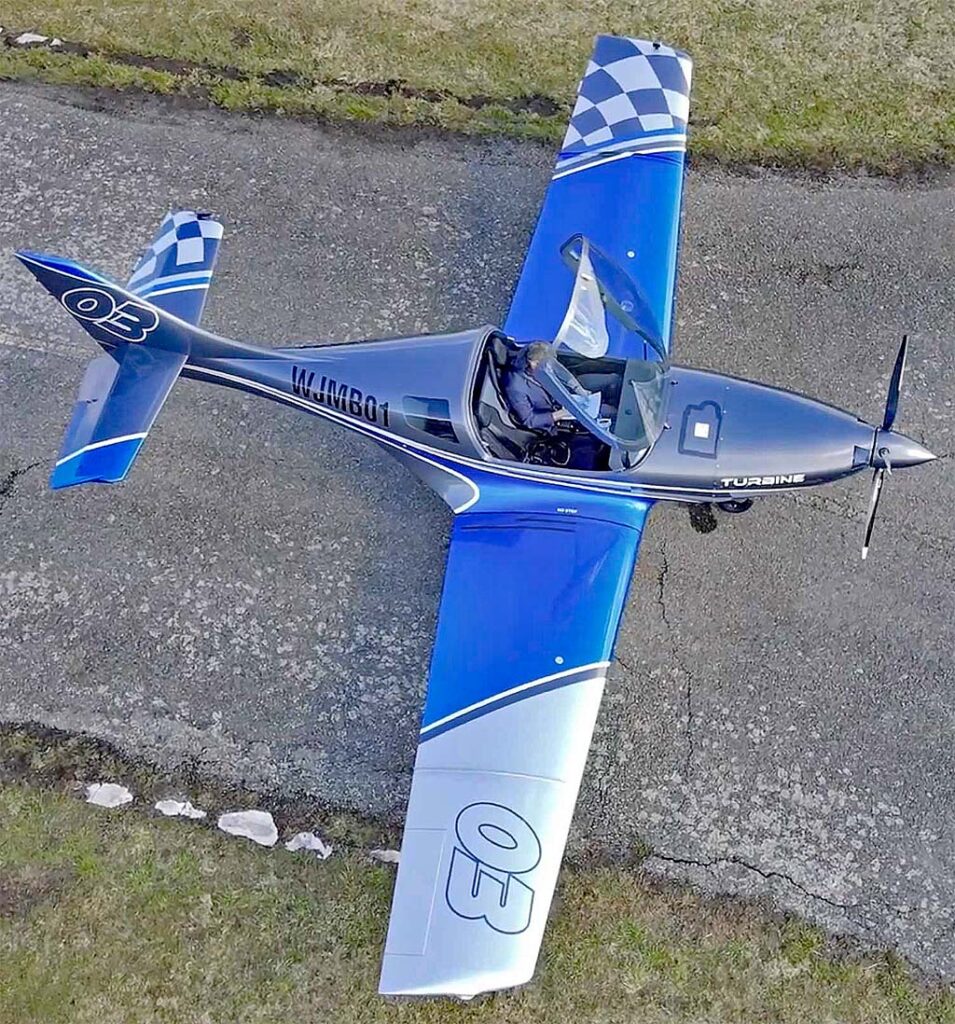 "The first tests are very promising," said JMB. "We are continuing to validate the performance, but the advantages are already visible: no vibration and a TBO multiplied by two." (The latter reference compares the TP-R90 to Rotax's 915iS, which still has a 1,500 hour TBO although the company is proceeding conservatively as always; engineers will later raise this to 2,000 hours as with 912-series engines.)
"A VL3 turbine is easier to fly than a traditional piston aircraft," added JMB, "thanks to the electronic management of the FADEC and its unique lever." Not only do they report modest fuel burn rates, thanks to the heat exchanger, but kerosene price is also a good advantage compared to the fuel normally used," observed Jean-Marie Guisset.
In six months of development testing, JMB reported more than 50 hours of ground testing, including 30 hours of full power testing. "In only 8 days, we flew more than 20 hours and simulated all possible failures without any technical issues."
"We already have two aircraft equipped with the turbine and have elaborated an advanced flight program for the coming months in order to test all the flight domains of the turbine," concluded JMB.
Longer Life / Cheaper Fuel
Proponents of TurboTech's method say it is superior due to its longer time before overhaul (TBO).
Other commenters cite as a primary benefit: reliability. Turbine engines run at high revolutions but are built with such precision that they can last longer than a reciprocating engine. Due to their design, reciprocating engines produce vibration. As vibration can harm an airframe over a long life, a smoother turbine may add to an airplane's duty cycle though this is hardly a major concern for recreational planes that log 50-100 hours per year. Unless you log far more hours than average, you may never need to overhaul your turbine JMB.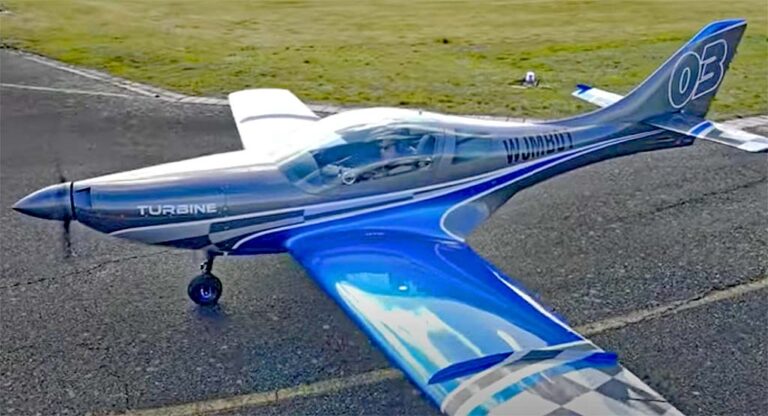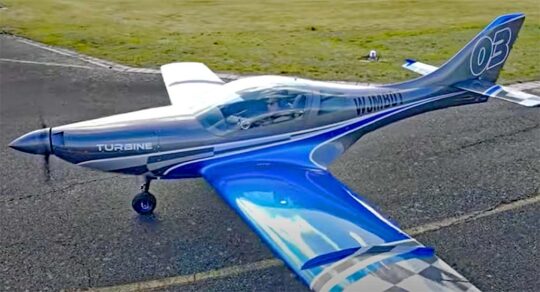 These engines can operate on kerosene or other lesser-refined fuels. The French company cites jet-A1, diesel, UL91, Avgas, or bio-fuel. In an age when 100-octane low-lead may disappear, this fuel versatility has extra value — although every Rotax, Jabiru, or UL Power engine can run on either 100LL or auto premium (or any mixture of the two) so this is of less concern to LSA owners. Nonetheless, where airports do not permit auto gas to be dispensed, a turbine aircraft that can accept alternate fuels might have an advantage.
FAA's Mosaic & Turbines?
The short answer about turbines being permitted: We don't know today but we might find out at Oshkosh 2022 when I expect FAA will release the draft regulation as a Notice of Proposed Rule Making (NPRM).
What we do know is that FAA deliberately eliminated turbine engines when they released the Sport Pilot / Light-Sport Aircraft regulation in 2004. In those days, a turbine engine was viewed as too complex for sport enthusiasts so FAA specified "reciprocating" engines only.
As a sign of the times way back then, electric propulsion wasn't anything of particular interest. A few scattered experimenters had not proven battery-powered aircraft were anything more than a novelty. Requiring internal combustion engines completely ruled out electric motors… all in the interest of keeping turbines out.
Well, FAA also failed to include helicopters but Mosaic might include them. So, might FAA allow turbine, too? Possibly yes, if they are paying attention to what is going in Europe; at least three companies have fitted turbine engines to current-day LSA designs. With the advantages spelled out above, do you think rule writers can or should include turbine? If you agree, get ready to tell FAA by your comments later this year.
Will a Market Arise?
Cost is the main impediment to wider acceptance. At almost $100,000 for the engine alone (according to an estimate from Bristell rep', John Rathmell at Aero 2022), the TurboTech power plant is almost three times as costly as a Rotax 915iS yet it outputs 10 or more horsepower less than the turbocharged, intercooled Rotax. No matter its extra benefits, that cost will prove prohibitive for most buyers. Yet if you think it won't sell, then tell me how Cirrus keeps selling hundreds of their nearly-million-dollar SR-series aircraft year after year.
I understand most buyers will probably not elect turbine power no matter its advantages because the cost is breathtakingly higher.  Nonetheless, well-heeled pilots with a need for speed and a love of the latest thing may go for it. The rest of us will fly what we can afford and the great news is — something is available for almost every budget.