Sustained interest in Cub-types has long amazed many of us. About the only airplane that routinely seems to inspire even more passion may be the North American P-51 Mustang. Since almost none of us can afford our own WWII fighter, Cub-a-likes may be the leading light aircraft type that pilots hope to own.
Indeed, between CubCrafters and American Legend, we have two manufacturers pumping out their version of Piper's venerable Cub. Nothing wrong with that. Indeed CubCrafters lead the parade with their carbon-accented model (to save weight) powered by the awesome 180-horsepower Titan engine.
Along the way, Just Aircraft invented their SuperSTOL, based not on Cub but on their earlier Highlander. It has drawn many admiring glances and sold a number of kits (Just chose not to pursue SLSA approval for this model though their Highlander did qualify).
Then we have Rans and their also-popular S-21 Outbound, a evolution of the company's S-7 Courier and S-20 Raven. While not a true Short Takeoff and Landing aircraft like SuperSTOL and while more modern than the Cub clones from CubCrafters and American Legend, S-21 has much to set it apart, notably side-by-side seating that many prefer, at least when flying dual.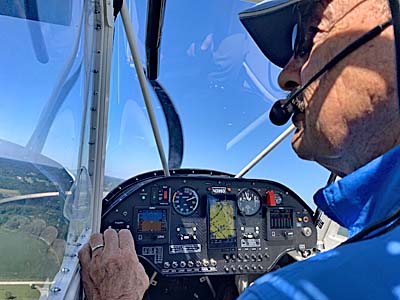 Referring to these flying machines is a way of showing the keen interest many pilots have in airplanes that somewhat resemble Piper's 1940s-era Cub series. Into this enthusiasts' heaven comes Shock Ultra, with its Rotax powerplants. (An even more powerful 915 model not yet available in America is flying in Europe.)
For more on Shock Ultra, go to SportairUSA's nicely designed page for this model, packed with additional info and more videos. Also see our earlier article when Shock Ultra was announced at German's Aero show.
A Savage Response
Savage is not a term of anger but a reference to a series of models, of which Shock Ultra is the latest derivative. Let's look at this newest entry more closely.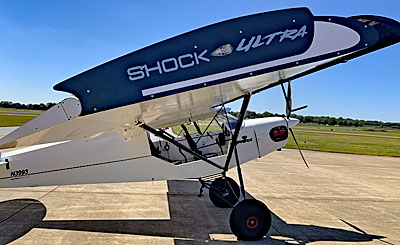 Shock Ultra has some features not found on all Zlin's other models, including double slotted Fowler flaps that help lower stall speed to almost absurdly-slow levels (for proof with your own eyes, see our video below). In addition, Shock Ultra has leading edge wing slats though these, like the "Shock options" for the Titan-powered Shock Outback, are optional. The newest variation of this design uses the oversized outboard shock absorbers similar to those first seen on SuperSTOL and then Shock Outback. They are "to tame the landings," said SportairUSA. All these design qualities combine to provide good visibility on approach thanks to a "flattened landing flare."
Indeed, this all works, resulting in a "stall speed of 18 mph (solo) and 24 mph (dual)." Note that's miles an hour, not knots (15.6 and 20.8 knots respectively). It felt rather amazing to witness an airspeed indicator bumping down toward zero while we flew near gross weight.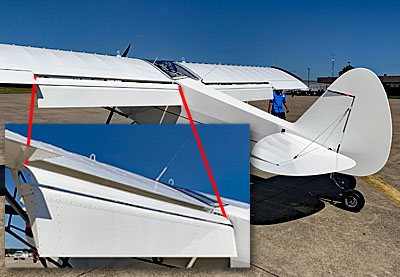 Those low speeds are aided by a basic empty weight of 725 pounds. This is more than 100 pounds lighter than some Cub clones from CubCrafters and American Legend. As many experienced light aircraft pilots believe, the lighter the airframe the better it performs and handles and the more payload you can carry onboard.
Another proof of Zlin designer Pascale Russo's diligent effort to reduce weight and simplify is that Shock Ultra performs admirably with the Rotax 912 or 914, while the heavier competing models appear to require bigger engines, which add more weight, burn more fuel, and cost more.
Shock Ultra is not the lowest-priced model SportairUSA offers, though it is less than the Titan-powered Shock Outback. However, if its final figure — call SportairUSA for an exact quote — is still too high for your budget, don't despair. The Little Rock, Arkansas company offers Savage models that carry much more affordable prices, albeit with less spectacular performance.
Cub-like models from Zlin include the very affordable Savage. Some models might be had brand new for less than $70,000 but please check with the company for details as these figures change with currency fluctuations and equipment installed.
If that still sounds like too much, SportairUSA is one of those Premium/Concierge resellers of quality used aircraft. As but one example, the company displayed a looks-like-new TL Sting (which they formerly represented as importer) for $65,000. Given the company has thoroughly gone over the aircraft — and knows the model intimately — this represents a wonderful bargain.
What boxes does Shock Ultra tick? Here's how SportairUSA describes the bush plane's attributes in brief, bullet-list form:
Short takeoffs. There's not much runway where we're going.
Quick climbout. To clear surrounding terrain.
Short landings. The shorter the better.
Tame landings. Good control with minimal touchdown rebound.
Safe slow flight. Low stall speed, spin resistance.
Easy to fly. Responsive controls & ergonomic design.
Simple, strong construction, repairable in the field.
Check out Shock Ultra more fully in this video that precedes our full-length Video Pilot Report to follow later.
---