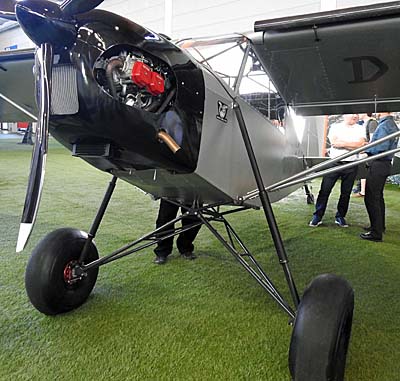 After Aero 2016, we enthusiastically reported on the Zlin Shock Outback (as it is known to Americans; Shock Cub to other countries). You could fairly call it Europe's answer to Just Aircraft's jaw-dropping SuperSTOL, the amazing performer that captures nearly everyone's attention from its introduction until today. Both designs go far beyond the best-selling Special LSA in the country: CubCrafters' CarbonCub.With the original Shock Outback's awesomely powerful Continental Titan X-340 producing 180 horsepower, pilots had a shock-and-awe response to the short takeoff roll and homesick-angel climb performance. The aircraft truly inspired many.How could Zlin go one better on this fascinating design? In a word: lighter.Admittedly, Shock Outback, sold in America by SportairUSA — with the big engine and all the other (sometimes optional) fixings such as their slatted wing, long-stroke landing gear, giant Alaskan tires — is an aircraft about as large as it could be and still fit in the LSA category. While a thing to admire, it didn't address every desire. The big-engined Shock was a bit heavy for then-current European regulations and many pilots have learned to prize lighter weight.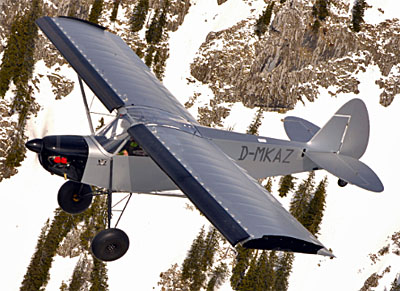 Zlin principal and designer Pascale Russo (in video below), is another of the sleep-deprived creators of cool aircraft. He saw another unfilled niche, and since nature abhors a vacuum, Pascale got busy with a new model. Welcome to Ultra Shock, unveiled at this years wonderful Aero Friedrichshafen show.After having constructed, sold, and delivered many sport aircraft around the world over the last 18 years, including "hundreds" of Savage aircraft, Russo was ready with his new idea in surprisingly short order.He said that speaking to pilots "led us to design a (European-style) Ultralight version of our Shock Cub." He said it was "a Shock Cub in all respects but more lightweight."Most pilots know it is quite challenging to lessen the weight of aircraft. How did he do it?
Making Shock "Ultra"
First, here's what remains: "double slotted" flaps (70% bigger than earlier Savage Cub models), the custom-made micro vortex generators installed inside the flap vane, larger ailerons (40% bigger than older models). These features were part of the reason for "dramatically increase the efficiency of the wing at very low speed."
Ultra Shock also retain its strength. "We loaded and drop tested [Ultra Shock] up to 1,000 kilograms (2,200 pounds) from 120 centimeters (about 4 feet) above the ground without any damage." That may not sound like such a high drop height but I've seen test reports and can attest that is a very demanding test, especially at such weight. The design "virtually eliminates the touchdown rebound," Pascale said. "We proceeded from the original Savage Cub-S," Pascale continued, "reinforcing and refining the fuselage framework, increasing … the cockpit height, improving the accessibility, and generally improving ergonomics on board." In other words, he made sure larger pilots will fit well.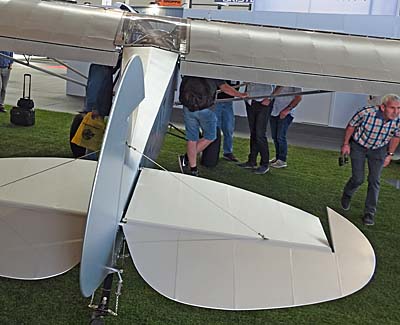 Despite Ultra Shock's lighter weight design, Zlin said the "engine bay can accommodate different engines from the standard Rotax 912 ULS (100 horsepower) up to the Rotax 914 (115 horsepower), new Rotax 915 (>135 horsepower), and even the Titan 340 Stroker (180 horsepower).In doing all this, Pascale asked, "Why go fast? It's so much more fun to fly slow and land short." Indeed, he made sure Ultra Shock hits these fun flying goals (see specifications below)."We asked ourselves how much weight it would be possible to save, while maintaining the cost of the transformation at a reasonable level," recalled Russo. He also wondered "to what extent the excellent performance of the Shock Cub would be affected."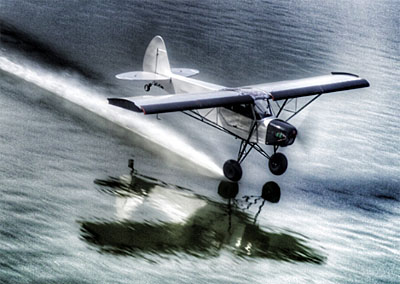 He managed to reach a targeted and demonstrated minimum empty weight — an impressively slim 649 pounds — with a 100 horsepower Rotax 912 with radio and basic instrumentation and a weight savings program which introduced  carbon fiber elements, light weight battery, and Oratex fabric covering (a weight-saving material with already colored cloth) in place of classic heat-shrink Dacron, among other choices.It appears he succeeded well. Ultra Shock is significantly lighter than most of the other Cub-clones, which should translate to great performance with the Rotax 912 and reduced overall expense. Zlin is targeting €95,000 (about $115,000) for a well-equipped Ultra Shock but for U.S. pricing and availability, please contact SportairUSA. Whatever the final price tag for your chosen options, it is dramatically less than a CarbonCub (that commonly exceeds $200,000, according to many buyers).
Specifications
Gross Weight — 1.320 pounds (600 kilograms)
Minimum Empty Weight — 649 pounds (295 kilograms)

with optional light weight equipment

Useful Load — 671 pounds (305 kilograms)
Standard Fuel Capacity — 18 gallons (68 liters)
Payload at Full Fuel — 563 pounds (256 kilograms)
Wingspan — 29.5 feet (900 centimeters)
Wing Area — 164 square feet (15.2 square meters)
Length — 22.4 feet (684 centimeters)
Height (on 20-inch Alaskan tires) — 7.4 feet (225 centimeters)
Cabin Width — 27.1 inches (69 centimeters)
Maximum Cruise Speed — 112 mph / 97 knots
Cruise at 75% Power — 87 mph / 76 knots
Range — 323 nautical miles
Maximum Climb Rate — 1,000 fpm (2 meters/second)
Minimum Flight Speed — 21 mph / 18 knots
Minimum Takeoff Ground Roll at Gross Weight — 160 feet (50 meters)
Minimum Landing Ground Roll at Gross Weight — 105 feet (33 meters)
To learn more and take a video tour of the Ultra Shock, here's our video:https://youtu.be/44u6cTYdio8