Given how she flies, I really don't know why the Zlin developers settled on the name Savage.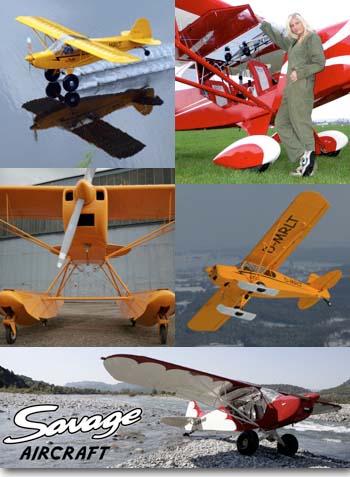 It simply isn't "savage" despite being a taildragger that challenges some tricycle-gear-trained pilots.
Sure you'll need training or prior experience to qualify for insurance but it's no more challenging than Legend Cub, Sport Cub, or Rans' S-7LS. Savage exhibits very cooperative handling down to low stall speeds (below 40 mph indicated). You can read a sidebar or look for full-length articles to be posted on this website.
Coming next for Zlin's Savage is a bushplane option perhaps to be named the Sport. The new model will include reinforcements to withstand the rigors of bush flying and landings on rougher surfaces. Additional X bracing has been added, the gear extended three inches to allow huge Alaskan Bushwheels (photo), plus you can order a belly pod for camping gear. If you want floats, you should select the left side door option.
But since Savage is much lower priced than Legend or CubCrafters, you can add several options and still spend less. According to expert Cub pilots another option worth considering, especially for bush flying, is vortex generators.