For the second year in a row, I was blown away with Lightning Bug. It changed enough that I tagged it Lightning Bug 2 even if designer/developer Brian Austein did not call it that.
Let me make a key point: Lightning Bug was a $3,000 aircraft project, with the cost split between two engines — model radio control aircraft engines, by the way! — and $1,000 more for the airframe. The rest was Brian's talent and drive to design and build the ultralight.
So, let's recap. If you had Brian's abilities, you could have an airplane for three grand. If you don't find that amazing in a time of $150,000 (up to $350,000!) Light-Sport Aircraft, I don't know what impresses you.
The unique airplane certainly impressed often hard-to-convince judges who gave it not one but two awards in 2017: Grand Champion and Best Innovation.
Lightning Bug was partly an experiment to prove, as Brian said, that "I could build a [man-carrying] airplane that could fly with RC model airplane engines." Models have gotten ever larger, converging with Lightning Bug that weighs a mere 140 pounds (no, that's not a typo). Modifications made to accommodate a larger pilot boosted empty weight a bit but Brian indicated it's still less than 150 pounds …104 pounds under Part 103's supposedly tight constraints!
This surprising little aircraft even has an auto pilot. All I could do was shake my head incredulously. As you can see in the video, it appears to fly very well.
If I could create an airplane like Lightning Bug, I would sit back and admire the result. Yet this is actually Brian's second aircraft design. Our video below shows you his Woodpecker, another very-modest-cost design that looks more conventional. Not one to sit still, Brian hinted at more ideas his fertile mind is conceiving. I find his achievements remarkable.
Since you may not know Brian, you may not have been aware his voice was rather weak. That leads me to change the tone of this article. Please continue reading…
Can You Help a Fellow Ultralighter?
I regret this story now takes a vicious turn. In the video below you can see Brian and I talking about more super-affordable projects he has in mind. Given both Woodpecker and Lightning Bug, I can barely imagine where this man might go. But…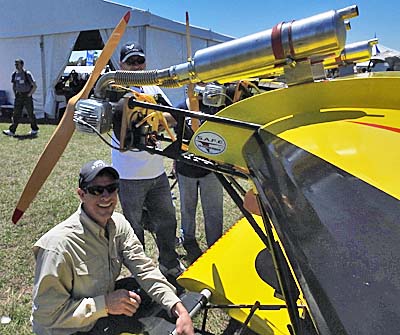 For the moment, Brian is not designing. He's fighting for his very survival. …literally!
I am about to do something I never do on this website — for many reasons — but which I find worthy in this case. Let me have Brian's good buddy Jon Bailey tell you himself.
"I am a very close friend of Brian Austein. I am writing you to inform you that the day after Sun 'n Fun 2018 (on Monday April 16), Brian was diagnosed with Stage 4 lung cancer. It has moved into his brain. Brian is a fighter and he is fighting a tough battle right now. He is currently in Atlanta under evaluation for a second opinion. I will take him to another doctor on Tuesday (May 22nd) for his opinion.
"Please keep Brian and his family in your thoughts and prayers during this time.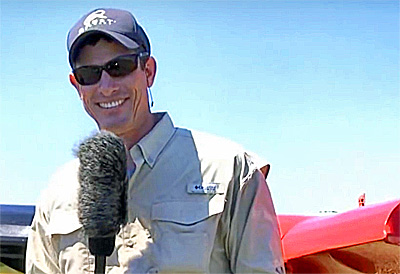 "Dan, I know that you are well connected in the ultralight world and I know that a lot of ultralight people are amazed at what Brian has done. Can you share the attached Go Fund Me link? We set it up as a great way to give back and help out a man that has given so much to all of us."
Absolutely, Jon, I will put out the request and I have already contributed myself. Here's the GoFundMe link. Please help if you can.
Jon also encouraged, "Please feel free to call or write with any other ideas or questions. Thanks for your time."
I also never put out an individual's phone number but if you can help in any way or just want to offer encouragement, please call Brian's good buddy, Jon at 662-229-8281.