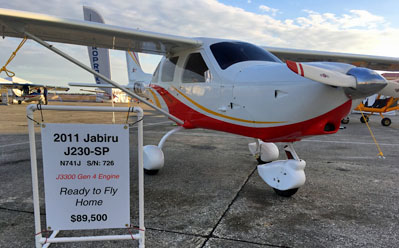 "Duck and cover" was a phrase to describe the morning on Thursday, Day Two at Sebring. Rain that lasted until late morning dampened turnout and you can't blame those who stayed home because tomorrow, Friday January 25th, looks much better. It will be cooler (by Florida standards, 60°F) but clear skies are forecast. Plus, it's Friday, so come on out and enjoy!
We took advantage of the wet weather to visit inside displays and will have videos coming on the Wingbug airdata WiFi device; about insurance for Light-Sport Aircraft, ELSA, Sport Pilot Kits from Aviation Insurance Resources; and on Whelens line of very bright LED strobes. Once they are edited and uploaded, find them on the YouTube channel of Light Sport and Ultralight Flyer. Please be patient for the videos. Soon after Sebring, Videoman Dave and I head out to Copperstate for the show now co-produced with Buckeye Air Fair at an all-new time of the calendar: February 8-9-10.
"New or Used?"
That is a question pondered by vendors. Many businesses representing airframe manufacturers cater exclusively to the new aircraft sales. Many regard used aircraft, even their own brand, as competitors.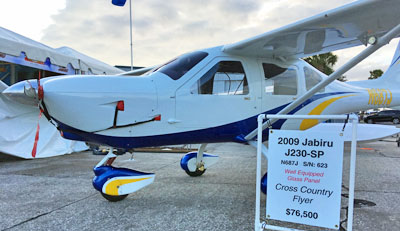 Some, like Scott Severen of US Sport Planes, see used aircraft — especially for the Jabiru brand he represents for North America — as an alternate for his enterprise. He displayed two pristine Jabiru LSA with prices 50% under a new model. They are not the same as current new models but from my look, many buyers would find them highly desirable. Did I mention for half the price of new?
Scott and other vendors have taken a more entrepreneurial approach to used aircraft, turning the sale of used LSA into a profit center to support their business rather than fighting futilely against the presence of a growing used fleet of LSA. "I earn more with a new plane but I can do fine with used," Scott said. "My reasoning best serves the customer, too, as a pilot looking for new isn't interested in used and a customer who wants to spend less is motivated by a lower price (photos)."
Another veteran of the LSA business is John Hurst who represented a pair of Breezers that also look very good despite being used. Breezer Aircraft of Germany has not had a U.S. representative for several years but existing ones can certainly be given some tender loving care (home page image). "I went through the airplanes from nose to tail," said John, while noting the exceptionally good flying characteristics. If he doesn't move this pair of Breezer sooner, look for one in the LSA Mall at Sun 'n Fun in a couple months.
Naturally, both Scott and John are also happy to supply brand new LSA with as many bells and whistles as you like. Scott has the whole Jabiru line for the entire USA and John represents Flight Design and its CT-series in the southeast U.S. on behalf of Flight Design USA.
New Is Nice
A couple new airplanes that appeared to be drawing good attention were the Aeropilot L600 and the Magnus Fusion 212.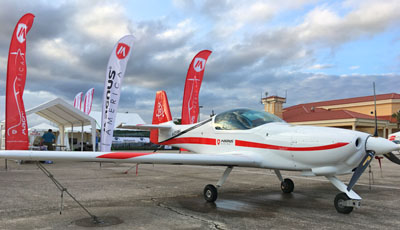 L600 importer Deon Lombard said he expecting his first with the Rotax 912iS. "The injected engine installation has been all worked out and the manufacturer keeps making airframe improvements," said Deon. The two aircraft he exhibited have some hours on them criss-crossing the country from his base in Southern California, but these are two clean flying machines. See our Video Pilot Report here.
Magnus is represented here at Sebring by Istvan Foldesi, who reports fully building the Fusion in the USA using parts fabricated in Hungary. The smooth composite — mostly carbon fiber construction with an elegant dual-taper wing — is making the rounds at airshows and attracting admiring looks, I have observed. At Sebring company pilots were giving demo flights to prospective customers. (Magnus also supplied a yummy native Hungarian dessert — they literally transported a suitcase-full — and the treat was enjoyed by all exhibitors at Sebring's exhibitor reception on Wednesday evening.)
Other companies also told us about new models or upgrades coming in the near future, perhaps as soon as Sun 'n Fun 2019. It looks to be an exiting new year for Light-Sport Aircraft and Sport Pilot Kits.
Here's Our Race-Around-Sebring Video