For all who could not attend, our title forms a common question. On day one of the fourteenth running of the U.S. Sport Aviation Expo, even many onsite asked how the first day went; I'll bet I heard the question a dozen times.
Short answer: A great start! The airport that hosts the annual event lucked out with a day of gorgeous weather, in the high 70s (25° C). Clear blue skies and modest breezes made for a beautiful beginning. They booked a full display of more than 100 vendors and plenty of shiny aircraft to examine.
Morning hours looked to have reasonably good attendance; the parking lot was on its way to a good fill at 8:30 AM. These shows rarely seem crowded — and that's not a bad thing if you want to talk to an aircraft designer or take a demo flight — but at times various aircraft were surrounded by visitors. It looked pretty healthy.
Four vendors reported sales by mid-morning. Perhaps these buyers had already decided to act and just wanted one more look or to ask one more question but how is that different than any other show? (Do you really think any airline places a billion dollar order at the Paris Air Show because they finally saw what they liked? Of course not, purchases are planned in advance but they use the show to help the buy make the news.)
Some non-airframe equipment vendors reported a solid day to Mike Willingham, the airport director and man in charge of the 14-year-old event.
Aircraft of Interest
We saw a rare sighting of an Icon A5 on display with another on a lake doing demo flights. The California company has in several recent years limited its airshow appearance to a splashy big tent at Oshkosh. It was good to see the team from the factory's flight school and operation in Tampa, Florida make a showing.
Scott Severen as US Sport Planes made his first appearance as the new man handling sales nationally for Jabiru, focused on their J230-D and J170-D models. Scott has played many important roles in light aviation and he's a veteran choice to take over from Pete Krotje and his Shelbyville, Tennessee team as Pete slides gracefully into a well-deserved retirement, as he has planned for a couple years.
Aeropilot USA boss, Deon Lombard, reported a solid first year with six sales of the L600. He also added a dealer in the east while he handles the west from his California base. From what I could see, interest is growing for this handsome 80%-scale 182 lookalike done in composite.
We looked over the HKS-powered Merlin Chip Erwin brought on behalf of his Aeromarine-LSA company based in the Tampa area.
Videoman Dave and I are charging around scooping up videos and knocked out seven or eight on Day One. Look for plenty of fresh video in the weeks ahead to follow Dave's deluge of videos in advance of Sebring.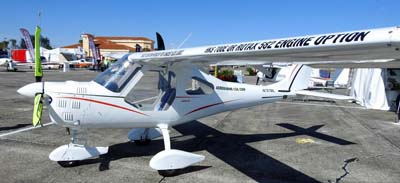 Tomorrow's forecast: another fine day (or two or three) ahead, weatherwise with airplane noise first thing and all day! C'mon down if you can…