Along with many others, I'm sure, I'm presently en route from Daytona Beach to Sebring, Florida as the 2018 or 14th running of the U.S. Sport Aviation Expo is about to begin. It opens tomorrow, January 24th. By the way, it's 82 degrees today and the forecast looks reasonably good. C'mon down!
Fresh news is breaking about the first flights of the HKS 700E-powered Merlin PSA from Aeromarine LSA.
Reporting from Lakeland, Florida yesterday, Aeromarine LSA boss Chip Erwin observed, "[Merlin with HKS is] remarkable, the difference in the feel of the airplane." Chip's single seater is proving increasingly popular as he logs sales for his one-seater Merlin PSA (Personal Sport Aircraft).
Having flown a number of airplanes with the smooth-running, throaty-sounding, fuel-efficient HKS, I predict continued good fortune for Aeromarine LSA. So many pilots prefer a four-stroke to a two-stroke, that — right or wrong — I imagine the Japanese engine could accelerate sales.
I've also flown a lot of single seaters and readily admit my preference for them. Most airplanes, sport or GA, are flown solo much of the time and not buying that extra seat for occasional use can save many thousands of dollars. In the realm of affordable aviation — as this website promotes and serves — big savings are worthy. Flying a single seater also mean you only need please yourself.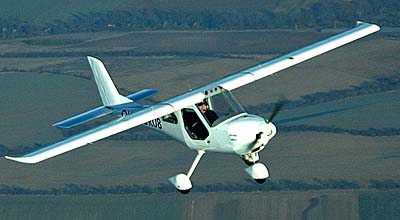 Chip continued, "The crisp performance hasn't changed [with the HKS versus the Rotax 582]. In fact, the early tests are showing near-identical takeoff and climb, but with higher cruise numbers, compared to the Merlin with the Rotax 582 two-stroke." The Rotax engine outputs 65 horsepower while the HKS has 60. Two-stroke engines also spool up quicker than a four stroke. However, the HKS offers higher torque, useful during launch and climb out.
The four-stroke, horizontally-opposed, two-cylinder HKS and its gearbox "weighs a bit more" than the two-stroke option, Chip noted.
"We moved the battery aft, and the whole airplane gives up about twenty pounds of payload," Chip said, "but the HKS burns less fuel so its flight time is longer at any given weight." Another positive: HKS can run on avgas or premium mogas.
See Merlin at Sebring 2018.
Two HKS-powered Merlins will be at Sebring, Aeromarine LSA reported.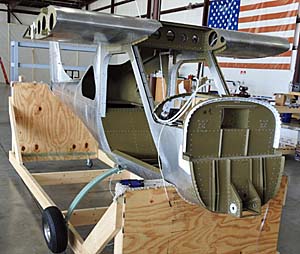 "We will bring a Merlin from our build program that isn't yet 100% completed," said Chip. "That will give people a chance to see how easy it is to build their own Merlin." The fully enclosed Merlin claims to be one of the quickest-build 51% kits available.
I went to observe a customer building his own Merlin to see how easy and quick it really was. I came away suitably impressed.
"So complete and builder-ready is the Quick Build Kit that most major assemblies and skins are already tacked into position for shipping (using colored soft rivets)," Chip explained, "requiring the builder to actually do some disassembly to bring it to the 51% stage."
"There is no 'Slow Build' option," deadpanned Erwin in his characteristic humor.
"Precision matched-hole technology means that the holes punched are not just pilot holes; the accuracy is so high that holes in the skins match the holes in the ribs and bulkheads at final size, so next to zero drilling is required," Chip said. "This precision saves dozens if not hundreds of assembly time hours." My own eyes proved to me that this precision matched-hole technology works as advertised.
The all-metal Merlin PSA is presently flying in several European countries and in the USA today powered with both the more economical Rotax 582 and the HKS powerplant.
Merlin PSA quick-build kits with the HKS are now being delivered in the USA with delivery positions available for delivery this spring, Aeromarine LSA reports; some slots remain for the Builders' Center, as well.
The kit (without engine, instruments, and paint) has an introductory price of only $16,500. Depending on engine, BRS, and panel options, completed and painted aircraft cost from $35,000 to $50,000. That's quite affordable by most budgets.