Is it an LSA or is it not an LSA? Is that the question?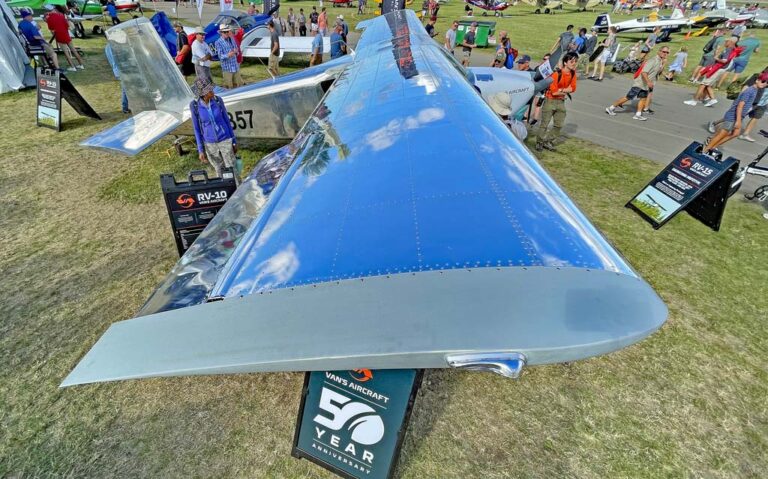 When Van's broke the news that their latest RV-15 model was a high wing, plenty of pilots snapped to attention. This company has produced one winner after another; here is their latest. Its bare aluminum glistened in bright sunlight and drew crowds through every day of Oshkosh 2022.
Will the model join the long line of distinguished RV models as a kit-built aircraft or could the company's first-ever high wing signify something else. After all, Van's did bring in-house full manufacturing of their successful RV-12 LSA.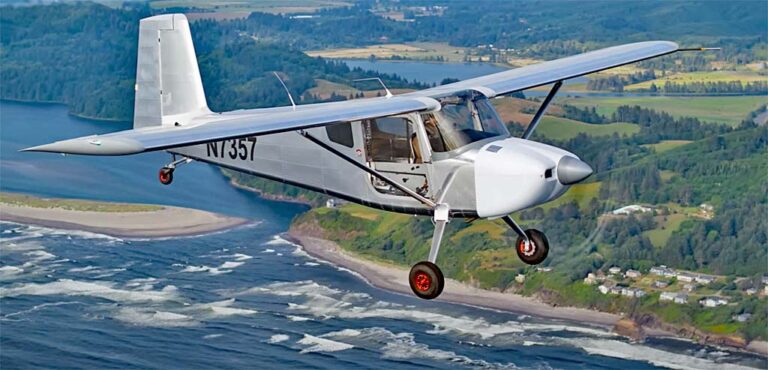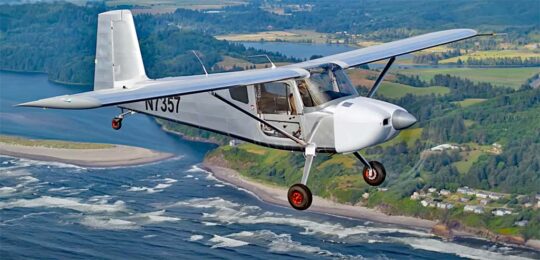 Does Van's know something you don't know? Oh, very probably they know far more than you know but the question digs at who knows what FAA is doing. Here's one company that may have a better handle on that than most others.
Van's president Rian Johnson is the head of the ASTM F37 committee that is working closely with the FAA to formulate standards that will be used when the new breed of LSA come on the market, which I now predict will happen in 2025.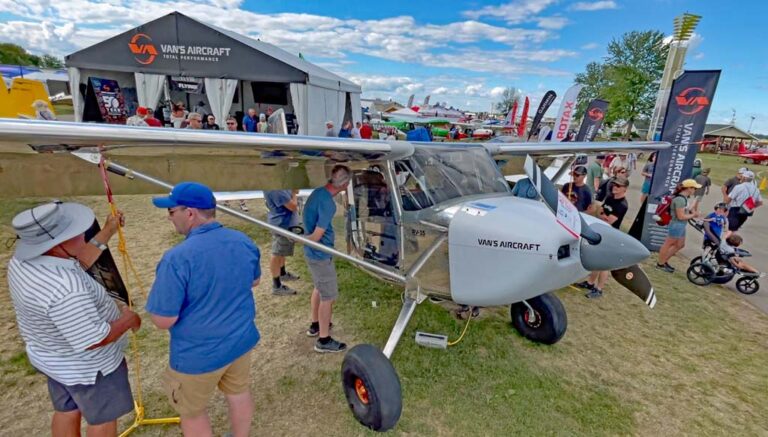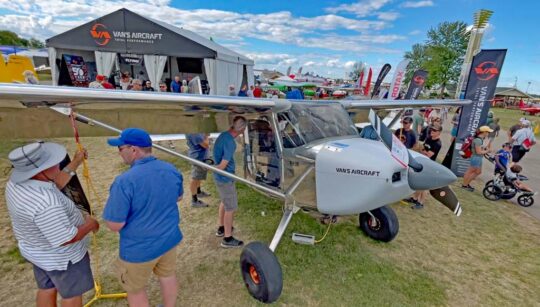 Is Rian well informed in that position? Yes he is. Along with the rest of the committee's mostly-volunteer members, he gets access to information as FAA is willing to provide more. The agency is currently in an ex parte quiet period when it generally does not disclose details about a regulation in development. Yet if the consensus standards are to be ready when the regulation becomes active, ASTM standards writers must have some idea where the rule is headed. Rian is also a smart, thoughtful guy with years on F37 and he is motivated at the helm of Van's.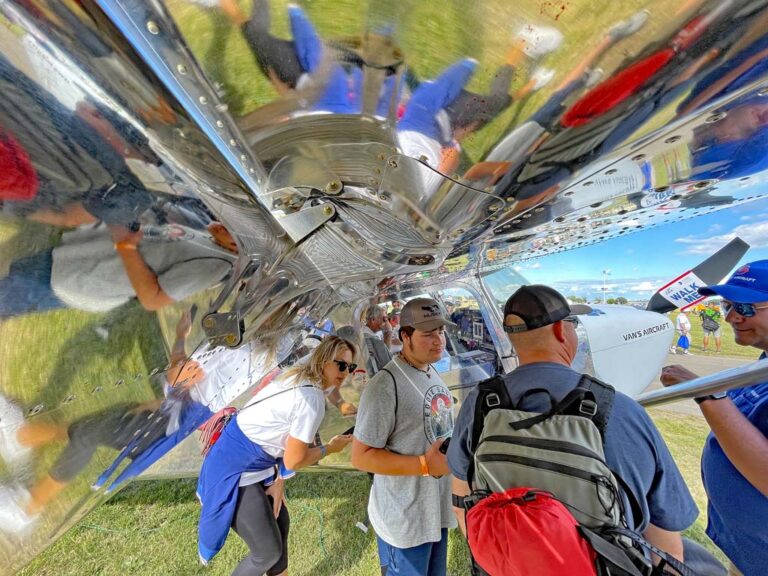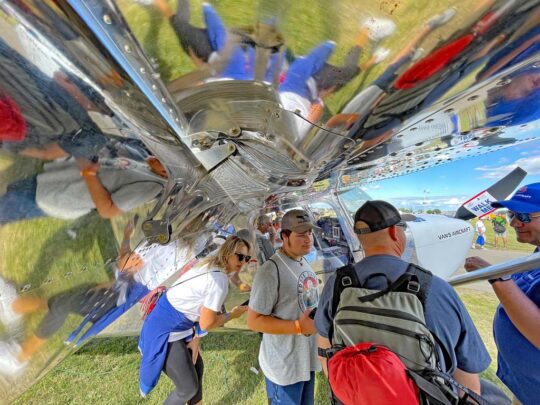 In short, if I was airplane shopping or if I was another manufacturer evaluating what Mosaic will bring… well, I'd pay a lot of attention to any new aircraft coming out of Van's.
Whatever the future may hold, RV-15 is one big, beautiful airplane…
New, BIG Van's RV
I took one glance at this aircraft and decided it was designed with a view of four seat capability. Specs confirm that stating "2+2" and a look inside (photo) shows the large interior volume. Certainly, this new entry can certainly carry a lot of camping, fishing, hiking, or other gear. You can even take your bicycle with you.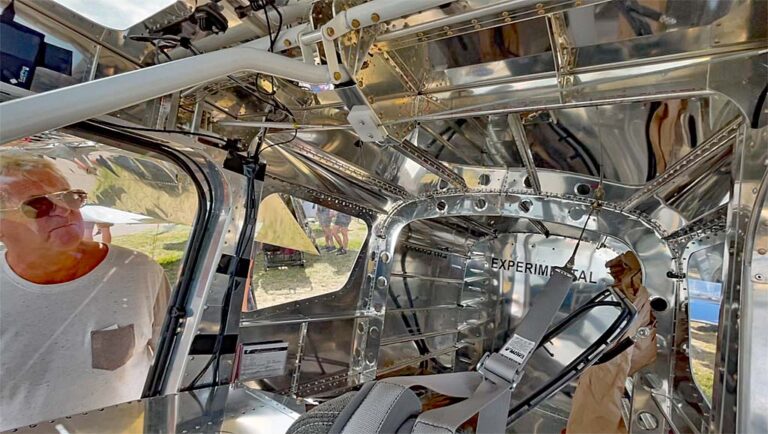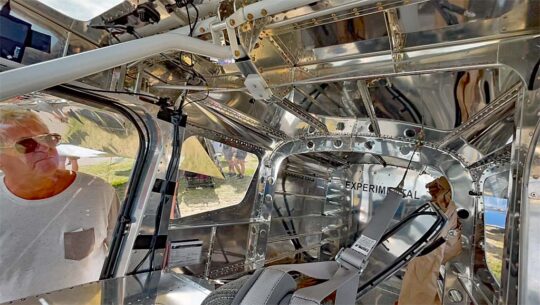 As Van's reported, "We decided RV-15 needed "room to load two full-size mountain bikes in the baggage area without having to completely disassemble them." That should give you a better sense of the interior volume available.
The mission was clearly stated: "The RV-15 prototype is flying. It's a high-wing airplane. Back-country mission capable. And (of course) 'Total Performance'," the latter summarizing the company's mission statement in two words.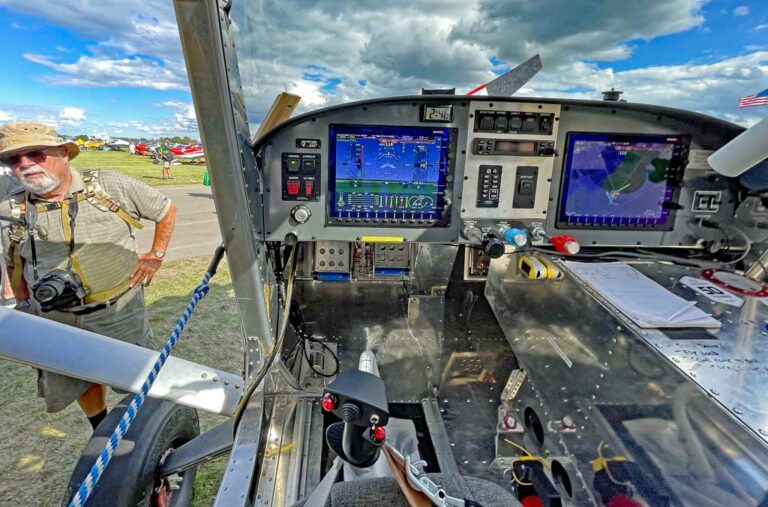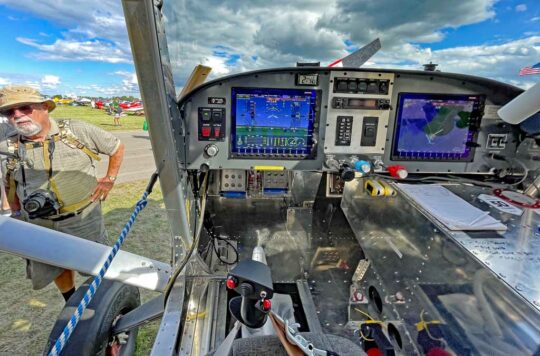 Coming up with a new model that meets an RV expectation must be a daunting exercise for company personnel. RVs are revered for both their performance and their exquisite handling. I've had the pleasure to fly four different Van's models and each exhibited handling that was amazingly similar and simply wonderful in its control responsiveness and crispness. Any new Van's model has some mighty big shoes to fill.
Despite the long and deep experience of this 50-year-old manufacturer, founder Dick VanGrunsven said about the company's first high wing design, "It was really more of a challenge than I think most of us had anticipated going into it." Think about that. This is a company that has created models 1-14 and their 15th was a challenge? That honest statement should tell you that bringing a all-new aircraft to market is a very significant task.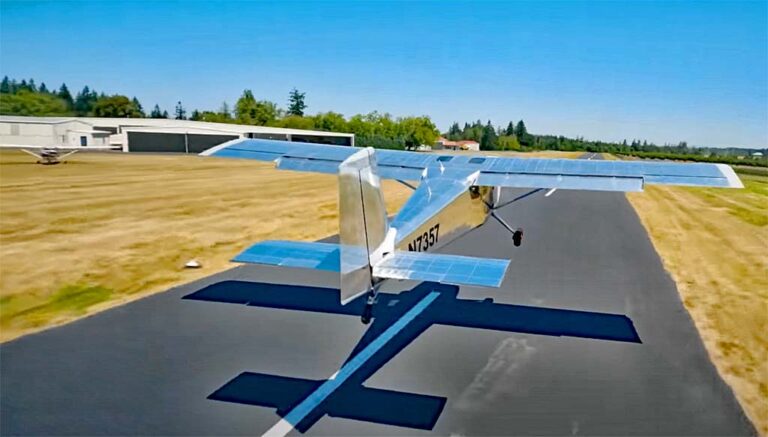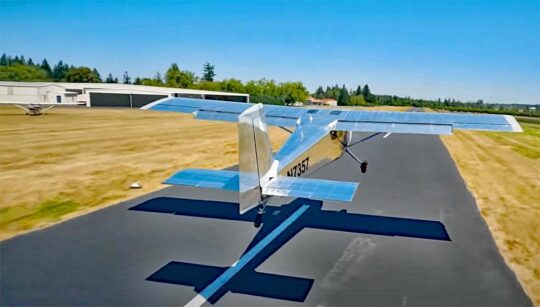 The Oregon company took special pride in this 15th model. "We built almost every single part of this airplane in-house … every piece of metal that's on this airplane we processed ourselves," reported the company on a promotional video.
Drawing on all their considerable talents, the team brought their prototype to Oshkosh to the delight not only of longtime Van's fans but to thousands of others that examined the display model in great detail. The prototype RV-15 will definitely see changes, various of their personnel told Oshkosh attendees checking out the new model. For example, to allow for changes after initial flying, the right seat location was filled with a fuel tank that will end up in the wings. Placing it where a person might sit will permit them to make any desired wing changes faster.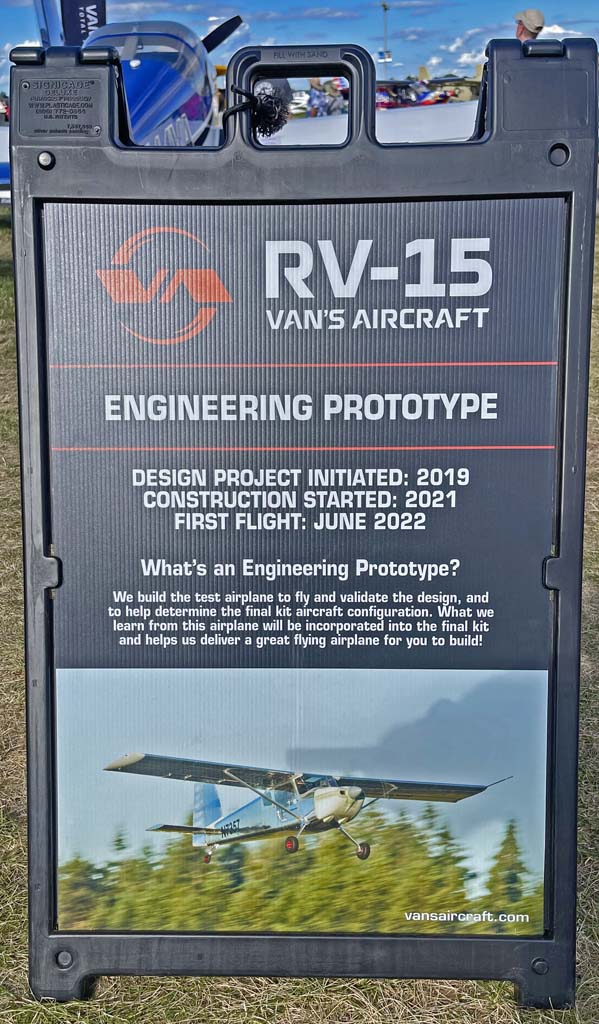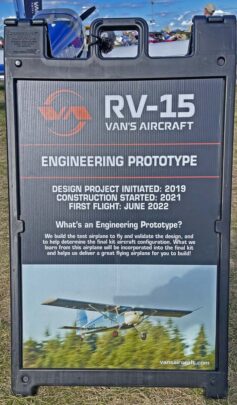 As RV-15 is a prototype, many factors could change but to start, Van's engineers put a 220-horsepower, 4-cylinder Lycoming up front swinging an 80-inch prop. Takeoff roll is back-country short and the big engine should haul at least 900 pounds of useful load, or 600 pounds of payload with 50 gallons of fuel one board. Cruise is targeted at 140 knots. Many of RV-15's final specifications appear to match what experts expect in a Mosaic LSA.
Taildragger Only?
Expect more development despite the well-finished look of the RV-15 prototype.
One such example involves Van's Aircraft's use of the letter "A." In the world of Van's, tagging this letter to back of one of the model numbers means it is a tricycle-gear airplane.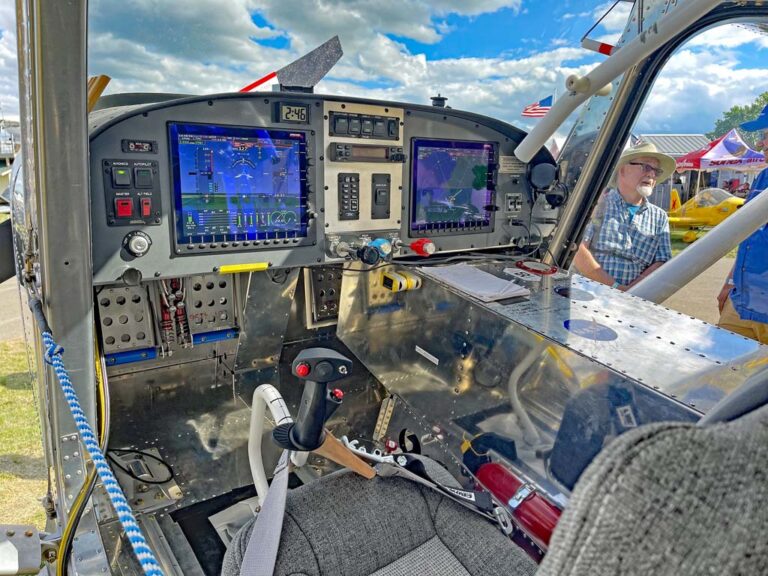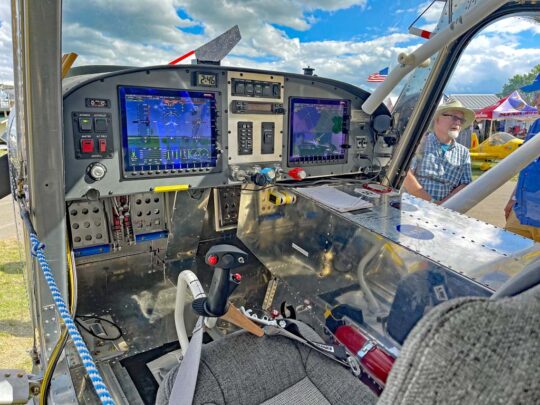 The company is well aware that most pilots licensed in the last few decades have been trained in tricycle-gear aircraft. No question this makes for an easier trainer but nosewheel aircraft are no good in back country …or are they?
Viking Aircraft Engineer leader Jan Eggenfellner has developed the idea further than most in the goal of winning STOL contests. His Monster STOL is an intriguing example of how far you can take a tricycle gear airplane to optimize STOL performance.
Will Van's pursue an RV-15A and will it still work as an off-field aircraft? Their website observes, "Trike backcountry? Sure, at some point. Timeframe TBD."
That comment is a reminder this is a project early in development. It may look significantly finished as seen at Oshkosh 2022 but they're still working on it.
"We can't tell you exactly when [it will be ready to sell]," noted Van's. "The way we work around here is like this: We fly the prototype, make changes, and adjust until it's just right. That's our top priority." Remember those big shoes RV-15 has to fill.
While Van's continues work on RV-15, the company moves continuously with its wide line of RVs to lift more pilots into the air.
Van's Aircraft had their usual sign at Oshkosh, updated to show 11,115 Van's models have taken to the air — they've sold many more kits than that but the number reflects those that have been completed and flown. Most pilots know Van's is the largest kit aircraft maker in history; it's hard to imagine another company passing them and RV-15 reinforces that message.
LINKS: