At Sun 'n Fun, as with AirVenture Oshkosh, recent years have created a new attraction using the Lightplane airstrip at both the nation's two largest airshows. STOL — Short Takeoff and Landing — competitions have become a huge crowd draw.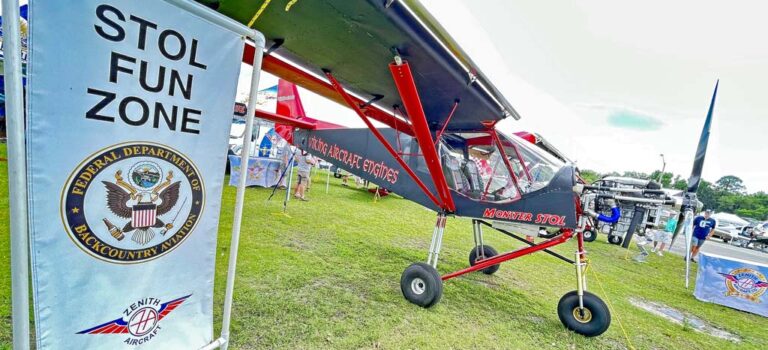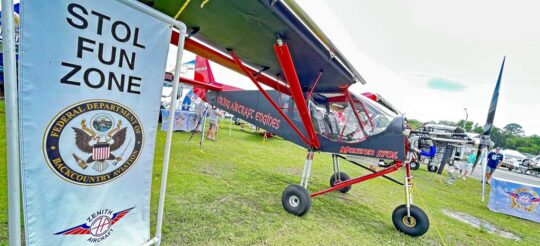 On pleasant evenings, crowds can be five deep all along the runway fence. STOL comps provide exciting close-up action. At few other airports can you observe so closely, literally 100 feet away from runway centerline.
After the main afternoon airshow aerobatic acts conclude, you can do one of two things. You can go to the car park and wait in long lines to get out of the lot or you can make your way to the Ultralight Area / Lightplane Area / or Paradise City and catch the evening STOL comps. When they're done competing, the car parks are moving better and you'll waste less time sitting in line.
STOL comps were planned every evening of Sun 'n Fun but 20 mile per hour winds blowing 90° cross to the runway over a nearby line of tress was a bit much for many competitors. For two days, we've had limited flying in Paradise City.
Designing for STOL
By now, many readers may know the name Steve Henry, who has wowed crowds with his 300 horsepower Yamaha conversion engine on his highly modified Just Highlander. All these aircraft take off in surprisingly short spaces (50 feet is possible) but Steve's purpose-built aircraft fairly leaps off the ground. It almost looks unreal.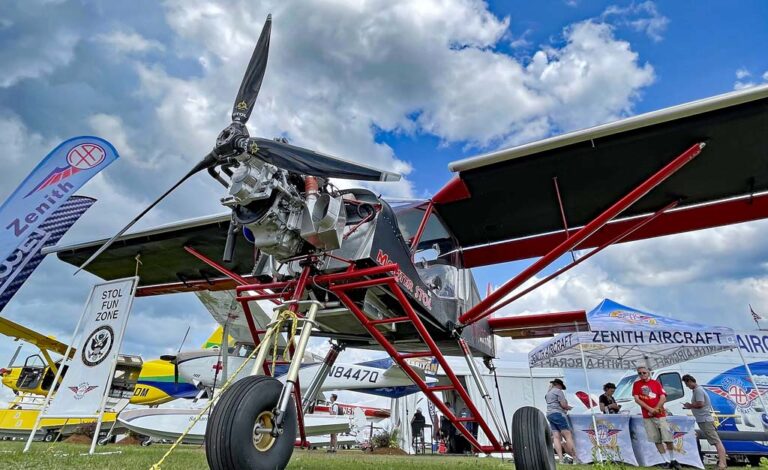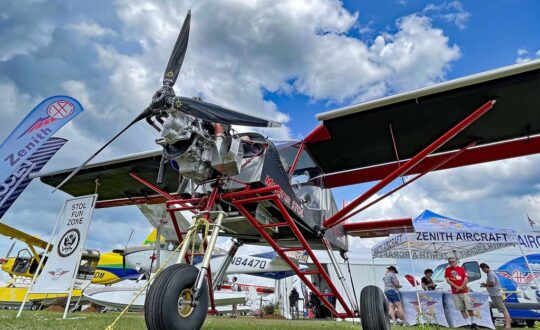 Unfortunately Steve broke an axle and ended up on his nose in Wednesdays gusty conditions. Damage was reasonably minor — an advantage of landing so slowly perhaps — and he should be back in action soon.
His is not the only aircraft designed specifically to win STOL comps.
Viking Aircraft Engine owner Jan Eggenfellner has competed in some of these events in his Zenith Super Duty, three seater (two forward, one aft) with large tundra tires. His flat back with red accent airplane is powered by a 195 horsepower variant of his Viking line. He swings a giant 96-inch prop custom built for him by Duc Propellers.
Yet, Jan's Monster STOL is very different from most STOL competitor aircraft in very distinctive way. It's a nose wheel airplane. That's extremely rare (although this CubCrafters nosewheeler exists). Why? The answer explains the project seen in nearby photos.
For an already STOL aircraft like the Super Duty, getting an extra edge may take unusual steps. In order to get enough angle of attack to lift off in incredibly short distance by big horsepower, Jan wanted to angle the nose up further. He became limited by the tail of the airplane which nearly touches the ground on aggressive takeoffs.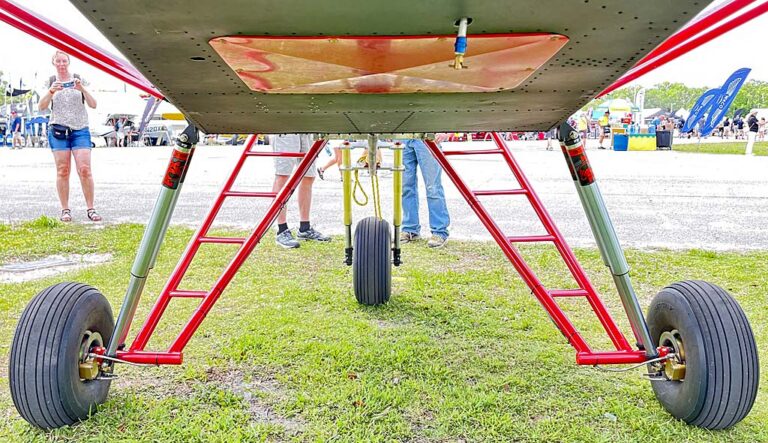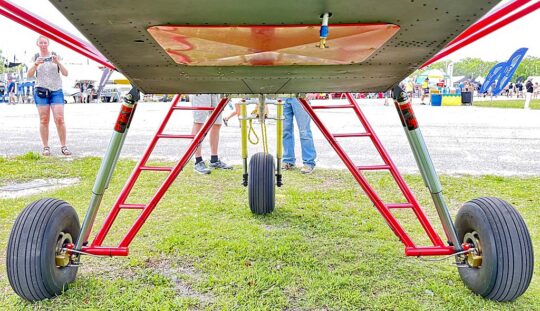 Monster STOL solves that problem, Jan believes. His dual aft shocks on each side have 18 inches of stroke. The tires aren't tundra but they're large. And standing Super Duty up on specialized landing gear — which also helps entry into this high-off-the-ground airplane — allows Jan to create a very steep angle of attack.
"I already get off the surface in 44 feet," said Jan in a video interview you'll see later. He wants to do even better and to further shorten his landings. The super beefy gear arrangement will let him plop the aircraft on the ground in the shortest possible distance.
"It's fun and a little whacky," said Sebastien Heintz of Zenith Aircraft while agreeing Monster STOL is a great draw at his Sun 'n Fun booth space. While I took photos people were constantly examining this unusual entry.
Come to Paradise!
If you are at Sun 'n Fun, make your way to Paradise City and the LSA Mall each evening. You can enjoy very close up and exciting flying as pilots like Jan Eggenfellner and Steve Henry compete.
For those that cannot attend, I saw lots of potential YouTube videos being recorded. Stay tuned!
News from Sun 'n Fun 2022 continues…